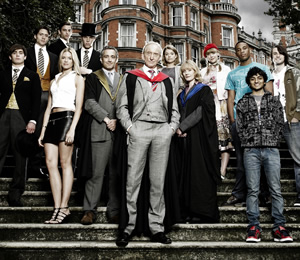 From Roughcut TV, the new production company created by Ash Atalla (The Office, The IT Crowd) comes Trinity, a brand new comedy drama for ITV2. Set in the gothic, oak panelled halls of residence and lecture theatres of the fictional Bridgeford University, Trinity College, the eight part series will bring a whole new meaning to the phrase 'first term nerves'.
Starring Charles Dance (Starter for Ten, Fallen Angel), Claire Skinner (Outnumbered, Life Begins), Christian Cooke (Demons, Moving Wallpaper), Reggie Yates (Radio 1), Antonia Bernath (St Trinian's) and Isabella Calthorpe (How to Lose Friends and Alienate People) Trinity shows that going to college has never looked so good. Or been so dangerous...
For over 900 years, Trinity has been an elite playground solely for the uber rich and powerful. However for the first time in its long and illustrious history, Trinity is about to throw open its doors to students from, well, the lower social classes.
Two weeks before Charlotte Arc (Antonia Bernath) is due to go to university to study medicine, her father, Richard Arc is found dead in mysterious circumstances. Formerly a professor at Trinity, Richard left the institution suddenly and with no explanation. Convinced he was a changed man, and certain his death is linked to his abrupt departure, she enrols, determined to uncover the truth.
As Charlotte and her fellow students settle in, they begin to realise that all is not what it seems at Trinity. Beneath the glossy, glamorous veneer of wealth and privilege lurks a much darker world, one governed by strict codes of conduct, secret societies such as the mysterious Dandelion Club and the whims of a select group of over privileged students used to getting their own way.
Into the closed world inhabited by the likes of languid, spoiled and manipulative Dorian (Christian Cooke), his stunning, emotionally cold cousin Rosalind (Isabelle Calthorpe) and the arrogant and sinister Professor Maltravers (Charles Dance) comes a new order. From the streetwise and fiercely intelligent Theo (Reggie Yates), total stoners Angus (Mark Wood) and Raj (Arnab Chanda) to the progressive new female Warden (Claire Skinner), along with Charlotte, these new arrivals threaten all that Trinity has stood for.
With change sweeping through the elite academic institution, those traditionally protected by the old order find themselves increasingly exposed. And as Charlotte begins to unravel the mystery of her father's death, she realises that Trinity's ancient halls of learning and those charged with protecting the secrets within, aren't about to give them up without a fight.