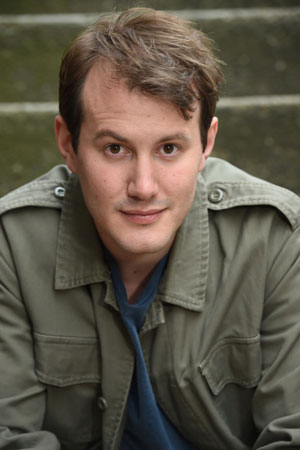 Jonny Sweet is the creator and co-star of Together. We spoke to him about the show.
Hi Jonny. What is Together about?
The concept came about in 2009 amazingly, which gives you an idea of just how fast I can write. Based on that, it would take me until 2021 to write another series.
I liked the idea of a rom-com where you never saw the couple together: a kind of Noises Off for love, where it was all about the reactions, analysis, spin, desperation and addled pontificating that, for me at any rate, went into dating.
It's about the beginning of a relationship essentially and how in that period a lot of the meat of dating is actually away from each other, trying to work out ways to improve your personality/conversation topics/hairstyle etc.
The series first came to fruition as Radio 4's Hard To Tell...?
It was very much radio to begin with: quite long conversations basically, so inevitably very boring to go straight to TV. It evolved quite naturally into a televisual style, but it was as big a challenge to go from not writing a sitcom to writing the radio version, as it was to go from radio to TV. It was, frankly, horrible. People really insist on you putting a lot of effort in, and you maybe even insist on that yourself, and that can become a real drag. Really wouldn't wish it upon anyone.
A common bit of advice is to 'write about what you know'. Hopefully the characters and plots in Together don't come from your own real life experiences though?
They really don't. There was a time when the parents resembled my parents, but I can't in all conscience claim that my real parents are actually anything like that. But having said that, there are massive similarities. For example, my dad's insistence that he microwaves his yoghurt before eats it to take the chill off.
Did you have a say in the casting process? Is it awkward to cast your own romantic co-lead?
It isn't, no. But I did have a say and I feel very lucky to have such an amazing cast. The only awkwardness was trying to live up to their standards. I spent so long writing it that I had basically forgotten we'd need to film it and I'd have to act in it, and when I saw them all doing that so excellently well, I had one of many nervous breakdowns during the making of the show.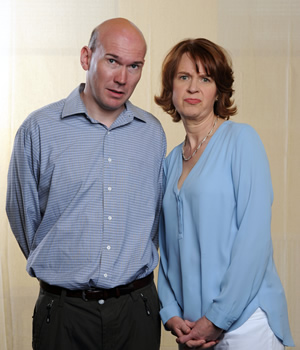 Having originated their roles on radio, Alex Macqueen and Vicki Pepperdine are back as your TV parents, and perhaps even better. What's it like working with them?
They're an absolute treat and obviously so, so good. Because we recorded the radio series in a lovely house, and we filmed this series in a lovely house, there is something homely and domestic about doing all the family scenes that is very relaxing. There were doctored pictures of us as a family on the walls. It goes without saying that Katy Wix as a six-year-old Brownie broke my heart into pieces.
Together focuses on Tom and Ellen's struggling, very early relationship, but presumably that dynamic might change over time. Do you think there's scope for another series?
I'd like to think so. There's always an engine in a relationship for miscommunication, misinterpretation, and high stakes. As I've learned from my own romantic past, something can always go wrong.
What advice do you have for any unlucky-in-love singles out there reading this?
I am the wrong person to turn to. Keep trucking? Stay crazy? I think this is the first time anyone has asked me for this kind of advice and that is primarily because you have never met me.
What else are you working on at the moment?
I'm working on a few things but nothing I can talk about at the moment. That could mean I have nothing scheduled, but it could also mean I'm directing the next Star Wars. That's all I'm saying.
'Together' is on BBC Three on Tuesdays at 10:30pm.