Matt Berry has co-written and stars in new pilot Toast Of London. To find out more we gave Matt a call...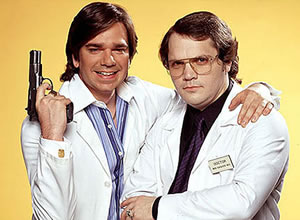 Hi Matt. Thanks for talking to us. We first saw you in Garth Marenghi's Darkplace (pictured). We're still gutted now that didn't get a second series. Are you?
Well, I think it cost a lot of money to make but, yes, in terms of what it did, it was great. I don't know what would have happened if we did another one.
It was amazing fun to do, particularly because it was my first thing. We filmed it in 2003 and so I was, er I dunno, 28 or something? I've got amazing memories of that show.
How did you get involved?
I was working at the London Dungeons and, while I was doing that, I was playing rude songs before The Boosh went on - this was at the Hen & Chickens before anyone knew who they were. [Darkplace creators] Richard Ayoade and Matthew Holness used to do some stuff before The Boosh, so that's how I met them.
They had already got the Garth Marenghi character, but when they expanded things so they'd work on TV they included a Spanish doctor... that was me. I was literally working in the London Dungeons one week, and then rehearsing for a Channel 4 show the next having never done TV or anything like that before.
As you touch upon, you're a musician as well as an actor. You were a musician before acting - was that initially your sole career plan?
No. I never really thought about it. I couldn't take myself seriously when doing songs, so I always ended up being kind of irreverent or rude or whatever. I never thought that had any connection with acting or performing.
If I couldn't make it painting, I thought I'd do music - which was an equal love - and then that didn't happen and... well. It was luck. I didn't have any plans to do comedy.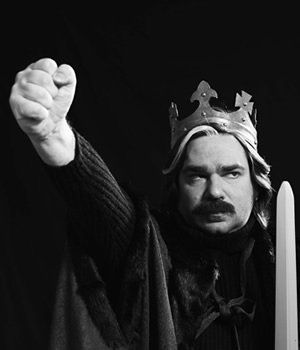 Painting is first and foremost what you love then?
Not first and foremost. I kind of love doing them all equally and I wouldn't want to just do one. If all I did was paint that'd kind of drive me crazy. I'm sort of lucky to not want to do art as a main job.
It's great the way things have worked out, that I'm doing one of my passions - acting - as a job... even though I didn't know it would be a passion, because I'd never really thought about doing it until it happened.
We must admit, your voice took us by surprise when you answered the phone (Matt is more softly spoken than his screen persona). You have a different TV voice?
It's kind of a 'rep' projection - repertory theatre, if that makes sense. When actors used to talk like that on the stage and then, having not done any TV before, arrive on screen and project like that - that's what used to make me laugh, and that's what I took. Because all I'm playing is kind of buffoons they're going to sound stupid, and that's what I kind of considered funny and stupid.
Would you consider doing 'straight' drama?
I probably would have as much fun doing that. I do enjoy doing comedy though obviously because, er... it's just more interesting.
I don't think any casting director of serious drama would have me high on their list. When you do so much of a certain thing... Although, saying that, I was in a thing called Five Daughters about the Ipswich murders which was completely straight. I played a bloke from the Daily Mirror.
Back to the comedy, you made a notable impact on The IT Crowd. Are you frustrated creator Graham Linehan has indicated there won't be any more series?
Not at all, no. I don't think I could have added anything else to that show anyway. There's only so many times you can be kind of crazy and lecherous, so I think he's made the right decision to stop it now.
Do you get recognised in public much?
When I get stopped by someone, a lot of the time, they say a line from something. Now, because I started doing this in 2003 and I don't watch these things after I've done them, when someone quotes something from say The IT Crowd - which I'd done four years ago or something - I won't remember I've said it. There's times I won't even know what show it's from and can see they're thinking 'he doesn't even know his own lines'.
Once lines are done, they're done - time to move on to the next thing. So I just end up disappointing most people - because, not only do I not sound like they think I'm going to, I can't remember the reference.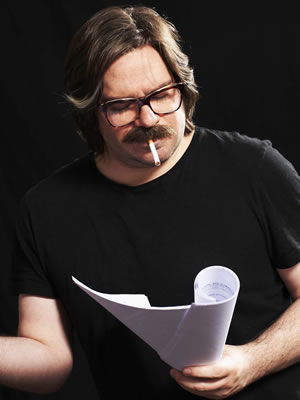 Toast Of London is your new project. What's it about?
An actor in his late 40s, or early 50s, who has had a fairly decent career but is now in a stage play that's massively controversial. It's just about the things that happen to him in between, from when he gets up to when he has to get to the theatre each night at 7:30pm.
You've written it with Arthur Mathews. Did you two meet via Graham Linehan (Linehan & Mathews wrote Father Ted)?
Arthur script edited a thing I did called Snuff Box, which was shown once and then kind of... well, the channel didn't want to admit to it. I was really pleased with that and he did an amazing job. Then he worked with me again on Radio 4 - I just did a show called I, Regress, he scripted edited again for me - so we've been working together on and off since 2006.
Toast has got some great reviews - so hopefully you're keeping some time free in your diary to write a full series, should it indeed get the green light. Are you working on anything else at the moment though?
I've just scored and am in a film called The Wedding Video. It's by Nigel Cole - he did Calendar Girls and Made In Dagenham. That's interesting because my job hasn't stopped on it for a year. He cast me in it and then I played a song in it, and I then scored it.
Next I'm going to the States hopefully to do a sketch show over there called Portlandia. I'm a fan of the show so hope that works out.
Thanks Matt. We hope it all goes well.
Toast Of London is on Channel 4 at 10pm, and on 4oD afterwards.
[i]Matt has also just released an iPhone app called 'Matt Berry Does Your Dirty Work', which does all the awkward tasks people don't want to do themselves - like dump their significant other, sack an employee and help parents disown their children. It's available from the App Store.[i]