Alice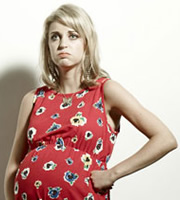 Alice is the best fun girl you'd ever want to meet at a party - the life and soul of every and any social situation.
The last thing she planned for her immediate future was motherhood. Giving up the party lifestyle is going to be a bit of an ordeal, but if anyone could make cold turkey into a gorgeous dish, it's Alice Heston.
Alice is passionate, ballsy, fabulous and up-for-it, and she and Richie are the best partnership since fag met hag. It was Richie who introduced her to Mitch - setting them up on a blind date four years ago. The date started with disaster, but ended with Alice meeting the man she will definitely one day marry.
With her boys by her side, Alice is ready to become an excellent mother. If she can just get over her fear of being an absolutely terrible mother first.
Mitch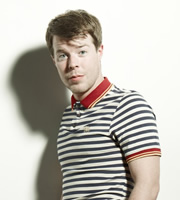 Look up 'contented' in a dictionary and you'll find a picture of Mitch. The most positive thinking, upbeat, selfless friend you could ever ask for.
True, he can get easily distracted, and forget arrangements, and put off till tomorrow what he could have done today, but he never means to let anyone down and makes up for any shortcomings in many wonderful ways - including frequently saving the day when Alice and Richie make more serious errors.
Mitch's brother Owen died in an accident four years ago, and Richie - then a silver service waiter - ended up by chance as the waiter at the wake. The two bonded in the face of tragedy and became best friends within a week.
Richie then introduced Mitch to Alice and they all ended up with a surprisingly happy ending. In fact, it is typical of Mitch to be able to find such a silver lining out of such a dark cloud.
Mitch is a wonderful, wonderful man. He just needs to figure out how to hold down a job, actually get some savings together and finally be a proper grown up.
Richie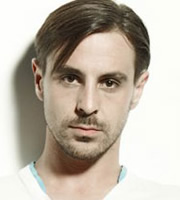 Richie is unlucky in love, and very, very lucky in bed. His heart was broken four years ago by Sandwich Harry, the man he thought he'd spend the rest of his life with.
Since that fateful day he's turned into a commitment-phobe boy-magnet. Richie is a highly accomplished puller, but fears he is now unable to fall in love.
He met his best friend Alice at university, and they hit it off from day one. When Mitch and Alice got together, they became an inseparable Threesome.
Richie has it all; the looks, the charm, the moves, the style, the brilliant social life, the great job and the best best-friends you could ever hope to have.
Now if he could just find that elusive Mr Right to thaw his frozen heart, he'd be a fully complete person.