Here's two pictures of Greg Davies in Series 2 of the surreal sitcom This Is Jinsy. He's seen here as Jennitta Bishard, a delightfully sinister figure who delivers punishments to the residents of Jinsy from the safety of her TV studio.
Series 2 of This Is Jinsy starts on Sky Atlantic on Wednesday 8th January. Guest stars lined up across the eight part run include Stephen Fry, Olivia Colman, Rob Brydon, Dame Eileen Atkins and Sir Derek Jacobi. Episode Guide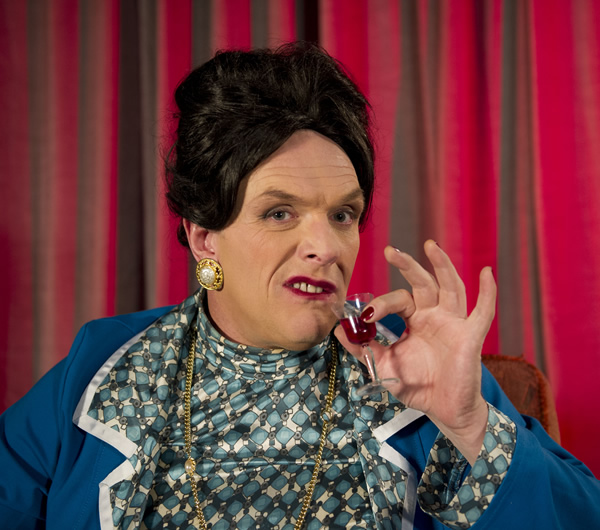 Greg Davies will be in all eight episodes. The new series launches with a double-bill. The first sees Maven's annual Arbiter ceremony goes catastrophically wrong when the historic wig used to crown him suddenly becomes reanimated. Time is of the essence, meanwhile, in the second helping as Maven races against the clocks to get his accounts done in time. The only problem is, Jinsy's ink-addicted accountants have gone feral, forcing him to strike a deal with the Chief Accountant – played by Ben Miller – involving his daughter, Berpetta (also Miller).
For pictures of the guest stars, see our Episode guides. View
Published: Tuesday 10th December 2013