The Worst Week Of My Life follows the misadventures of Howard Steel (Ben Miller) and his fiancé/wife Mel (Sarah Alexander). It particularly focuses on Howard's disasterous encounters with Mel's parents, Angela (Alison Steadman) and Dick Cook (Geoffrey Whitehead).
The first series, which launched in 2004, followed Howard and Mel in the week leading up to their wedding. The seven episodes were a roller-coaster journey through the bizarre and chaotic world of Howard, who consistently fails in his attempts to impress his future in-laws, whilst attempting to piece together a life that is constantly collapsing around him.
The week started badly for Howard when his ex-secretary delivered a bombshell at the office party, publicly revealing a past sexual indiscretion with far-reaching consequences for Howard. But if Monday was bad, he could never in a million years have imagined the events which would befall him later in the week. Neither could Mel's parents, Angela and Dick Cook. When they welcomed Howard into their family they had no idea their future son-in-law was about to wreak havoc in their lives – not even Granny Cook, Mel's sister Sophie, or the dearly-loved family dog were spared in a week during which one disaster followed another!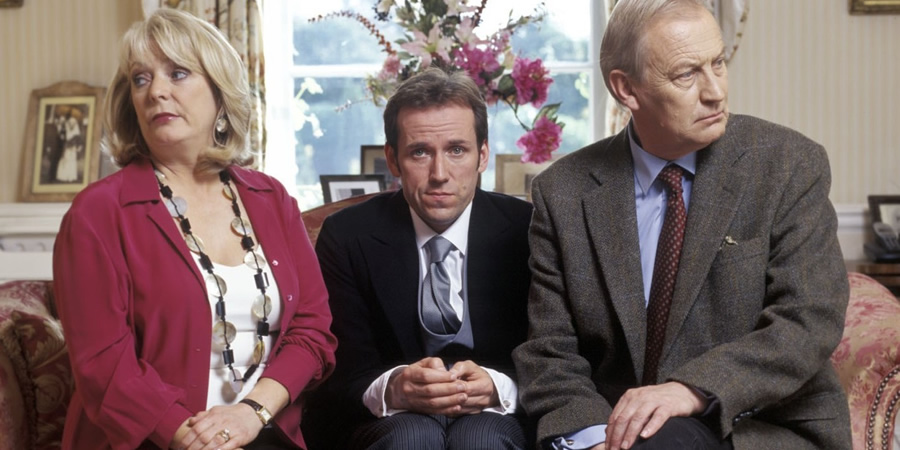 Series 2, broadcast in late 2005, saw newly married Howard and Mel have another disastrous week. The couple were meant to be moving into their new house, however it accidentally blew up, thus forcing them to move in with Angela and Dick - cue lots more embarrassing situations!
Across the seven episodes, poor old Howard managed to burn Dick's CBE, get accused of sexual harassment at work, out Dick's brother Fraser as homosexual, get 'caught' dogging in a car park with Eve, ruin his parents-in-law's house, break Dick's special rocking horse, touch a pregnant woman inappropriately by accident (it wasn't Mel!), get fired, get Eve sacked too, crash a few cars, hurt a blind aunt... plus much more! No wonder he isn't flavour of the month with the Cook family!
In 2006, the BBC broadcast three specials titled The Worst Christmas Of My Life. In the episodes, Howard and Mel were looking forward to their first Christmas as a family with their new baby daughter, Emily. However for Howard, and those close to him, life is rarely that simple! From suicidal secretaries to maniacal relatives, homicidal boyfriends and belligerent Santas, circumstances conspired to make it a Christmas to remember - but for all the wrong reasons!
Co-writers, producers and directors Mark Bussell and Justin Sbresni created this popular series. Speaking just after it was made, Mark explained: "With Worst Week we wanted to write a high octane comedy packed full of memorable visual jokes. Visual comedy when done well is always the most rewarding, in my experience." Justin added: "We've always been huge fans of farce and slapstick, which have almost become devalued words. At times, though, we do feel a little bit guilty about putting poor Ben through the mill. One night in Putney, Mark and I were both complaining about the cold so went off to get our coats, quite forgetting that Ben was standing next to us, naked and absolutely freezing!"
Despite his constant blunders, there is something quite endearing about Howard that people seem to relate to, as Mark and Justin explain: "I think we all see a bit of ourselves in Howard. We're all capable of making the mistakes Howard does but something, an inner voice perhaps, tells us to back off and stop. Unfortunately for Howard his inner voice has gone AWOL."
The format ended after the Christmas episodes. Talking at the time, Alison Steadman said: "The BBC, for reasons best known to themselves, have cancelled it. I was so upset. Best to go out on a high, they say. How many times have we heard that?"
The Worst Week Of My Life was adapted for American television in 2008. A few episodes aired under the title Worst Week, however the show was cancelled soon after. Elsewhere, the 2007 German series Hilfe! Hochzeit! Die schlimmste Woche meines Lebens is based on the show, 2011 Italian film La peggior settimana della mia vita.
Although Worst Week has finished, Mark Bussell and Justin Sbresni have since reunited with Ben Miller to make the BBC One sitcom I Want My Wife Back.