Richard Goulding, who has been gearing up to play Harry in The Windsors wedding special, admits he's not a staunch royalist.
What can you reveal about The Windsors Royal Wedding special? What's the timeframe?
It starts with the proposal, and I think it runs up until the big day itself, and ends in the moments after the wedding. So it covers a number of months.
There's the proposal, and there's a bit where Charles and Harry go and meet Meghan's mum, Doria, which happens sometime later, when Charles is on the charm offensive. And then it jumps to the wedding. But it's mainly concentrated in the run up to the wedding. And there's the stag do in there as well, of course.
Did you do any special research for the royal wedding special?
To be honest, the scripts are so strong and unique on The Windsors that in some ways all I have to do is turn up and deliver the punchlines, because it's so brilliant. But I did do some research, actually. There's a scene in it of a sort of mock up photo shoot of the one Meghan and Harry did in Kensington Palace, so I looked at that a bit. And I read up a little bit about their relationship, just so I was in the know a bit. But I didn't do any really deep research, I must admit.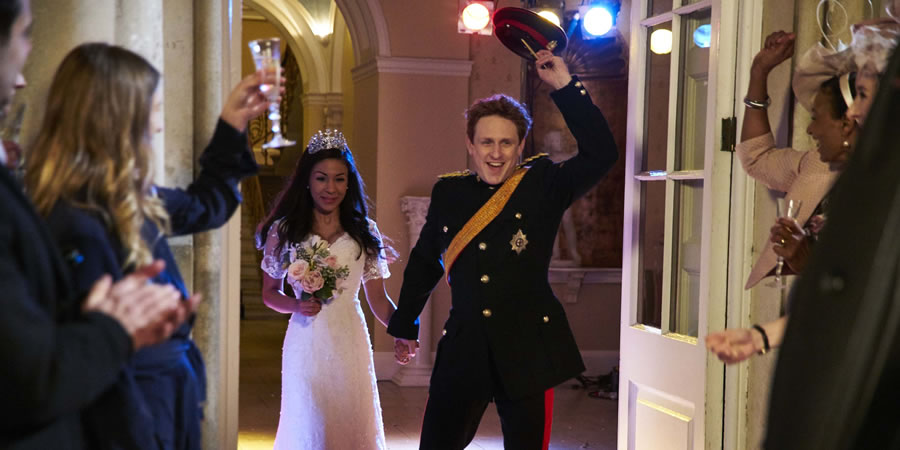 Had the writers been frantically waiting for details about the wedding to leak out, or did they just come up with a complete work of fiction?
Well, some of the details are factual. We didn't film it at St George's Chapel in Windsor, but it does take place there in the story. I don't know if there is much more that's accurate in there!
I know they pitched the idea of doing a wedding special and Channel 4 loved it, and they just went from there. I don't think they were frantically waiting for details to emerge. I guess they must have waited for details like the date of the wedding, and the venue things like that. But I think most of it is a complete work of fiction.
Is it quite fun, getting togged up in the dress uniform for the wedding?
Yeah, that is quite fun, but I've got to say those uniforms are so uncomfortable. It is fun for about a minute, and then it's horrendous. The only time it's good is when it's cold, and we were filming on one of the coldest days ever in England. It was something like -6°C in St Albans, and I was quite grateful to have a big, thick woolly uniform on. Other than that it's a totally horrendous experience wearing that uniform, it's so uncomfortable. And it makes you stand up so straight, and in our modern world we're just not used to standing up as straight as we should, I don't think. But apart from that, it is quite fun getting dressed up, and you get a bit of attention from passers-by in the street.
Is your screen saver on your phone you in full dress uniform?
[Laughs] No, no it's not, sadly. It probably should be. I think I'll change it.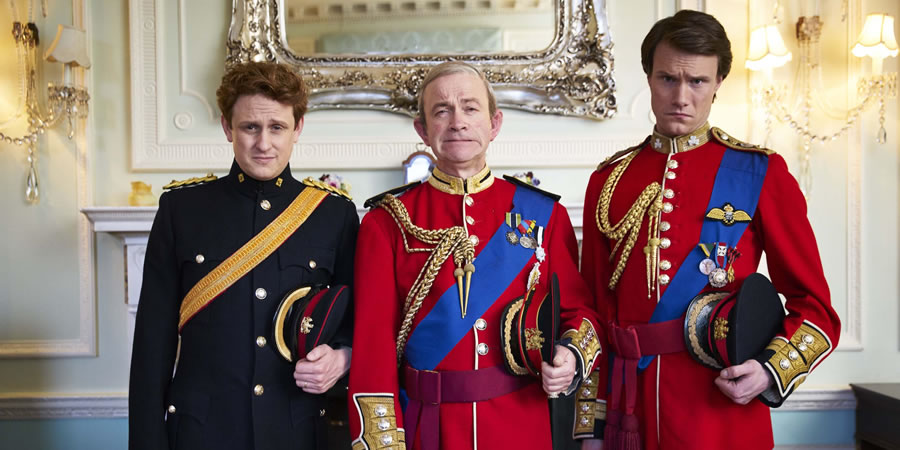 If you had to choose between attending the royal wedding and the FA Cup final, which is on the same day, which would win?
That depends who's playing in the FA Cup final. If my team are playing in the FA Cup Final this year, which they might be depending on the result on Saturday, I'd definitely go to the FA Cup Final. But if they weren't playing, I think I'd be more intrigued to go to the royal wedding.
Will you watch the TV news coverage of the Royal Wedding?
Yeah, I'll keep an eye on it. I watched the Will and Kate one - it was such an event. That was obviously at Westminster Abbey and was a massive public thing. I guess Harry and Meghan being at Windsor is slightly less public. But I'll certainly have an eye on it, to see if he's as funny as me.
What did you do for Will and Kate's wedding?
We had some friends round - I can't remember if it was deliberately to watch it, or was just a coincidence, but it was a very sunny day, I seem to remember, and we had a barbecue, and a bunch of friends, and we had it on in the background and just watched it as it went on. But it went on for hours, as far as I can remember. Those poor people broadcasting and reporting on it must get so exhausted, saying the same thing, over and over again.
Where would you put yourself on a scale from royalist to republican?
I don't think I'm ever a staunch royalist, but I'm sometimes quite a staunch republican. I'm not really either, I'm a bit pathetic. I sit on the fence a bit. I'm often persuaded to agree with people who have very strong views, and then I don't actually know what I think. I suppose I'd therefore have to put myself as a five, right in the middle!
Do you find yourself rooting for Harry in a way you didn't before you started playing him?
I guess so. Obviously I've been thinking about him professionally now for four or five years. I am aware of him much more than I was, but it happened quite gradually. But I do notice pictures of him or articles about him more than I used to.
What do you think of Harry? His popular image seems to have changed somewhat...
Yeah. I think he's been amazing, actually. I really admire him. Going way back, he had to deal with his mum's death, and it's not easy, to put it mildly, growing up in the public eye like that. He's had his brushes with scandal and controversy, but I think he and Wills and Kate, and now Meghan, do an amazing job of making the royal family relevant and important, and doing what they can to promote very good and worthy causes. He seems to have really found his feet, and I think he's brilliant. And he does it all with a sense of humour and a grace, which I think is really commendable.