John Rutledge - who you might know as Eggsy from Goldie Lookin Chain - and Mike Bubbins are currently on BBC Two Wales (and BBC iPlayer) investigating the supernatural. We caught up with John to find out more:
Hi John. How would you explain The Unexplainers?
The Unexplainers is a 21st century, supernatural investigative comedy like no other.
Imagine Bernard Bresslaw and Melvyn Hayes after a busy night patrolling the wards of Garth Marenghi's Darkplace, then stopping off for a breakfast at Acorn Antiques which involves a full fry up made from The Mighty Boosh and garnished, with a bit of Countryfile, whilst Yvette Fielding screams about ghosts, monsters and legends in the back of the van.
You and Mike have very different personalities. How did you come to first meet each other?
Mike and I met on a BBC Wales outside broadcast during a high profile rugby match. We instantly bonded over our united love for rugby, even though I have never watched a game of rugby in my life and Mike has watched every game of rugby ever. We also like music.
You've previously investigated various mysterious things across several brilliant series for BBC Radio Wales. It must be nice to now get to prove/debunk some topics with the help of visual evidence?
We have always dreamt of making this programme for TV and, although radio can be amazing at painting pictures in the mind's eye, there's nothing better than being able to take some of the visual elements to the next level - a home-made submarine, real (almost) alien abduction footage and a bright green van have made it great!
It has also been great to get the contributors involved. The interaction with real people who have proper jobs and are willing to show us up for the turnips we are has been amazing.
The one similarity between radio and TV is that, either way, you can't see the ghosts.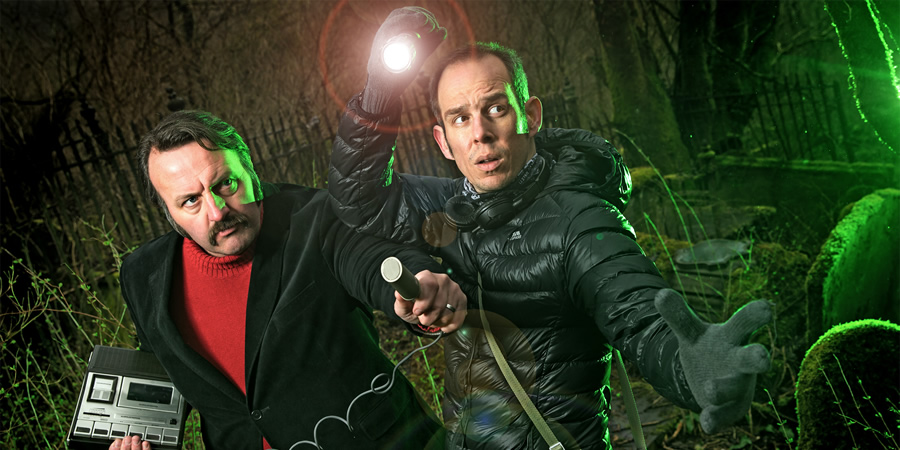 There's lots of unexplained things in this world. How did you pick which topics to focus on in the TV series?
We tried to steer away from the standard supernatural guff that most 'serious' paranormal shows decide to investigate - the lesser known, the better.
It works out that weird stuff happens all the time, so essentially we are spoilt for choice. I am currently looking at an episode based on a Poltergeist that haunted a lawnmower repair shop in Cardiff during the 80s.
You meet some very interesting people along the way. Who did you most enjoy meeting?
Huw, the farmer from Episode 2, was probably my favourite scene to put together. There is not a cooler farmer in Britain. The fact that (in my eyes) an alien spaceship crash landed on his farm didn't phase him at all and straight off the bat he knew exactly how to deal with our questions. Every single contributor was brilliant and I can't wait to get out there and meet some more.
What was the worst experience during the filming?
Coasteering with a man who openly admits to anger issues was scary. Compared to an angry bloke in rubber, everything else was fine.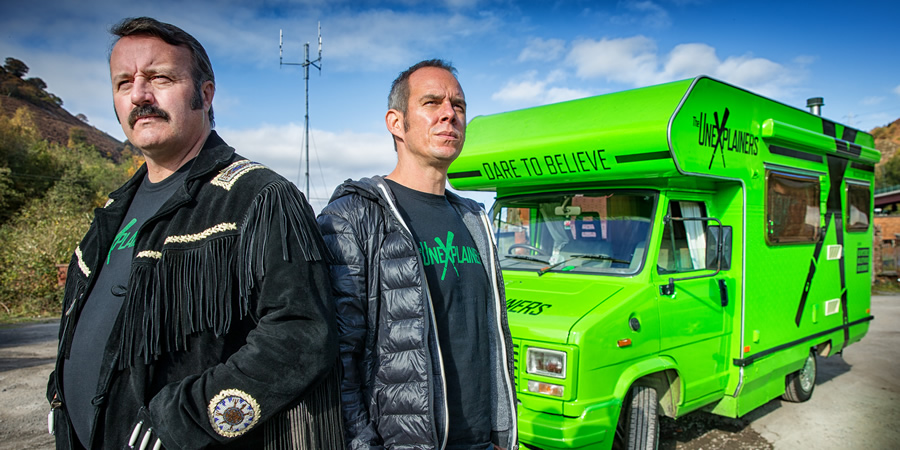 As you mentioned earlier, you've got a campervan now... and even a submarine. Is anyone keeping control of your spending?
If Elon Musk doesn't have to worry about sending a rocket to Mars, then The Unexplainers should not have to quibble with the BBC bigwigs about the cost of a few essential items. If we get a second series I am getting a cloak made of gold... and a sword that is also a gun... and a massive fish tank that I can swim in.
Fingers crossed for a Series 2. What would you like to tackle next?
Asteroids destroying the Earth, The Lost City of Atlantis just off the coast of Wales and a potential Zombie plague are just the tip of the iceberg.
LET THE UNEXPLAINING CONTINUE LONG INTO THE AFTERLIFE!
---
You can watch The Unexplainers on BBC iPlayer