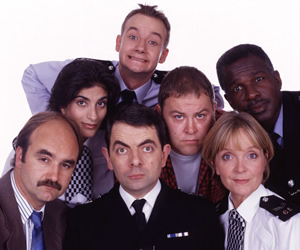 Rowan Atkinson is Inspector Raymond Fowler, the commanding officer of the uniformed police force in Gasforth Police Station, a small nick in a small town.
Here can be found all the problems that beset the modern police officer and Gasforth is no different from any other small station, just another part of the Thin Blue Line. The only difference being, of course, that at Gasforth the officers of the Thin Blue Line tend to be slightly thicker.
Fowler is a stick-in-the-mud who is constantly astonished at just how much mud there is to stick in. He's in the 10th year of a relationship with Patricia (Serena Evans) the desk sergeant, who bravely stands between the station and the public, wondering why she bothers taking the details of the endless stream of drunks and yobs who pass her desk.
Fowler's force also includes Constable Kevin Goody (James Dreyfus) - definitely the thickest part of the Thin Blue Line - who is deeply in love with Constable Maggie Habib (Mina Anwar); a love that is unrequited, something Goody can't even spell, let alone come to terms with. To her, graffiti is a vibrant street art. To him, it's nasty little yobs scribbling on walls.
Constable Gladstone (Rudolph Walker) is the oldest office at Gasforth, a man who has seen everything before. Unfortunately, he's forgotten all of it, too.
The might of the uniformed branch pits its wits against crime and the CID force of Gasforth station, led by Detective Inspector Grim (David Haig), who isn't a happy man. CID work can be so depressing. Nothing but hooligans, yobbos and foul-mouthed delinquents; though, as Fowler points out, some of Grim's officers aren't so bad. Grim's sidekick is Detective Constable Kray (Kevin Allen) - definitely not a dedicated copper, he uses his warrant card principally for pushing in queues in shops. Kray is later replaced by D.C. Boyle (Mark Addy), a policeman slightly more honest, but certainly no more hard-working.