Samantha Bond plays The Queen...
What's your character's journey in the story?
The story begins with the prime minister ousting the royals, so they go from Buckingham Palace to a pretty grim estate in the north. I hasten to add, we made it look grim, the people on the road were wonderful. Having had everything at her beck and call, the Queen is thrown into a very very real world that she knew nothing of. And really the story is how they all cope with that. Some cope better than others.
Tell us about your portrayal of the Queen...
Well we weren't so much doing impersonations as representations. We had a brilliant make-up and costume department; it's a very good look. And then you are just trying to be as real as you can be while looking like someone that everyone is very familiar with.
There were certain challenges with the accent and you'd feel very silly if you were playing with some of the northern actors. The challenge of acting with a corgi... There's one who was with me all the time who was called Rudi and he was very well behaved and one day he came with a young friend called Ronnie who got very overexcited. He hadn't been on a film set before, so he was a bit of a handful.
Did you study the Queen or any other royals for inspiration?
Funnily enough, probably about 10 years ago, I did a drama-documentary playing The Queen. So I'd done bits of study then.
Her stance... The way she puts her feet, which is all about standing up for hours. The gloves, which are a necessity because you're constantly shaking hands. There are wonderful things about the handbag, which aren't in the film, but if she's fed up with someone she takes it off her left arm and puts it on her right. And if she wants to go home immediately she puts it on the table.
You have to remember we've been watching her all our lives. There is a moment when I have to give the Christmas address and that's extraordinary because one has watched that all one's life. I do think she's an immensely kind person and I hope that comes across.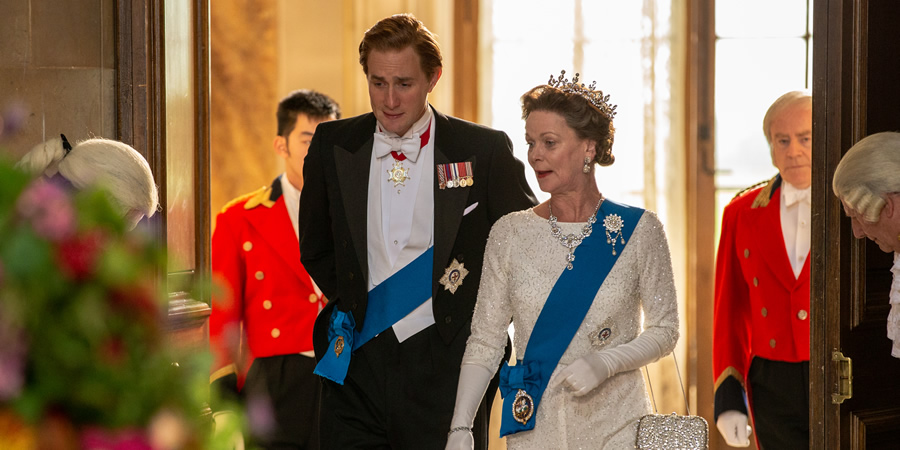 What do you think The Queen would make of it?
I'm hoping the Royal Family would really enjoy it. I think it's hugely affectionate and I'm loathed to offend them, but I think they'd think it's quite funny. The script that Stephen Russell presented is brilliant; it's very funny, it's surprisingly moving.
Did the cast and crew treat you with extra deference when you were dressed as Her Majesty?
No, they didn't. They were adorable. Every now and again I got called ma'am. The worst bit was when we arrived at this close where they go to live and all the extras were there and, dressed as the Queen, I swore in front of the children!
At the beginning of the film when they're still in Buckingham Palace, we were shooting in a beautiful house where they shot Brideshead. The tourists were going around and there was a wonderful moment where I came up the corridor and turned into this magnificent room that was full of Japanese tourists who of course thought The Queen had arrived. It is very funny, because everyone immediately recognises who you're being, so there's very little hiding what you're up to.
Is there anything you particularly enjoyed about the shoot?
It was one of the most fun jobs I've ever done and I've been doing this for 36 years. It was a lovely company, it was a fantastic crew and the other thing I really would like to mention - because we filmed a lot in one road, the supporting artists became hugely important. Normally you don't get to know their names, normally you don't get to chat, but they were my neighbours every day and they were absolutely wonderful.
How was it working with the rest of the cast?
Well, the great revelation for me, because I knew a lot of the cast, the great joy to discover was Johnny Vegas. He's such a complete and utter darling and he's someone who my sons have admired for years. He's sweet, he's funny, he's affectionate, he's shy. He's just the best. Top bloke. Joyous human being.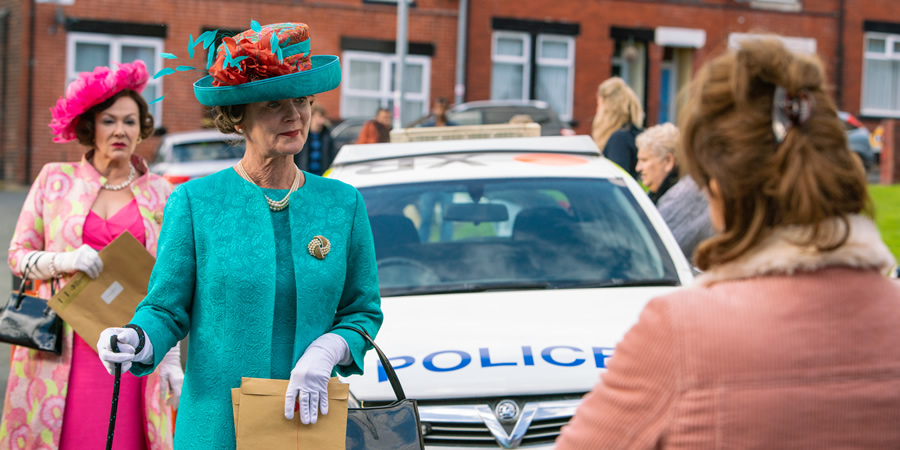 And what would you do if you could be Queen for the day?
Oh, have I only got a day?
Well, you can have a bit longer if you need it for... world domination?
I'm not remotely interested in world domination. I think I'd have a huge party. I remember when we had the street parties back in the 70s for her Silver Jubilee and I did love that. I think it's a wonderful moment when your community comes together.
How do you think the public would react if the monarchy were abolished in real life?
I think they'd be horrified. I don't even believe myself to be a great royalist, but I do embrace the fact that our head of state is a non-political figure, you know, thus avoiding Trump-like scenarios.
Are there any other famous figures you would like to play?
I would have liked to have been a suffragette at some point. I think they were magnificent.
The Queen & I is going out on Sky One at Christmas. What do you imagine a Christmas Day with the Royal Family is like?
Well it starts with church, I believe, and then I expect they'll have a fabulous lunch and then I think they will sit down and watch a film. Because there was one year when we had a Royal Command Performance of a film called A Bunch Of Amateurs starring the late great Burt Reynolds and the Queen enjoyed it so much when she saw it at Leicester Square she asked for it for Christmas. So you never know, they may all curl up around The Queen & I and have a lovely gentle afternoon. Because it really is family entertainment. It's not above the children's heads, the kids will think it's really funny. I think it's a lovely piece for Christmas.
And do you have any Christmas rituals or traditions of your own?
We have a terribly traditional Christmas and we share it with three or four families. So there are between 10 and 14 of us and we all share the cooking. It usually happens in my house because I've got the biggest table, but my friends bring just as much food as me and do all sorts of other things. And [my daughter] Molly organises a Secret Santa. So it is big, but it is very family.
And finally, what would you buy the Queen for Christmas?
I think I would buy her some cashmere bed socks. Coz they get draughty those big houses.