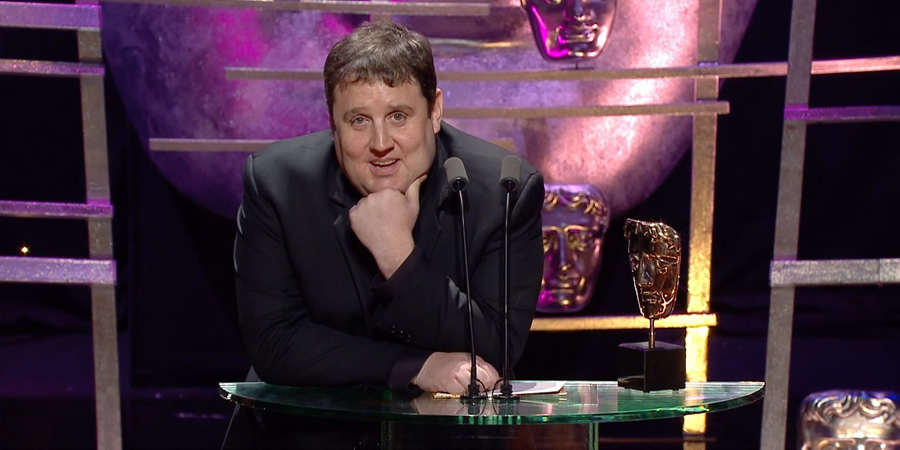 Genre

Documentary

Broadcast

Channel

Episodes

1

Features
The Story Of Peter Kay traces the truly remarkable career trajectory of one of Britain's best loved and most successful comedians. The documentary is a life and career tribute, charting Peter's unique journey from humble beginnings to superstardom and talking to the people who knew him, worked with him and helped shape his career, as well as his devoted fans, biographers and media champions.
We look at his formative years growing up in Bolton, playing the Cowardly Lion in a school production of The Wizard of Oz (and bringing the house down when he cocked his leg against a tree) and barely leaving the house as he amassed an astonishing collection of recorded TV shows, especially comedy, from which he learnt his comic trade as if by osmosis.
We discover how the young Peter went from job to job, picking up comedy gold along the way - from the local cinema, bingo halls, a toilet roll factory and a motorway service station, before taking a stand-up comedy course at University which quickly led to him being voted North West Comedian of the Year (beating Johnny Vegas). He was soon a major star on the circuit and appearing in numerous TV bit parts.
In his early twenties Peter was given his own series on Channel 4, That Peter Kay Thing, which provided a showcase for his skills both as a writer and an actor as he played multiple roles, one of which was the now legendary wheelchair-bound working men's club owning tyrant Brian Potter. The rest was very soon history.
We speak to cast members from That Peter Kay Thing, as well as Phoenix Nights, who reveal what it was like working alongside Peter, who would habitually direct from his Brian Potter wheelchair.
We see how quickly he became the king of stand-up comedy, selling out massive venues as fast as One Direction or Adele and appealing as effortlessly to teenagers as he does to great grandmothers with his highly crafted observational routines.
Along the way he has become the perfect chat show guest (having started out as Michael Parkinson's warm-up man) and a multi-million selling pop star on behalf of Comic Relief and as a fictional X-Factor style singer called Geraldine.
Away from our screens for a few years Peter came back in 2015 with a massive bang as the star of not one but two award winning new comedies, Cradle To Grave and Car Share.
Part of

Production company

Also known as

The Story Of Peter Kay (Other official name)
Broadcast details
First broadcast

Sunday 30th October 2016 on Channel 5 at 9pm

Episode length

90 minutes

Last repeat

Friday 23rd December 2016 at 11:55pm