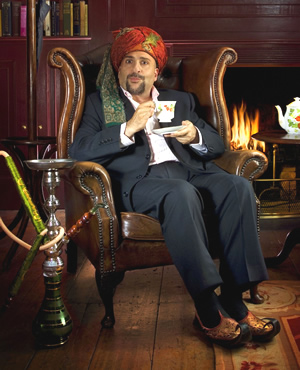 The London Olympics, Henry VIII, the credit crunch and darts players' wives are just some of the targets of the second series of Omid Djalili's sketch show. Here, Omid tells us about his favourite characters, what (or who) inspires him and the secret of his comic appeal...
What surprises can viewers expect from your new series?
Look out for my over-the-top Lemmy from Motorhead impression in episode one!
What are your favourite new characters and why?
The Community Support policeman - he appears only the once and it's my personal tribute to the comedy persona of Mock The Week's Andy Parsons, who amuses me greatly. And look out for my Look Eastwards TV presenter character Gordon Farahani, who gives a Middle-Eastern makeover to some familiar shows including Arabvision Song Contest and Sheiks In The City.
Where do you get the inspiration for your characters?
Looking deep within my soul and at the panel members on Mock The Week.
From false eyelashes to beards and wigs, there's a lot of fake hair worn in your new series. Do you like dressing up?
I genuinely hate it. But I never thought about practicality when the sketches were written, otherwise every sketch would have been about a fat bald man.
Henry VIII and Napoleon are two of the historical figures that pop up in the new series. What interests you about drawing on history for comedic value?
We didn't have the benefits of YouTube back in the day to study and scrutinise ancient figures in history - it was always up to an actor's interpretation. My interpretations of historical figures are a joke on interpretations.
What were the highlights of filming your new series?
Working with a great team, having a black James Bond and marvellous catering.
Were there any lowlights?
The moment my tour manager said in Edinburgh, as if hit by a mighty revelation, that our 'merry band of four' were exactly like The Goons. I was 'the fat unfunny one who likes to sing all the time'.
What do you think is the secret of your comic appeal?
A profound desperation to be liked.