Twenty years ago, in 2001, a regional manager in Berkshire joined his staff for an impromptu meeting. "There is good news and bad news" the boss David Brent (Ricky Gervais) announced, before immediately confirming his team's worst fears. "The bad news is Neil will be taking over both branches and some of you will lose your jobs. Those of you who are kept on will have to relocate to Swindon." The team are clearly devastated and, for a moment, Brent makes a show of sharing their collective sorrow. "I know, I know... Gutting... Gutting."
But soon, he continues. "On a more positive note, the good news is... I've been promoted!" He cannot help grinning. "So, every cloud..." But soon he notices his co-workers are not impressed. Slowly, the penny drops. "You're still thinking about the bad news aren't you?"
The first series of The Office was broadcast across July and August 2001, and by the time the sixth episode (entitled Judgement) had been shown, viewers had got to know the staff of the Slough branch of paper merchants Wernham Hogg pretty well.
Though David Brent was undeniably bad news for the company's staff, in the past twenty years, both he and The Office have proven very good news for us.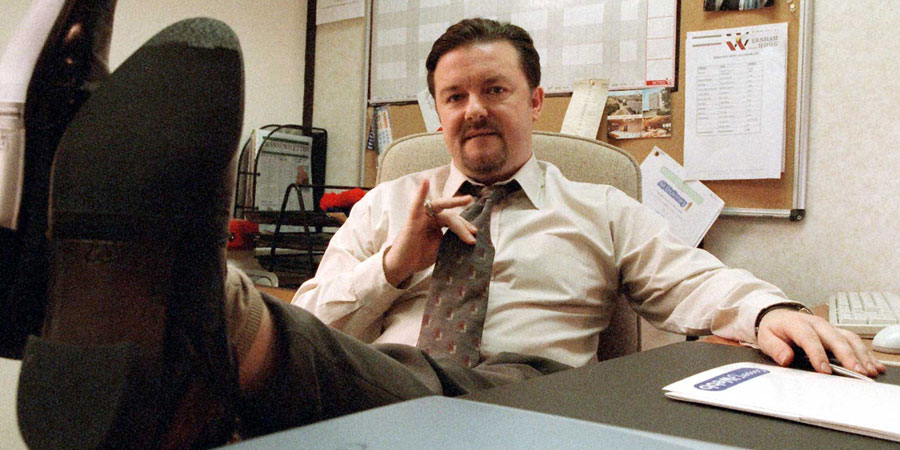 Where life is stationary
Amongst other characters viewers had become familiar with was Tim Canterbury (Martin Freeman), a university drop-out who is still living at home as he enters his thirties. Funny, intelligent and likeable, Tim is bored out of his mind by a job that is tedious beyond all belief. "My job is to speak to clients on the phone about quantity and type of paper, whether we can supply it to them and whether they can pay for it," he relates. "... and I'm boring myself talking about it."
Were it not for his longing for receptionist Dawn Tinsley (Lucy Davis), Tim would doubtless have left long ago. He dreams of taking up a degree in psychology. But while Dawn clearly likes Tim just as much as he likes her, she is locked into an unpromising relationship with her unambitious childhood sweetheart, Lee (Joel Beckett).
Then there was Gareth Keenan (Mackenzie Crook), a socially maladroit and self-important military obsessive with a West Country accent. A former member of the Territorial Army, Gareth gets on badly with Tim and takes his duties as "assistant regional manager" (in reality: 'assistant to the regional manager') very seriously. Gareth does, at least, feel lucky to be there. "Why waste your life in paper? Not a waste, actually, not a waste. Look at Jeff Lamp. He's 42, he's got a Porsche. That's from paper."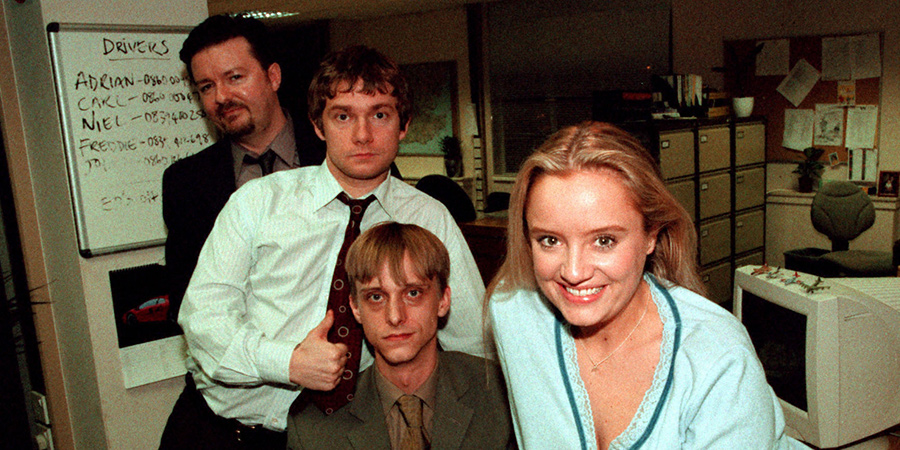 But most memorable of all was the regional manager himself, David Brent. Imagining himself to be a dream boss due to his attempts to prioritise being a friend and a comedy performer, Brent, in fact, makes his staff's lives a misery through his endless narcissism and often awkward and inappropriate attempts at humour. "You've got to chill out, yeah, trust me, this is what I do, alright?" he says to his workers at one point. "You will never work in a place like this again. This is brilliant. Fact. And you will never have another boss like me. Someone who's basically a chilled-out entertainer."
Starting up
Ricky Gervais first met Stephen Merchant in 1997 when hiring Stephen as his assistant on London radio station XFM. Bristol-born Merchant was 23 - Gervais was then in his mid-thirties but the two hit it off. Merchant soon enrolled in a BBC management training course and recruited Gervais for a short 1998 film, Seedy Boss, which he made as part of his coursework, developing a character Gervais had already been working on. The film, which took the form of a pretend documentary narrated by Merchant, became the starting point for The Office. Earlier versions of Brent tend to be sleazier than he appeared later but the essence of the character was there.
A pilot for a full television series was shot in January 2000. Central to its success were three actors in their late twenties. Lucy Davis, who would play Dawn, was the daughter of comedian Jasper Carrott. Although she had appeared in the celebrated 1995 TV version of Pride And Prejudice, a more enduring role was her ten years as Hayley Jordan in Radio 4's The Archers.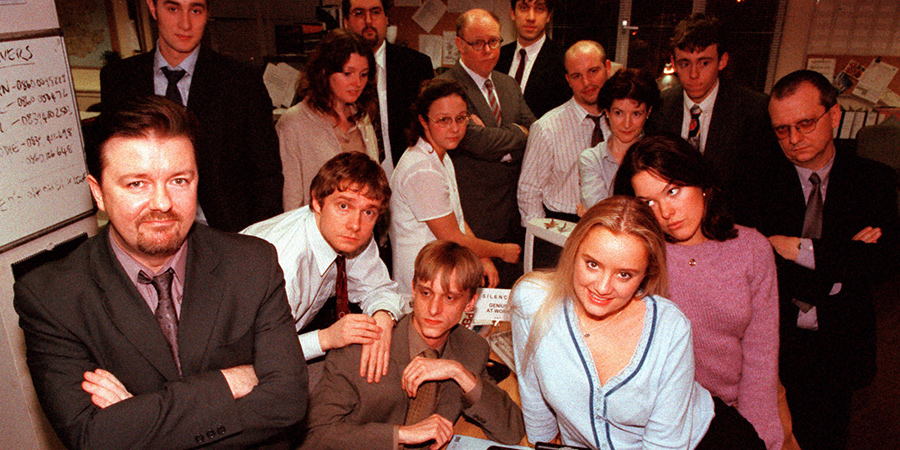 Martin Freeman, meanwhile, initially went up for the part of Gareth before being cast as Tim. He had appeared as a party guest who outstayed his welcome in This Life and a doctor in the very first episode of Channel 4 sitcom Black Books, but was essentially unknown.
Mackenzie Crook had appeared in The 11 O'Clock Show, the Channel 4 format most often remembered for launching Ali G: a show in which Gervais himself had also featured. Physically the opposite of the bulky, beefy type Gervais and Merchant had originally envisaged for Gareth, Crook proved to be ideal. A downside of the role was that that the unfashionable hairstyle Crook adopted for the part would be permanently immortalised in the photos of his wedding, which took place the same year.
As we now know, the pilot was a success and the BBC commissioned a series: the first episode of The Office aired just two weeks after Ricky Gervais's 40th birthday, on 9th July 2001.
Pulp fiction
You would be forgiven for having missed The Office during its original run. The first series was sneaked out during the traditionally quiet summer holiday period with little fanfare. There were no stars in it. It was set in the Slough branch of a fictional paper merchants. Many even struggled to differentiate the sitcom from the fly-on-the-wall reality documentaries it was spoofing. As flammable as paper is, such shows do not traditionally set the world alight.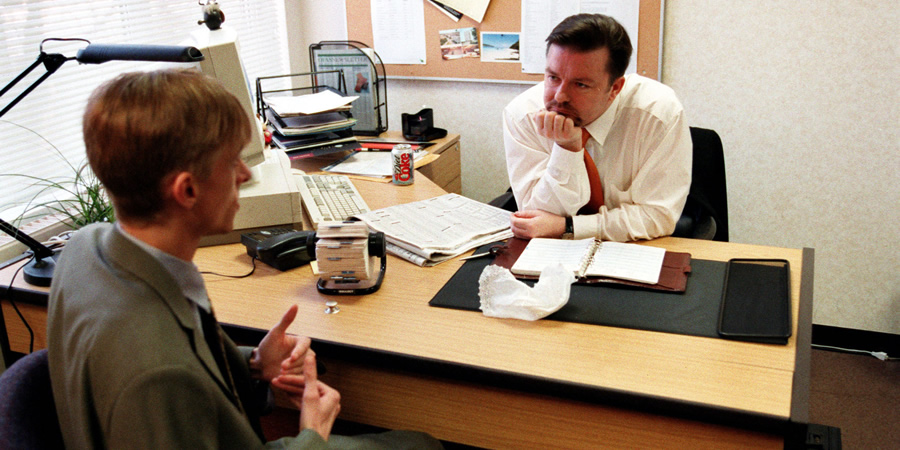 In some ways, the series really hits its stride with the quiz-night themed third episode. Far from being a sporting, good-natured event, the quiz becomes an ill-tempered, pedantic and embittered affair - largely due to the presence on Brent's horrendous bullying cohort, Chris Finch (Ralph Ineson), who is determined to turn it into a contest between the younger "waste of space" ex-university students such as Tim and Ricky (Oliver Chris) and those like himself and Brent who attended "the university of life".
In the end, his and Brent's team lose, despite Brent cheating by surreptitiously using his mobile phone to get one answer. However, they are able to claim a semblance of victory when Finchy (easily the most unpleasant character in the entire series) wins a ridiculous bet to throw Tim's shoe over the top of the building.
Episode 4 is another classic, as a staff training day is totally disrupted by Brent's obsessive desire with being constantly in the limelight.
The first series nevertheless aired to modest ratings, with only 1.2 million tuning in for the very first episode. Gervais later joked that the only show to get lower ratings that summer was women's bowls. It essentially slipped out unnoticed in the wider world. The big British TV comedy story of Summer 2001 appeared to be Channel 4's headline-grabbing screening of the Brass Eye Paedogeddon special, half-way through The Office's run.
But reviews were positive. "Extremely promising," said The Guardian. "Scarily realistic, but hilarious," said The Observer. The Times went further: "Original and accurate and painfully funny - it will have every office in the country twitching with spasms of recognition. This is a gem."
Success
Slowly, The Office began to take off.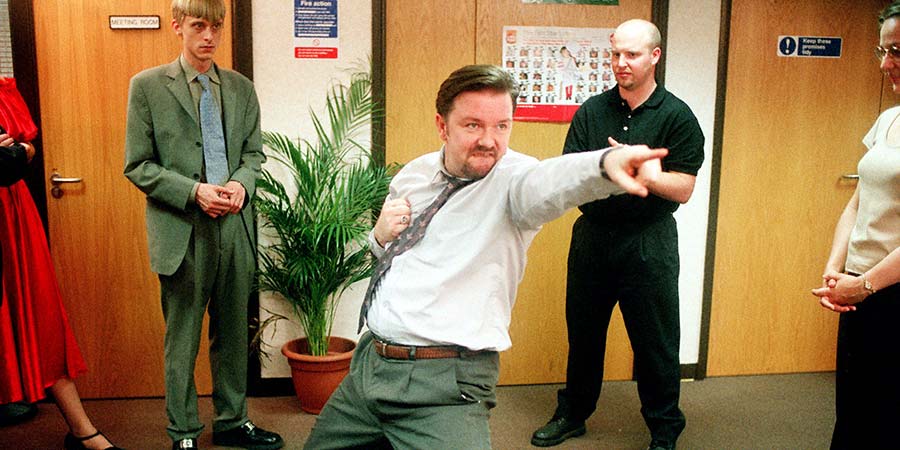 By the time of The Office's second series - between September and November 2002 - a real momentum had built. In the British Comedy Awards of December 2001, The Office had won the Best New TV Comedy prize. Clips of Ricky Gervais's character in full flow had started to appear in adverts promoting the BBC.
Crucially, The Office had also been repeated quickly, an important development in the age before iPlayer. The second series had also coincided with a smartly packaged release for the DVD of the first series featuring Brent sitting arrogantly at his desk against a largely white minimalist background. The popularity of the DVD has waned in the years since, so it's easy to forget how exciting a medium it was at the time in 2002, and the slick bonus features packed into The Office Series 1 - one of the first British TV comedies of the digital age - took full advantage of this.
There was therefore a genuine buzz when Series 2 came to air. The run featured even more awkward cringe comedy as Brent openly went into freefall, desperately attempting to compete with the popularity of the smoother and more professional Neil (Patrick Baladi), head of the "Swindon lot" who had eventually ended up merging with Brent's branch in Slough.
Although some would question whether it was actually better than the first, the second series went on to win not only Best Show at that year's British Comedy Awards (with Gervais winning Best TV Comedy Actor), but, in 2003, broke new ground by winning a Golden Globe (Gervais again winning Best Actor) and a Peabody Award. No British series had gained a Golden Globe nomination in a quarter century and The Office was the first to actually win one (Gervais and Merchant's next series, Extras, and Phoebe Waller-Bridge's Fleabag, have both won since).
A final pair of Christmas specials in December 2003 brought the action to BBC One and to an end, achieving ratings of over 8 million in the process. The show was now a phenomenon, with Brent widely ranked alongside the likes of Basil Fawlty, Victor Meldrew and Alan Partridge as one of the greatest comedy characters ever made.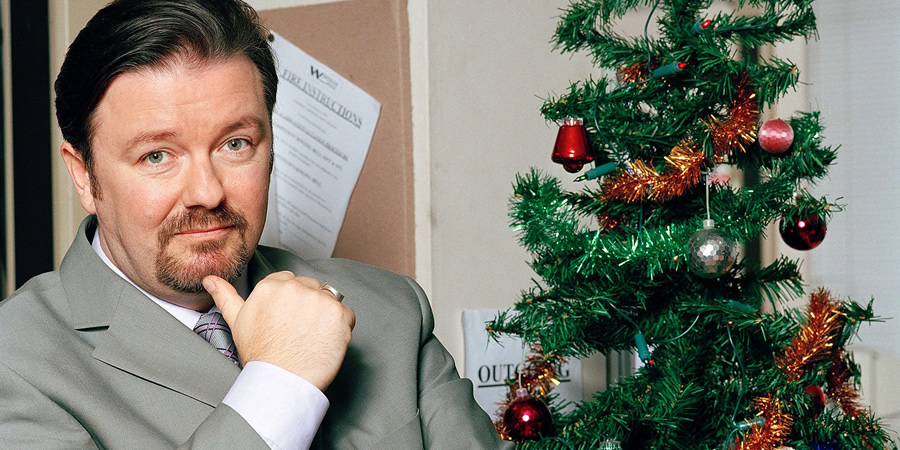 Are you having a laugh?
Watching The Office today, it is almost impossible to find serious fault with it. The documentary feel of the series works especially well. We get to see the characters interacting normally as in any sitcom but also airing their thoughts directly as talking heads talking straight to camera. The characters' constant awareness of the cameras at all times adds an extra element of fun. Brent, for example, often seems to be showing off more than usual because he knows he has a wider audience. Gareth, meanwhile, regularly looks very self-conscious in front of the lens, while Tim will often just give the camera a wry or panicked look when something unbelievable has happened.
Coming after The Royle Family (1998) and Spaced (1999), as well as the US series Curb Your Enthusiasm (2000), it was already increasingly fashionable to eschew the sitcom's traditional laughter track, but it was The Office that really cemented the trend.
Indeed, when I'm Alan Partridge (1997) returned for a second series in 2002, many viewers were apparently surprised and disappointed to find they could now hear audience laughter after every funny moment. In fact, the first series had had laughter on it too. Many viewers' memories had become confused, perhaps because both Partridge and The Royle Family, although not actually spoof documentaries, were filmed in a more naturalistic way.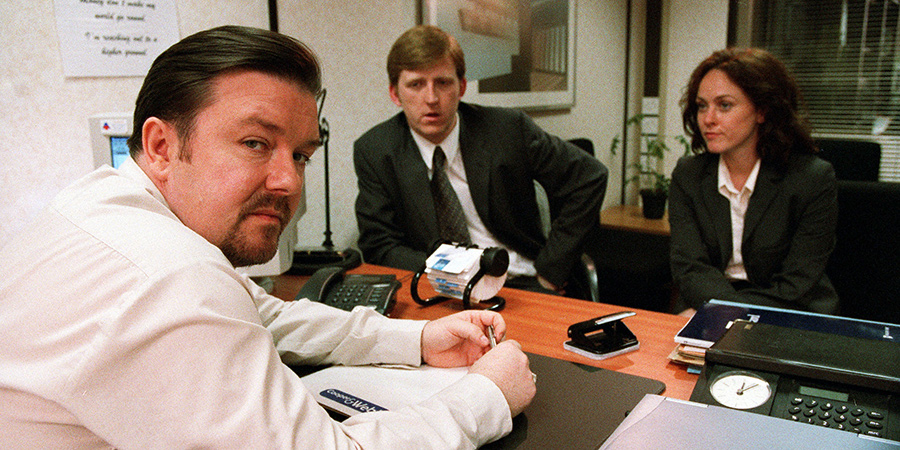 The Office certainly deserves credit for popularising the mock documentary format that has influenced so many narrative comedy formats since, from This Country and People Just Do Nothing here in Britain, to Parks And Recreation and Modern Family in the US.
Legacy
Perhaps hoping to repeat the cult success of something like Spaced (which Gervais had briefly appeared in), The Office's widespread, popular acclaim must have surpassed Gervais and Merchant's wildest dreams. Although not an instant hit, it is now difficult to see how The Office could have been any more successful than it was. The series transformed Gervais from a little-known comedy figure best known for turns on The 11 O'Clock Show into a major star, and gave a similar break to Stephen Merchant. "We're all now working the shadow of Gervais now, aren't we?" Fast Show co-creator Paul Whitehouse conceded during a radio interview to promote the second series of his own sitcom, Happiness, in January 2003.
Time has thus far been generally kind to it. Even those who dislike Ricky Gervais generally and find fault with his other projects (such as Extras, Life's Too Short, Derek and After Life) tend to credit The Office with higher esteem. This is partly, no doubt, because it ended fairly early on: it is hard to think of many comedy series that match it for consistency. Most tail-off in quality during their run, or were never as good as The Office in the first place.
Although a number of characters (notably Chris Finch, and to a lesser extent Garth and Brent himself) are notably sexist, racist and homophobic, the series also escaped censure in the recent re-evaluation of many early 21st comedy shows in a way that Little Britain, The Mighty Boosh, Peep Show and The League Of Gentlemen did not.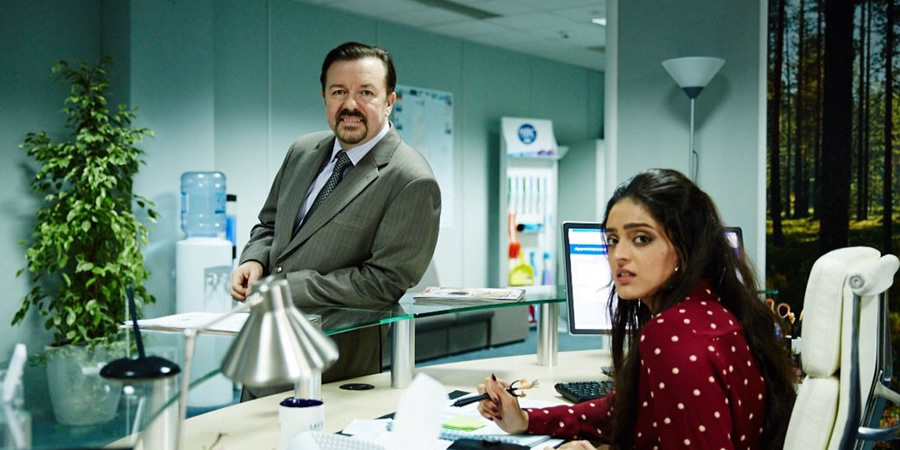 The only slight blot on The Office landscape is perhaps its film sequel, Gervais's David Brent: Life On The Road, which opened to lukewarm reviews and average box office takings in 2016. The message seemed to be clear: taking Brent away from the constrained office environment - and indeed, removing co-creator Stephen Merchant from the equation - just didn't work.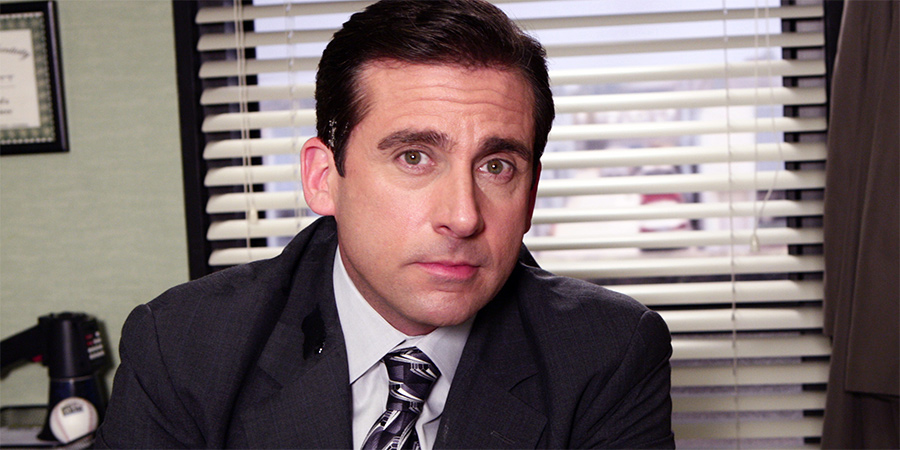 However, The Office was given a massive new lease of life by an American adaptation, with Steve Carell taking on the central role. Running for nine hit series (between 2005 and 2013), it clocked up almost 14 times as many episodes as the original, and even though it has now been over for almost as long as it was ever on, the 201 episodes of The Office: An American Workplace (as the show is sometimes referred to in the UK) remain extremely popular. Indeed, it was reported to be the single most downloaded series in the US during the pandemic year of 2020.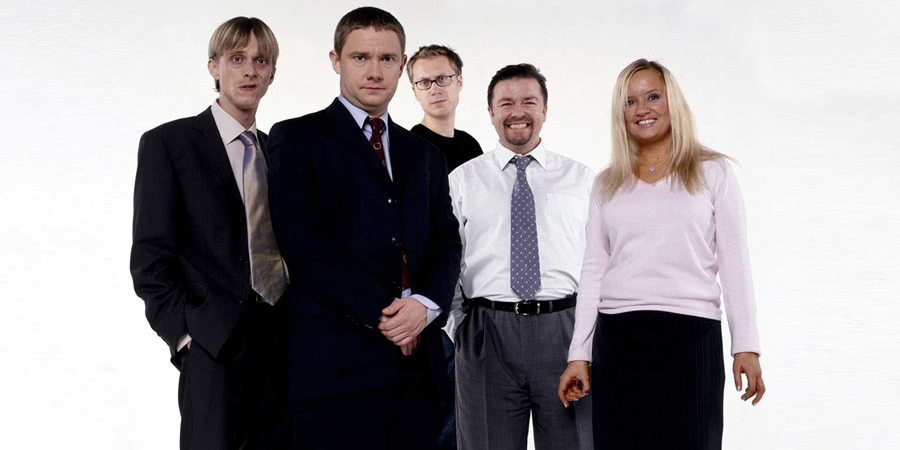 Twenty years on, the stars of The Office are now everywhere. Lucy Davis was in 2017's Wonder Woman. Martin Freeman, his career boosted again by the enormous success of TV's Sherlock, is now a major TV and film star having featured in both the Marvel Avengers saga and as Bilbo Baggins in Peter Jackson's Hobbit trilogy. Mackenzie Crook, meanwhile, wrote and starred in the acclaimed TV comedy Detectorists and the reimagined Worzel Gummidge series.
Gervais and Merchant themselves remain multimillionaire stars and household names, with Gervais currently filming Series 3 of After Life for Netflix, and Merchant set to debut new comedy drama The Offenders on BBC One soon. But perhaps most bizarrely of all, David Brent's song, Free Love Freeway can regularly be heard on a series of very expensive TV adverts for the UK digital terrestrial platform Freeview. Proof, if proof were needed, of the enduring legacy of The Office.
And that is the good news.
Published: Monday 5th July 2021