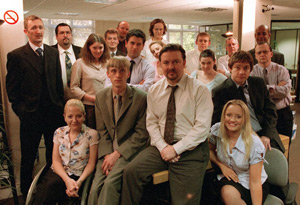 It's been ten years since Ricky Gervais and Stephen Merchant unleashed David Brent, the smug, hypocritical, and sorry Regional Manager of the Slough branch of Wernham Hogg, on the world. And nine years since that dance. Though it concluded in 2003, its presence is still felt.
"My proudest moment here wasn't when I increased profits by seventeen per cent, or cut expenditure without losing a single member of staff. No. It was a young Greek guy; first job in the country, hardly spoke a word of English, but he came to me and went, 'Mr. Brent, will you be the Godfather to my child?' Didn't happen in the end. We had to let him go. He was rubbish. He was rubbish." - David Brent.
Filmed as a 'mockumentary', The Office is, essentially, the story of four individuals. David Brent (Gervais) is the funniest and most popular person in Slough... at least, he thinks he is. Gareth Keenan (Mackenzie Crook), Assistant to the Regional Manager, is a self-important, naive jobsworth, who admires Brent. He is brought down to earth by Tim Canterbury (Martin Freeman), a witty but bored employee, striving for something more... in particular, Dawn Tinsley (Lucy Davis), the branch receptionist, who cares for Tim, but is engaged to warehouse worker Lee (Joel Beckett). They are joined by the slow monotonous accountant, "Big" Keith Bishop (Ewen Macintosh); chauvinistic pig and David's best friend - Chris "Finchy" Finch (Ralph Ineson); and Neil Godwin (Patrick Baladi), Brent's boss in Series 2, amongst many others.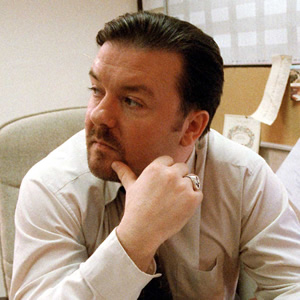 As Ricky himself pointed out, The Office doesn't sound like much on paper - boiling David Brent down to an arrogant boss telling a bad joke, and looking at the camera. Instead of a script, Gervais and Merchant sent, essentially, a pilot episode to the BBC in 2000. However, the show had its roots in a short sketch, entitled Seedy Boss, made in 1997, and shot in the office where Ricky worked, with employees as background characters. The BBC were hooked by this demo filmed in one day, and on Monday 9th July 2001, The Office debuted on BBC Two.
The show was a success, with the commission of a second series, and two Christmas specials in 2003. Ricky, Stephen and their friend, the (possibly unintentional) funny-man Karl Pilkington may never have graced our screens, however. Having seen the demo, the BBC met with Gervais and Merchant to discuss the comedy. The creators made some unerring demands - that they would write and direct it, that Gervais would take the lead as David Brent, and that the cast would be made up of unknown actors - prompting Merchant, after leaving the meeting, to say, "in future, can I do the talking at these things?"
Despite this, the BBC gave Gervais and Merchant control over the show, allowing the pair to shape a series they were proud of. Untraditionally realistic, awkward and surprisingly sad, The Office got mixed reviews initially, but is now celebrated as a defining show of the 2000s, and a comedy icon.
"I'd be lying if I said my life turned out exactly as I'd expected. My old school recently had a reunion, which I didn't go to, but one girl in my class - it turns out, right - is now running her own internet auction website, making a fortune, and is happily married to a marine biologist. She used to eat chalk." - Dawn Tinsley.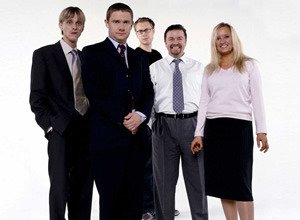 You can't argue over the success of The Office. Due to overseas sales, DVDs and syndication, the show has grossed an estimated £370 million worldwide, and has been shown in 170 territories in 88 countries. It has also spawned eight remakes, including France, Canada, Germany, Israel, Chile and Russia. A Swedish remake is set for broadcast in September. Most famously, the US remake has currently notched up seven seasons with Steve Carell (Evan Almighty, Date Night) as Brent's counterpart, Michael Scott. Season eight, with James Spader (Crash, The Practice) taking over as the new CEO, will also air in September.
The UK series of The Office remains as one of the few shows to unite both critics and the general public. All fourteen episodes currently have IMDb ratings above 8/10, with the final two episodes of series two achieving 9.1, as did the first part of the Christmas specials. While 'Training' is the most popular episode of Series 1 at the moment - with 9/10 - the favourite of all is the final episode, part two of the Christmas specials, with 9.6/10.
Its success has led to the further success of its stars and creators. Like it or not, Ricky is now one of the most successful comedians in Britain, and the only one to appear in Time's 100 Most Influential People In The World List. He is one of the most recognisable people in the UK, with numerous stand-up shows and TV specials under his belt. However, he certainly splits the nation; his name is synonymous with David Brent, and it is perhaps this that puts people off the comedian. But to become Brent, Gervais has to slump down, sport a suit and goatee, grip his bottom lip with his teeth and make a gun-shape with his fingers. This assumption certainly hasn't held him back.
Co-creator - and onetime 'Oggmonster' - Stephen Merchant has also embraced this success, playing extras in numerous shows and movies. Most recently, he starred as Gary in Hall Pass. Though starting his career as a stand-up comedian in Bristol, Merchant admits that one night, he would be successful, and the next, be booed off stage. From August, he embarks on his first nationwide tour, Hello Ladies... - "Life can be lonely as a TV writer, so this tour is a great opportunity for me to get out there and meet my fans," he says. "And make at least one of them my wife."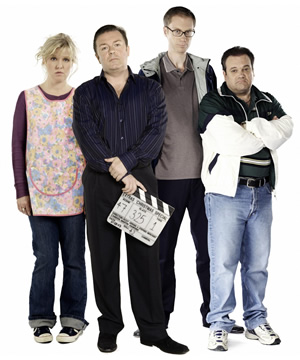 Gervais and Merchant have gone on to make the fictitious story of struggling 'background artist' Andy Millman in Extras (pictured), which was the second UK comedy to win a Golden Globe (the first being The Office). They are still the only two to ever do so. The duo are currently working on their third sitcom, Life's Too Short, starring Warwick Davis, to be broadcast later this year. They have also written, directed and co-starred in films like Ghost Town, The Invention of Lying, and Cemetery Junction, and introduced the world to Karl Pilkington in The Ricky Gervais Show and An Idiot Abroad; however, they're not the only ones to gain fame from The Office...
Martin Freeman met Ricky when working on the series Bruiser, and auditioned for the part of Gareth Keenan. He soon found himself in the role of Tim, instead, and hasn't looked back since. He has starred as Arthur Dent in The Hitchhiker's Guide to the Galaxy, John in Love Actually, and - most recently - Dr. Watson in Sherlock. He is set to play the title role of Bilbo Baggins in the upcoming multi-million dollar blockbuster film The Hobbit.
Mackenzie Crook did find himself in the role of Gareth, having first met Gervais on The 11 O'Clock Show. While he has also played the lead in Three and Out, he is perhaps best-known for his role in Pirates of the Carribean. He is currently filming The Adventures of Tintin: The Secret of the Unicorn.
"Avoid employing unlucky people - throw half of the pile of CVs in the bin without reading them." - David Brent.
Executive Summary
Mixing comedy, strong characterisation, realism and emotion, The Office defined a new generation of comedy, turning its stars into household names. The last time it graced our screens was in 2009, when the first series was shown again. Any chance of some more repeats please, BBC...?
It's been ten years since The Office hit our screens, and David Brent has finally got his wish: to be a comedy great...
Published: Saturday 9th July 2011