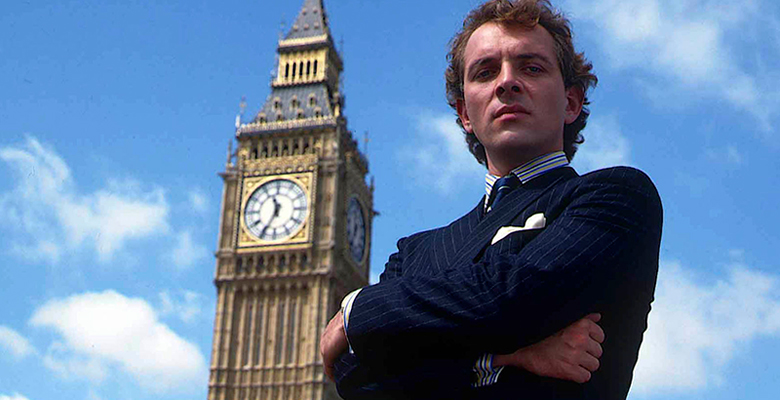 1956 - 2014
Lord B'Stard of Haltemprice died peacefully at B'Stard Manor on Monday June 9, in the arms and mouth respectively of his two faithful Polynesian masseuses. He was 58 years young, though in his witty way that endeared him to so many people, he would have claimed to be still only 14, since he was born on February 29th.
Lord B'Stard will be remembered by those rich and privileged enough have known him, as a kind and generous man, a convivial host, brilliant raconteur, great patriot and extraordinary lover who perfected the eight second orgasm. Yet despite his irresistible attraction for the opposite sex, he was a wonderful husband to five wives - as a true internationalist, he consecutively married beauties from all five continents.
In recent years his was a quiet but commanding presence on the red benches of the House of Lords, but he was also often to be found at one of his many favourite clubs - White's, the Athenaeum, Farage's Private Members Club or, for he was no snob, the Elite Massage and Hand Relief Warehouse, Southall.
Lord B'Stard entered public life in 1987 as a Member of Parliament for Haltemprice, which he won with the largest majority in the House of Commons after his opponents were involved in a horrendous motor accident on polling day. He first came to national attention for quickly piloting two pieces of vital social legislation through Parliament: arming the police and legalising insider trading.
After a short spell as Secretary of State for Health, during which he masterminded the successful near-privatisation of the National Health Service, Lord B'Stard was offered and repeatedly refused the great offices of State: Chancellor of the Exchequer, Home Secretary and Foreign Secretary. Although happy to remain on the backbenches, where he felt his immoral work could best be completed without being subject to scrutiny by the Press, it was Lord B'Stard who in the shadows was behind a series of radical budgets designed as "incentives to the poor to get rich". The loading of high income and purchase taxes on the low paid and unemployed, and the parallel lower tax rates for higher incomes, led to Britain becoming the world manufacturing and trading centre for central London houses, luxury cars, mink coats and expensive jewellery. Unemployment figures plummeted during this period. Coincidentally, suicide and emigration figures rose somewhat.
After working under the excitement and sexual magnetism of Margaret Thatcher for three years before she was brutally rejected by her party, Sir Alan B'Stard (as he had by then become) found John Major's administration too grey and dismal to be bothered. As Sir Alan said of Major, "He must be the only boy to have left the circus to join a firm of accountants". A new challenge was sought and it arrived in 1994. Having discovered an up and coming Tory, Sir Alan B'Stard took the young Tony Blair under his wing and modelled him on himself.
This "challenge" was the formation of New Labour, and when they won the 1997 General Election, B'Stard crossed the house without a second thought, moved into 9 Downing Street and became Blair's man behind the throne. New Labour was created in B'Stard's image and within a week of taking office he had organised a £3 million donation from Bernie Ecclestone, an old friend and partner in Formula One racing. One million of this found its way into Labour Party funds.
The whole world remembers with gratitude the crucial peacemaking role played by Sir Alan B'Stard in the Iraqi War of 2003, when Sir Alan suggested to Tony Blair that he, B'Stard, plant weapons of mass destruction in Iraq, the excuse the Prime Minister was looking for to invade Iraq. That no weapons of mass destruction were ever found, and Sir Alan B'Stard entered the top ten of the Sunday Times Rich List, remains one of the great mysteries of that indecorous war, and really was the beginning of the end for Tony Blair ... just as Sir Alan B'Stard had intended. Tony Blair pushed Sir Alan upstairs, from whence Lord B'Stard organised Blair's downfall.
The triumphs of Sir Alan B'Stard's time in Parliament are too many to enumerate in what is, perforce, a brief appreciation. However, Lord B'Stard's best-selling autobiography Almost A God, minutely details his adventurous career, for he was never prey to the vices of false modesty. But it should be remembered here that his personal courage brought us all a step nearer immortality, when he bravely volunteered as a guinea pig for the revolutionary new anti-ageing hormone treatment, which was subsequently made available, to all who could afford it, under the aegis of the Alan B'Stard Longevity Foundation Limited.
Lord B'Stard leaves a widow, Lady Gaga, his fifth wife, five children, twelve grandchildren, and two Polynesian masseuses.
It took the undertakers three days to nail the lid down on his coffin.
Lord Alan Beresford B'Stard, born Wednesday 29th February 1956, died Monday 9th June 2014.
Obituary written by Laurence Marks and Maurice Gran.
Published: Monday 25th August 2014