See Also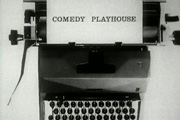 A peek into the steamy lives of three young women who share a flat in London, and their neighbour Charlie, a middle-aged divorcee.
A documentary looking back at the original BBC Comedy Playhouse pilot strand, featuring contributions from some of those involved.
Sitcom about two young women sharing a high-rise flat in east London, struggling to find work, love, and their place in society.
Dark comedy drama by Alan Bleasdale, centred around a run-down nightclub in Liverpool and a particularly shambolic New Year's Eve party.
Documentary examining how society's attitudes towards sex and sexuality since the 1950s have been reflected in sitcom.
Sitcom following dissatisfied housewife Ria Parkinson as she considers embarking on an exciting romantic affair with successful businessman Leonard.
A popular 1970s sitcom starring Sid James. Sid Abbott is, day-in, day-out, hindered in anything and everything by his family.
Louise is single, bright and attractive. She likes her independence, but would love to meet Mr Right. Or at least Mr Reasonable.
Four girls share a flat together in London. Having nothing in common aside from their gender, they barely manage to co-exist.
Bob and Terry are two lads from the North East with contrasting desires and ambitions - except when it comes to chatting up girls.