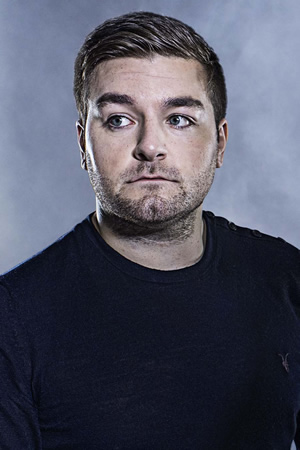 Alex Brooker is one third of The Last Leg presenting team. Here, he explains why he's not a fan of skinny jeans, why the Prime Minister thinks he smells of sick, why he's the happiest he's ever been, and more.
Hi Alex. How did you end up presenting The Last Leg?
In 2010 Channel 4 launched the Half a Million Quid Talent Search, to find new disabled presenters. I was a football journalist for the Press Association at the time, and I was just scanning the job websites, and saw the advert there. They were looking for disabled people who had an interest in sport, and ideally maybe journalists. And I thought 'There can't be that many of us about!' so I thought I'd have a fairly decent chance. You had to do a three-minute video audition and upload it to YouTube where they would look at them all. And I almost never did it.
Why was that?
A mate of mine had a small production company in Leeds, and he said "I'll film you." And then, he couldn't do it, and I told him not to worry, it was probably all pie in the sky anyway. And then on the final day to submit your video, he rang me and said "I'm free now if you want to do it." And he persuaded me to do it, so we filmed it and uploaded it on the very last day possible. And I got invited back and did a five-day audition in December 2010 with twelve presenters. And then they put me through and gave me training.
You weren't originally slated to be on The Last Leg, though, were you?
I was a journalist, so originally I was meant to be a trackside reporter, and I went into the Paralympics as that. The very first interviews I did were the VIP ones at the opening ceremony - David Cameron and Boris Johnson. I always knew I was going to be on the first bit of The Last Leg, because I'd filmed a pilot with Adam [Hills]. I knew the show's producer from being around the Sunset and Vine production offices, and he thought I was quite funny, and he thought I could do the occasional quirky feature for the show. So I only thought I'd ever be on the sofa for the first ten minutes of the first show. I went and sat in and did it. And the next day, I went to Arsenal to interview a load of their players about sitting volleyball, and I came back into the office and they just went "We're going to keep you on the sofa now, so you can't be out and about. You're going to be on the sofa every day."
The whole of the Paralympics was a phenomenal success, but The Last Leg was something that people really took to their hearts. When did you have an inkling that it was going to do so well?
When I filmed the pilot with Adam, we were sat in the dressing room before and Adam was showing me his leg and asking to see mine. We were taking our legs off and messing about, and the producers walked in and said "What are you two up to?" And they realised that this was the kind of thing that had never been done on TV before - they'd never seen disability talked about in this way before. It's how a lot of disabled people talk about it anyway, but it had never been done on television. Yes it was a risk, because it could have been taken as offensive, but people really enjoyed the humour. A lot of humour, but also every single day there was something to celebrate, and there were so many amazing achievements. And Adam's brilliant at gauging what's offensive and what isn't.
Josh [Widdicombe] as the only able-bodied guy on the show, had the hardest job. Me and Adam can say what we like, to an extent, because we're in that world. But Josh knew the boundaries instinctively. And we all just clicked. The chemistry was great, and we got better as we went along. I still think that now. I just sit there on the show pissing myself laughing, I just love it.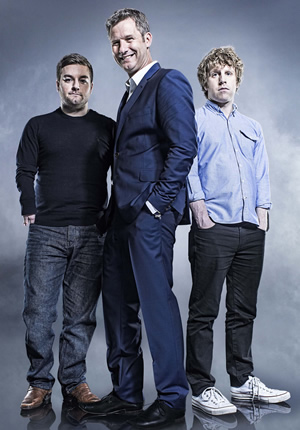 Were you bricking it when you first started doing live TV?
I remember being told I was going to be doing the VIP interviews at the Opening Ceremony, and that was nerve-racking enough. I felt so much pressure to justify the gamble Channel 4 had taken on us. I remember getting my head around the fact that I was going to interview Boris Johnson, and then being told, half an hour before the show was due to start, that I'd also be interviewing David Cameron five minutes in. I went to the toilet and just puked mu guts up. On the day of the Opening Ceremony I was at lunch, and Clare Balding came down and asked me if I was alright. And I told her I was shitting it, and she said she was nervous as well. But she really calmed me down, it was really, really nice.
I ended up going to the stadium that night feeling a lot better. And I got through it, and everyone loved the interviews. So after that, doing the first show of The Last Leg was a bit easier. It was still nervous. I still am when I do it now. But every single time, within about five minutes of the show starting, I get used to it. I remember I'm sat there with two friends, and all I've got to do is enjoy myself.
Were you surprised when The Last Leg got commissioned to come back after the Paralympics had finished?
I wasn't surprised, because we knew that it was really good. Me, Josh and Adam did a sketch for Stand Up to Cancer, and we were doing stuff that wasn't to do with the Paralympics, and we just clicked. It was instant. And I think we just realised that we could carry the same sort of humour to any subject. We'd also really enjoyed doing The Last Leg of the Year, and that had gone really well. I look forward to doing it now - the last series finished in March, and I just can't wait for it to start again. I miss it when it's not there.
A year ago, you were a jobbing journalist. Now you present a comedy. That must be quite weird?
It's been nuts. To go from not being known to being stopped in the street is really odd. I went to Croatia recently on holiday with my mates, and I had people coming up to me, British and Australian - Australians who had watched the show in Australia. It's just nuts. But it's really nice, people love The Last Leg - it's just as well, I wouldn't like having people coming up to me going "That show you do is shit!"
You've also made a documentary for Channel 4. What's the programme's concept?
Nowadays more than ever, men are conscious of how they look, and more conscious of their weight. I noticed it with my mates - we talk about clothes, we talk about hair, we talk about what we're doing up at the gym. I've always been quite big, and always intended to go on a diet, but never really stuck to it. Even when I was going into television, last year I thought I'd lose weight ahead of the Paralympics, but I just kept putting it off and off.
The programme follows you as you attempt a diet. How much weight did you lose in the end?
I lost quite a bit - but you'll have to watch the programme to see exactly how much I lost.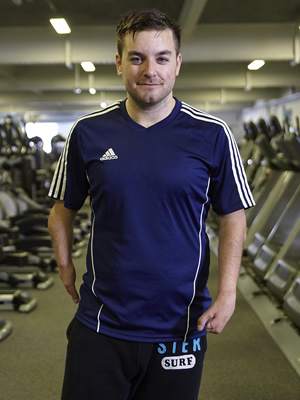 Presumably you've not given up beer forever?
Well, the funny thing is, I can't stomach it as much anymore. I went on holiday straight after, and I had a drink, and I can't really stomach more than one beer now. That's good for me. I'm a lot healthier.
Obviously with me, I've got a prosthetic leg, and I've always known that as I get older, I can't afford to weigh too much. It's the same with everybody, everyone has a risk of arthritis and stuff as they get older, but more so me, the way that I carry my body weight. So that was a big drive.
I'm 30 next year; it felt like this was the time. And that aspect of it has been incredible; I don't get half the pains that I used to get. And I don't just feel healthier, I feel more confident as well. I've been wrestling with this idea - is it shallow to be confident, just because you've lost some weight. But I don't think it is, really. My clothes sit on me a bit better.
I've watched The Last Leg back, when my jumper was much tighter on me, and you can see me playing with my jumper during the show, because I'm a little bit conscious about my belly. And I also got a confidence boost from it because I put my mind to something, and I actually did it, and proved something to myself. And that's why I'm going to continue training. I don't want to be massively buff or anything, but I want to carry on looking after my body. I probably haven't over the years. You go to uni, you drink beer, you eat loads of crap, then you come out of uni and you're in those bad habits, so you just stick with them.
What was the one most significant thing that you learned making this programme?
It's like the end of a journey for me, really. I've had an amazing few years. I'm so much happier now. I love my job. I'm more confident about my body. In 2010 I had to go into counselling - it was very late in life for me to start feeling self-conscious. My dad said he thought I'd be like that when I was 14, not then. I couldn't explain it. So the big thing I've learned is that I've come to the end of a journey, and I'm the happiest I've ever been. I can't overstate what it means to me.
The other thing I learned is that blokes are vain. We're getting really vain. I'm not sure it's a bad thing though. We're taking better care of ourselves. Everyone wants six-packs and skinny jeans. I'm not into skinny jeans though. I think it restricts - you know [indicates his crotch]. I don't want to damage my chances of having children, and I don't think enclosing yourself like that is healthy. Once I've had kids, maybe I'll go into skinny jeans, but not before!
The Last Leg is on Wednesdays at 10pm.
'Alex Brooker: My Perfect Body' is on Wednesday 31st July 2013 at 10:50pm (after The Last Leg).