Tok Stephen says his character Charley's journey in The Larkins symbolises something that is key for a lot of human beings.
How was filming The Larkins?
I've been having so much fun. It's a very fast-paced job and things change daily, so you have to really keep on your toes. The cast is fantastic; Bradley Walsh is hilarious and Sabrina Bartlett is lovely to work with, and I've always really admired Joanna Scanlan.
Tell us about the Larkins.
The Larkins are a family; Pop Larkin, Ma Larkin, Primrose, Mariette, and the kids. Pop is a wheeler-dealer, who hasn't paid his tax or enough tax, and I come along to basically ask him where that tax money is. And then the rest, well you have to watch. But yeah, they're essentially a family that live in a picturesque part of England, Kent, in the 1950s.
Tell us about Charley.
Right, so my character's name is Charley, but it starts off as Cedric Charlton, and he is a taxman, essentially, who works for the Inland Revenue. He's come down from London because his boss has told him that there's a man called Pop Larkin who hasn't paid enough money in tax. And so he comes to investigate and falls hopelessly in love with his daughter.
Charley's journey in the show symbolises something that is I think key for a lot of human beings as well as his character. His journey goes from being in a very materialistic place in the city and he then turns up in a place where it's just vast open fields; it's a lot simpler.
It's an easier life. And all of a sudden, he's thrust into this world where, yeah, you don't necessarily have to worry about what your suit looks like, or if your tie's not right or if you've filled in this form or if you've gotten that in on time. You can just sort of be.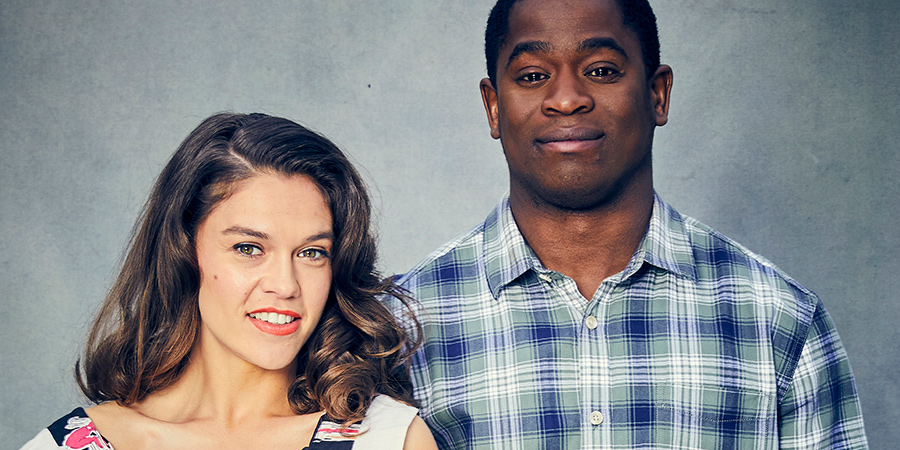 Tell us more about Charley's relationship with Mariette.
Charley's relationship with Mariette unfolds in an interesting way, because he is certain about how he feels about her pretty much from the word go, whereas she takes time to warm to him. She obviously likes him instantly, but she's torn between three things essentially, which is this new taxman Charley, this very suave sophisticated man called Tom, and the fact that deep down she wants to find something new.
She wants to go to Paris. So Charley and Mariette's relationship evolves as she realises that Charley is free of smooth talking, he isn't suave because he's just genuine, and he's got tonnes of integrity and she finds that endearing. And she realises that in this world which you can sometimes feel quite suffocated.
Charley is a, yeah, he's an emphatic voice that she didn't have. And she really likes hearing that and she falls more and more for that.
Did you like Charley's look?
Our fantastic costume designer, June, sort of maps out his progression from the very uptight, collar, three-piece suit, to quite literally I don't care if there's mud all over these trousers. My favourite outfits for Charley are the ones that are right in the middle. So he's still kept a little bit of that smartness, but he can roll his sleeves up and walk through chasing a pig, if he needs to, or look after the kids, or I don't know, milk a cow, which I'm sure he might have to do at some point later on in the future.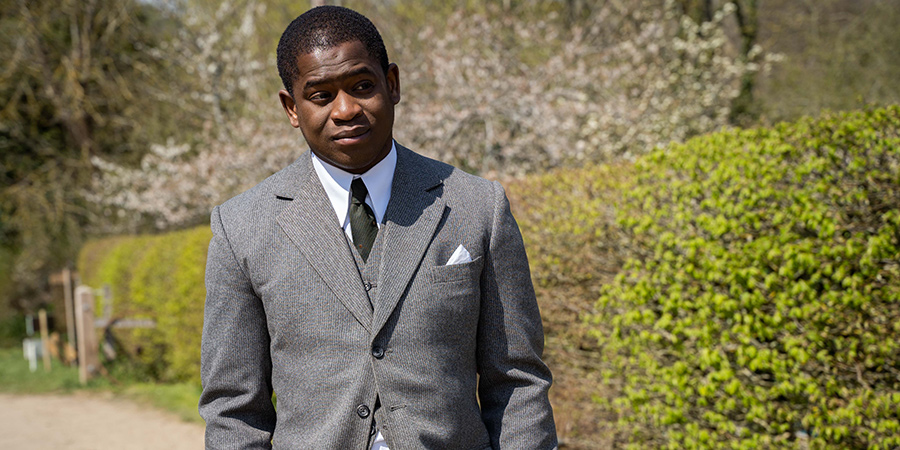 What was it like filming in Kent?
I think it's any actor's dream to shoot in a location where you don't have to imagine your surroundings. We were able to live it.
Driving on set every morning really did get you into character, passing fields of beautiful greenery and animals grazing. All of a sudden, you're going through what Charley goes through, thinking 'I don't miss city, I don't miss the noise, I really like being here.'
What do you hope people will get from watching The Larkins?
The Larkins is such a heart-warming family drama; it's uplifting and it puts a smile on your face. There's only so many times you can rewatch Bake Off before you need to find something else that puts you in a good mood [laughs].
Have you enjoyed playing the comedy within the show?
The Larkins is fantastic because of the comedy and you'll find it comes from so many different places, and it's all organic. None of it was ever done for the sake of a laugh. So you've got a nice balance of just exquisite writing, which is an adaption essentially taken by Simon Nye, who's taken these already beautiful books and just made a script out of them, that means that the moment you read these scenes out, even as deadpan as you could, you laugh, because he's found all of the comedy, and all of the humour and lightness in what H.E. Bates originally made.
And then you've got this great cast of actors who can make you laugh so much; Bradley Walsh and Joanna Scanlan are just brilliant.
---
The Larkins is on ITV on Sundays at 8pm.