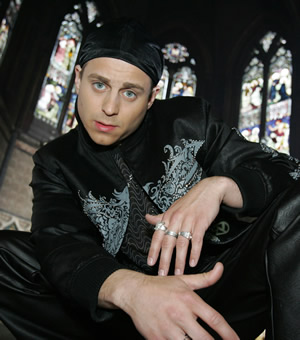 British Comedy Guide talked to Kevin Bishop before the start of the first series. Here's what the star had to say...
Hi Kevin, thanks for talking to us. Firstly, congratulations on your new series. Having watched so many slow and dreary BBC Three sketch shows recently, we found it a breath of fresh air to watch a fast paced sketch series that doesn't over-cook the jokes or repeat the same characters ad-infinitum.
Thanks. Yeah, we felt we wanted to give people more for their money. The sketch shows that haven't succeeded, I don't think it's the performers fault... I think what happens is, the channels tend to manufacture comedy sketch shows now. They put them together in a manufactured boyband way... often the cast have never worked together before and each member has a completely different style. So it's not organic. To make matters worse the channel then gets involved and produces the show for them too.
With our new show we wanted to do things differently. We basically wanted to do something that's totally organic, with all our ideas and our friend's ideas... and the show is literally just ideas. It's not crafted sketches in any way.
So how long have you known your producer and writing partner Lee Hupfield?
Since Star Stories. They hired me for Star Stories - I was unknown to them then. I walked in and had a very small part in the pilot. When it got commissioned I went back and we had an audition process - and every year it's the same - we read for our parts and if you do the best read you get the part, that's how it works.
Anyway, we did Star Stories together - found we had a very similar sense of humour - and they said why don't you two team up and do your own show? So I very, very nervously said, 'yes', because I didn't want to do a pilot called The Kevin Bishop Show.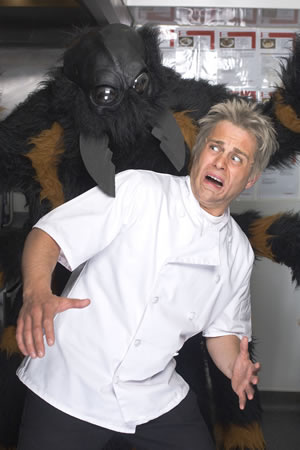 Why is that? Because, with your name in the title, you're staking your future on the success of this series?
It was a shit idea in my opinion because I thought, hang on a minute - The Catherine Tate Show, Little Miss Jocelyn, The Peter Serafinowicz Show, Harry Enfield and Chums - that's been done. I thought it'd be much better to get a show that was my show, but that was called something else which was new, different... something completely unique. But, because no one knows who I am, they went hang on, you've got to call it The Kevin Bishop Show to introduce yourself... so people don't go 'what the fuck is this?'
Many of our visitors obviously already know who you are, having followed your career for a while now. You probably first came to our attention playing Stupid Brian in My Family...
Funnily enough, that was my entrance to comedy.
So, was comedy something you always wanted to do, or something you found yourself walking into?
Well, the stuff I always watched on television, and the stuff I really liked was always comedy. But, I never saw myself getting into that area of work, because I thought 'you've got to do the circuit surely' - but I could never do the circuit, I'd be far too nervous. So I was working pretty consistently as a serious actor, and then this job for My Family came up. So I said 'yeah, I'll give it a go', it took off, and they then said 'do you want to do some more?'.
We're not surprised, you did steal all the scenes you were in!
[embarrassed] That's very much.
Well, they wanted me to go on as a regular but it would never have worked because Kris Marshall was an idiot - sorry, not in real life, ha ha, in his character Nick... but so was Stupid Brian you see, so the two of us together would never have worked. There was actually a scene between Kris and I where you can see that the chemistry doesn't work. It's actually a brilliant scene... we're sitting there, and it basically turns out Nick is actually a genius. But, it was a bit out-of-character for Nick... we were sitting at the table between takes going this isn't right, is it?
... and then Kris left the show...
Yeah, it was annoying because I really wanted to do the job badly; I desperately wanted to do that series. Like I say, I think I didn't get it because Kris was in the show playing a similar character full time - and then Kris went actually I don't want to do it!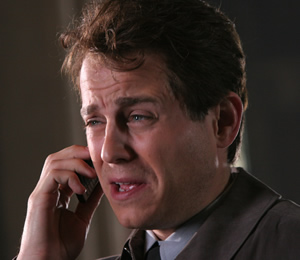 As you've well demonstrated in your new show, you've got a talent for impersonations. When did you realise you were a good mimic?
I started to realise something was going on when I was spending more time outside of classrooms than in them. At one point at school I could take off all of my teachers, male and female, and I remember thinking then 'well that's unusual'.
I just used to aim to make the kids at school laugh. As you can imagine, I was a real pain in the arse, I was very disruptive. I think it's just a natural thing, I sang in the choir at school, and I can sing a tune... and at the end of the day mimicry is just following a tune basically. If you can hear that note, you can repeat that note. I knew from a young age I could do that, but I never thought that it'd ever be anything other than a total fucking burden to me because it got me in so much trouble and only now am I just starting to cash in on it.
It actually helps in voiceovers too - I've just started doing them and it's been really handy in that. It's like 'wow, there's a whole group of people who actually like me doing this'!
Your Jonathan Ross impression in the first episode made us laugh a lot...
I still don't think I sound anything like Jonathan Ross! They were going you've got to do Jonathan Ross, so I did in the end. The point I want to make is that everything you see on the show is basically me visualising surfing through channels and taking the mick out of what I see - which is basically what I do at home!
The channel surfing concept - was that a conscious decision from the start or was it something that evolved as the show was written?
Lee Hupfield, my writing partner and producer, is very high concept - a lot of his shows are. For example he created Banzai and The Friday Night Project. Very pop cultured, very fast shows. Very now. My comedy has been a little bit more traditional until now, but Lee is intolerant of old stuff!
The Kevin Bishop Show will date very quickly, I know that. Two years time, none of it will be relevant. But we wanted it to be there, now.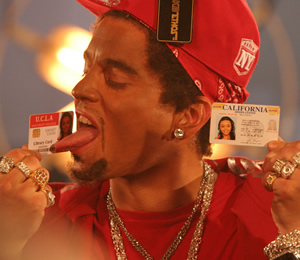 You've put an awful lot of effort into some sketches - for example in the pilot episode last year you re-created classic scenes from the likes of Dad's Army and Only Fools and Horses just for a single thirty second 'classic comedy catchphrases ruined' sketch. It must have been a mission to make a whole series of one-off sketches!
Yeah, but funnily enough, you'd be surprised... we shot it quite quickly. For example, the Fork Handles part of the sketch you mention, we were filming in a street and they said look, there's a hardware store, shall we do the Two Ronnies sketch while we are here? Boom, boom and it was done. So it was knocked out quite quickly - but we'd got a brilliant crew who work together on Star Stories all the time. The camera man is a genius. Remember the Bruce Parry sketch from the pilot?... we just went to a park in Pinewood and he made that look like a jungle!
We only have one or two takes to get things right because of the sheer volume of sketches we have to do, so what you see is more or less 'live'.
Something we've always wanted to ask: That Vanessa Feltz sketch in the pilot, the one in which you basically called her obese... who approached her and said are you ok if we do these lines?... because that's got to be awkward!
It was Lee. You've got to be a good producer to do that! Also, the power of editing is useful - you see the actual sketch was a little bit different when we filmed it but, snip, snip, snip and... you know... you get the result you wanted!
But, actually, I knew Vanessa from Dick Whittington, the ITV pantomime written by Simon Nye and I found her very nice, very approachable and not at all like people had made her out to be.
We had this Tactless Twat sketch and needed a celebrity to make it work. Initially we approached Rick Waller, but he said no because he wanted to concentrate on 'more serious stuff'! So I said, why don't you phone Vanessa Feltz because she's very nice and a great sport, and that's how it happened.
Great stuff. So, what else is on the horizon for you Kevin? More Star Stories?
Yup, we're filming Series 3 of Star Stories right now. Amongst the characters I'm going to be doing in the next series are Elton John and Peter Andre. We're also doing the stories of Kate Moss and Heather Mills in this batch - they should be fun.
Cool, we'll look forward to them. Thanks again for talking to us Kevin, best of luck with the new series!