This interview is from Series 4.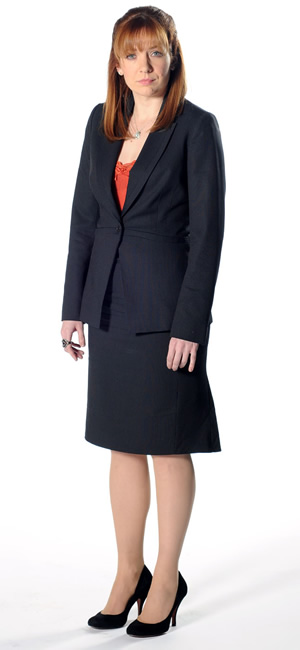 Katherine Parkinson talks about what is in store for her character Jen in the new series...
Without giving too much away, what's coming up for Jen this series?
Well I would say that it's less that it's her against the boys now. It's more that she's sort of one of them: she's as deluded and stupid as they are now.
Does that mean that she's got any IT knowledge though?
No, she still doesn't have any IT knowledge. But she gains other skills. There's one story that she gets a bit obsessed with somebody who's in a band. I had to dance on the stage with the band Sweet Billy Pilgrim which was a dream come true.
How's your dancing?
Well my dancing, I have to say, was really good. I'm not trained, but I definitely had a natural rhythm, definitely reckoned myself as a bit of a dancer - for so long now I've done bad dancing to make myself laugh. It's almost like you get to a certain age and suddenly you dance like an uncle or an auntie at a wedding. I seem to have just tipped over.
What's it like getting back together with this lot after this many hours on screen together?
It is a pleasure actually because I've known Chris [O'Dowd] for so long that we have had rows and it's actually quite... nice. It's nice to have a relationship with somebody where you know each other well enough to have a row and get over it. I think we're quite like a brother and sister in some ways.
Where did you meet him?
At Lamda. He was 19 or 20 - that makes me sound like I'm 52 or something, doesn't it? I can't remember what I was, but I remember he was quite young because he lied to say that he was older because you had to be over 21. He was an outcast and I sort of came out of the group to talk to him occasionally. Chris was quite... he just had the right approach I think. He sort of took it seriously, but he also punctuated the pretentious bits of it and I was really grateful for that because there were a lot of people there who made it feel like being in a singing, dancing cult at times.
You seem to have worked with him a lot ever since?
I know, it's definitely been a sort of happy coincidence although it's got to the stage where we both think we're both following each other around like bad smells. It's just a coincidence I think.
Had you worked with Richard Ayoade at all before?
No, I had seen Garth Marenghi in Edinburgh actually. He was in the Cambridge Footlights and I was in the Oxford Review a few years later, I think, so I sort of knew of him, but hadn't met him.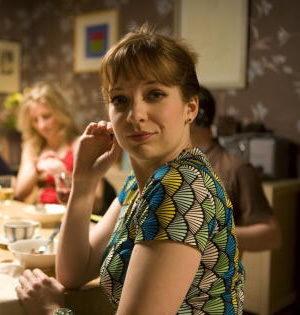 Do you think The IT Crowd is getting stronger year on year?
Yeah, because with the first series I think I'd only got the part a matter of weeks beforehand. I can remember being concerned to make sure that Graham [Linehan] didn't think that he'd made a mistake giving me the part - whereas really all you want to do is be relaxed and just respond instinctively to things. Instead I remember worrying about that a lot and also live studio stuff I hadn't done before.
How was live studio work different?
I think in a way if I had come from a stand up background I would have been better suited to jumping in the deep end with this because it doesn't always feel like an acting job in the conventional sense. You're not working from the basis of; 'Oh, what's the truth of this situation?' like you are in theatre and television. There isn't space for that here and it's also not appropriate. And that's why it's interesting with drama school: it's sort of so useful in one way and then actually completely useless in another way because there are lots of jobs like this where it's just not kind of relevant.
Working in front of a live studio audience sounds like a version of panto in some ways?
Yeah, you've got to acknowledge the audience and then ignore them because otherwise your performance is too big, so initially that was a bit weird because the audience was there and I was used to being interested in the audience.
Last series Jen asked Moss what 'IT' means. Do you know?
I do know now. I do know what 'IT' means and it's just gone... hang on... it's 'Information Technology'.
Chris O'Dowd is very rude about your complete lack of IT knowledge. Is he right?
I don't have a laptop. I appreciate that is a little weird. I think I've just missed this generation of.... When I was at university I did all my essays by hand. I have a computer; I have a Blackberry which I get all my emails on. I'm pretty nifty with my Blackberry.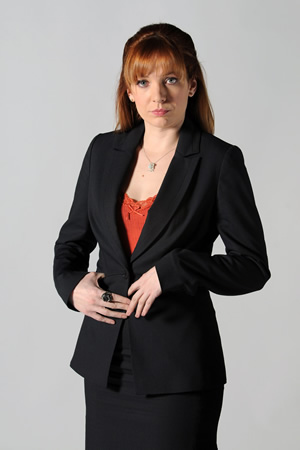 Chris made out like you didn't have central heating yet.
Now I can see the advantage of the Blackberry and all the rest of it. However, I am not on Twitter and Graham is constantly trying to persuade me otherwise. I think I would just be permanently anxious because I would want to sort of get back to everybody and my small brain can't cope with it. I need to kind of just shut up and have my glass of Cava in front of the telly.
Have you picked up any knowledge from the scripts?
I haven't because all the jokes... the jokes about sort of, "Oh I don't know what RAM is and Vista," I don't know what any of it is and I feel like it's got to such a stage where ... because I spend a lot of time with people like Graham and Chris who are quite expert that I just block my ears: "Right, la-la-la-la, I'm not going to learn anything about it, I'll just kind of perfect my knowledge of musical theatre instead." I have to say that Richard isn't great with computers either
Really? So Chris actually is the most knowledgeable of the crowd?
Chris is a sort of proper typical boy in that he's very into gadgets and technology.
So have you had any moments when your Blackberry's broken and you take it into a shop and suddenly they're like, "It's her!"
Yeah. I have had that, but you never know and you never want to assume. I think sometimes you think it is happening and other times I'm completely unaware. It's a difficult thing because it makes you a little bit self-conscious, but you can't be self-conscious for long and then you completely forget and you think, "Why is that bloke staring at me?" And it's terrible because you can't be in a bad mood and unpleasant to strangers on the Tube.
At least it's a funny programme that people like.
No, not like playing a paedophile in a hard hitting drama.
What's been your funniest on set moment so far?
It seems silly but Richard was calling me a 'ginger angel' and stuff in one scene last season and it just made me laugh. The studio audience like to see stuff that they wouldn't normally see, so they actually loved that, but I can't help but feel really naughty. He was sort of improvising a bit. As Moss he sort of has to boast about me as ... he's pretending to be my husband and he says, "Jen, she's a ginger angel," or something and I don't know, it made me laugh. There's something so disgusting about the phrase 'ginger angel'.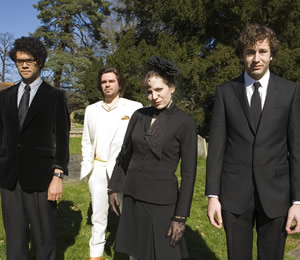 Do you get fan mail from around the world? Because we can imagine that Jen must be a bit of a geek fantasy of some sort?
I do get a bit and my husband keeps the slightly more suspect ones. I sort of notice he puts them in his desk, just in case I'm kidnapped. I'm not terribly conscientious at getting back to people in general because I've always felt there's something quite un-English about promoting that sort of attention. So I'm just nasty and don't get back to anyone. I think my mum replied to one that was from a young girl as me because she thought it was sweet and she saw it lying around my house. But I'm such a cynic. I just think, "No, they're just all autograph collectors and they pretend to be young, sweet fans."
Do you get any letters or reactions from people who actually are a bit Jen - out of their depth in an office?
Yeah, there seem to be lots of people in the workplace who feel like they've got left behind on the technological revolution train. Everything is constantly updated and there's a new thing all the time and you have to have a real feverish kind of interest in it. They're the people that do everything first and I want them to tell us - just tell us - the final best gadget so I can just get that one.
Why do you think The IT Crowd has worked where so many other sitcoms haven't?
Well I don't think there's anything typical about Graham's stuff. Graham's such a huge fan of shows like Seinfield, but I think his shows are more like live cartoons and there's something hyper-real about them that doesn't really read like anything else.
Do you think it's something that can run and run and run?
I am surprised and delighted it's going to a fourth series because I always sort of thought that there was a three series kind of thing with Graham's stuff, but I am very happy to do it because I like doing sitcom in the context of doing other things like theatre and single camera stuff.
And next up for you is...
I'm hoping to do some more theatre soon. I've just done a play called Cock and I'm hoping that that will be extended.