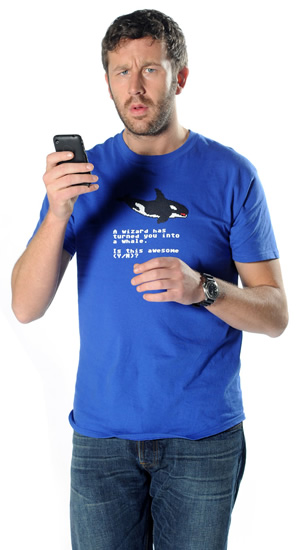 Chris O'Dowd has been playing Roy in The IT Crowd since Series 1. Here he answers a few questions about the new fourth series...

What's Roy got coming up in the new series?
I'd say this year probably even more so than last year: Roy is coming out of his shell in terms of his social interaction with women.
Let's be honest, it was a big shell...
Come on, it's like a cocoon, so he's becoming a bit more comfortable. I think the fact that Jen is in the office has over the years made him a little less socially awkward, so even though she's not what others would call a woman, she has definitely neutralised that aspect of social retardation that he otherwise had.
What sort of reaction do you get on the street?
People are very, very positive. Because it's such a friendly show; we don't take pops at people really and there's very little negativity in it, so it would be a strange thing to be very annoyed with it. So the reaction that I get is really nice. A lot of IT people really love it and I do hear a lot of women saying, "Oh my god, he's just like my boyfriend," and all that. People are very nice and a lot of IT geek girls find Roy very attractive.
What's the reaction from the real Roys of this world when they meet you in a shop or on the street?
What's been weird is that I live in LA now and I've been surprised at how many people in the Apple store do watch the show. At the end of the first series I had a problem with my laptop and I went in to get it fixed and there was a Polish guy and I gave it to him and he just said, "Have you tried...?" I said, "Don't ." And then he just said, "Have you thought about buying a new one?"
You and Katharine went to drama school together...
... And since then we've also done a lot of stuff together weirdly. It's weird that it's worked out like that. We joke about it now that we put it in each other's contracts that we must work together, because we left drama school and then we did this and we did The Boat That Rocked together, the Richard Curtis film and I did a Christmas episode of Doc Martin which she does, so we've done a good few things together. It's never been enjoyable, but I'm getting used to her, so that'll do.
You've also been on a film before with Richard Ayoade...
We did Festival together. It was my first job, a film about the Edinburgh Festival where I play a comedian who wins the Perrier Comedy Award. Richard was a juror. That was about five or six years ago now. I won a BAFTA for it... a Scottish BAFTA. I thought after that... it was my first role bigger than four lines, and I thought I was just embarking on an award strewn career.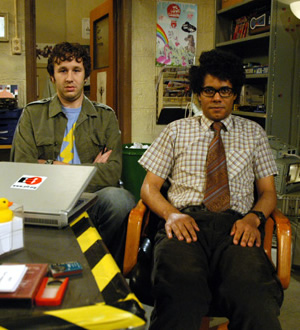 Things got a little steamy between Roy and Moss in series three. Can you tell us a bit about your experience filming that scene?
We have a big kiss in season three to avoid the cops or something. It's a very funny scene, but Richard was ... it was almost like he'd been just waiting. There was a lot of release of energy in many areas, so it was fun. He was strong, but smooth.
Do you know what 'IT' means?
I know what 'IT' means. I know bits and pieces about IT. I'd say the different roles are probably close to the way that we are in real life. Katherine doesn't own a computer. It's extraordinary. I think her boyfriend has a house computer, but she doesn't have a laptop or anything. I find that strange. It's 2010. Whenever we say anything computer-wise she has no clue, which I think is pretty sweet. She's essentially Victorian, and she's a lot older than she looks, so it's understandable.
What about you, are you Mac or PC?
I'm a Mac. I want to get it all. I want to do all of the Mac stuff, so I'm obsessed, but I want to do the Apple TV stuff, the whole lot. I've got an iPhone, a Kindle - it's brilliant for scripts. I'm trying to use a lot less paper not because I'm worried about the world; I just always have loads of scripts everywhere and they take up space.
Have you picked up any useful IT knowledge while working on the show?
Well I didn't realise that if you type 'Google' into Google that Google exploded, so that was new information. No, I don't think I picked anything up at all. A lot of the stuff - more as time has gone on - has been made up anyway. For fear of getting things wrong, I think sometimes, Graham just decides to just make it up.
But if we were to have the three of you in a room and you were working with a computer and it broke down...
I think we'd all shout at it a little bit. I'd try sitting on it, Katherine would rub it and Richard would tell it jokes.
How has The IT Crowd progressed over three series?
I think that we've got better. I think that we've definitely got better in front of an audience. I think the first season it was all a bit much. Myself and Katherine were doing it like it was a play because that was our background and I think when we got used to playing to the camera rather than to the audience it definitely bedded down a bit. And also when... obviously it wasn't written for us, so when we got to the stage where it was being written for us then it suited our performance styles better.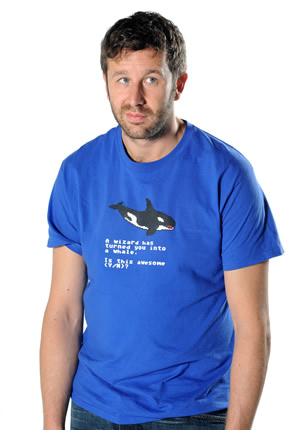 Have you had a 'funniest moment' so far?
We've corpsed a lot. Generally it's Richard and me. He's fine, but I'm terrible. There was a time during the last season where ... it was just ... it was nothing. He had a speech, but there was something he was doing with his stupid little face and I just couldn't keep it together. We did five takes of it and I laughed through all of them and I was off camera. In a studio everybody finds it very funny when you laugh the first two times. But after take four or five nobody finds it funny anymore and it's at that moment that you just can't stop.
Have you kept Roy's t-shirts?
Graham keeps all of the t-shirts. And he wears them too.
Do you get them made up or do you see them online?
No, we see them places. Some of them I think were made up, but they are proper geek t-shirts and there's great websites and stuff and I think we get sent a few now as well. I think I've kept a couple and also my brother-in-law who I base a lot of the character on - he's like an IT guy - I give a lot of them to him. The RTFM T-shirt that I wore the first episode of the first series I gave to him. But yeah, I'm sure there's a couple kicking around somewhere. I see Graham wearing them while I'm also wearing the t-shirt. It's weird. But essentially I am playing Graham in the show, so it makes sense that he will be into those.
Have you seen any of the international versions of The IT Crowd with you overdubbed?
No, although I was in here the other day, shooting and they had the German version on in the background. Which was very odd. It's actually a remake, different actors. The German Roy looks like me. Bit of a slob.
Finally, what else have you got on at the moment?
Well I've finished a couple of films, one called Gulliver's Travels where I played the baddie. Jack Black is Gulliver. I'm engaged to Emily Blunt and she's the princess. Jason Segel steals her from me and I entrap Gulliver and all this stuff. It'll be a massive deal I think when it comes out. And then I just did another film before Christmas called Dinner for Schmucks with Steve Carell and Zach Galifianakis and Paul Rudd which is a an American version of a French farce called Diner De Cons. I play a schmuck. I just did like a month on it, but everything I saw was really, really funny, so I'm looking forward to that. And after the end of this series I do the next Judd Apatow film which is with Kristen Wiig from Saturday Night Live. I play her love interest.