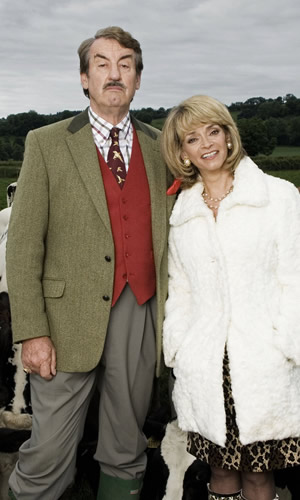 The first series of The Green Green Grass, John Sullivan's Only Fools And Horses spin-off, was broadcast on BBC One in 2005. Since then three more series have followed, the latest having been broadcast in the spring of 2009.
Series one saw Boycie and Marlene moving to pastures new as they swapped their Peckham mansion for a rambling farmhouse in the middle of the Shropshire countryside.
On the run from infamous London villains the Driscoll Brothers, the only hope Boycie (John Challis) had of living to old age was to leg it out of Peckham before they caught up with him. So overnight he up sticks with his reluctant wife Marlene (Sue Holderness) and equally stubborn son Tyler (Jack Doolan) to a secluded farm where he hopes they'll be safe.
Looking for peace and a quiet life, Boycie was horrified to discover that the farm came with three staff - farm manager Elgin (David Ross), ploughman Jed (Peter Hepplethwaite) and herdsman Bryan (Ivan Kaye). However, Boycie's workers (who are not as stupid as they appear) soon convinced the city boy that he's the perfect material to become a gentleman farmer, and before long they had setup an operational farm (well, sort of).
Trouble from the neighbours soon reared its head. Adjoining farmer, the patriotic and outspoken Welshman Llewellyn (Alan David), took an instant dislike to Boycie... he hasn't changed his mind since. Meanwhile Marlene, who really doesn't take to the sights and smells of country life, is thoroughly confused by her work-shy housekeeper, Mrs Cakeworthy (Ella Kenion).
The first series met mixed reviews, although the 9 million viewers its debut attracted was an exceptionally high figure. Following the first episode the viewer numbers did drop off but stopped at a still quite impressive level - in fact the BBC were so happy with the performance of the first few episodes that they straight away asked Sullivan to write a hour-long Christmas special (which was shown on Christmas Day 2005) and have since commissioned all subsequent series without hesitation.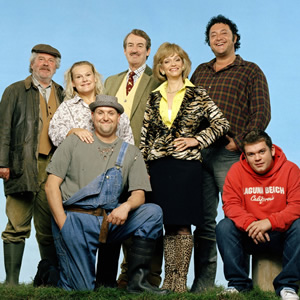 In series two, Boycie still yearned for the high life of the landed gentry so jumped at the chance to stand for Mayor, putting him on a direct collision course with Llewellyn. Marlene decided to experiment with vegetarianism and attracted the lascivious attention of Tyler's fellow pupils. Whilst Tyler was determined to sow his own oats by tempting his girlfriend Beth for a roll in the hay.
Four series in and Elgin, Bryan, Jed and Mrs Cakeworthy remain the farm's loyal, if eccentric, staff protecting the Boyce family from uncertain country ways, whether it be European inspectors or the pub quiz team.
It should be noted that some comedy fans have pointed out that Sullivan appears to have come up with the premise for this spin-off by watching BBC Three's Grass which, much like The Green Green Grass, features a man moving to the country in an attempt to escape from villains. At the time Andrew Collins, the co-writer of Grass, wrote an article in The Guardian concerning the matter.
Whatever the case, it looks like The Green Green Grass has started to hit its stride and, whilst it will never be able to match up to Sullivan's original series, it probably has a long future ahead. One exciting rumour is that, should a 5th series be commissioned, John Sullivan has hinted he might write cameo roles for some more OFAH characters, namely Del Boy (David Jason), Rodney (Nicholas Lyndhurst) and Trigger (Roger Lloyd Pack).