It's The Goodies!
The adored trio who took 70s comedy to the limits of insanity and technical brilliance. Kitten Kong, Ecky Thump and a bun fight at the OK tearooms: it's all here!
Series 1 Episode 5 - The Greenies (6th December 1970)
Series 1 Episode 6 - Cecily Season (13th December 1970)
Series 1 Episode 7 - Radio Goodies (20th December 1970)
Series 2 Episode 1 - The Loch Ness Monster (1st October 1971)
Montreux Special - Kitten Kong (9th April 1972)
Series 3 Episode 3 - Winter Olympics (17th February 1973)
Series 3 Episode 26 - Black Magic (24th February 1973)
Series 5 Episode 1 - The Movies (10th February 1975)
Series 5 Episode 2 - Clown Virus (17th February 1975)
Series 5 Episode 7 - Kung Fu Kapers AKA Ecky-Thump (24th March 1975)
Series 5 Episode 8 - Lighthouse Keeping Loonies AKA The Lighthouse Men (31st March 1975)
Series 5 Episode 12 - Bunfight At The O.K. Tea Rooms (28th April 1975)
Series 5 Episode 13 - The End AKA Encased In Concrete (5th May 1975)
Series 7 Episode 6 - Earthanasia AKA The End Of The World Show (22nd December 1976)
Series 8 Episode 5 - Animals AKA Animals Liberation (11th February 1980)
First released: Thursday 16th February 2017
This particular product has been discontinued. However, you may still be able to find second-hand copies.
It looks like you're in the US? Fear not! Almost everything can still be ordered.
Amazon UK
deliver internationally,
Amazon.com
carries many items separately, or you can look out for US/Canadian flags on our product listings for direct links.
If ordering from a UK store, please note that you are in Region 1 (DVD)/Region A (Blu-ray), whilst the UK is in Region 2/B, respectively. This means that many - but by no means all - may fail to play. Look for products marked "Region free", "All regions", "Region 0" or "Multi-region". Blu-rays may also be marked "Region A/B/C", "Region free", or variations thereof. You may also check whether your DVD/Blu-ray player supports multi-region playback (also referred to as "region free"), or whether it can be set to do so. There should, of course, be no problems with books, CDs, or other physical items.
More advice & help on importing
See also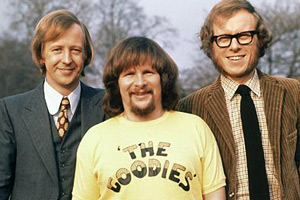 Thursday 16th February 2017
BBC Store has released 15 episodes of The Goodies to buy to download, including 6 never previously commercially available.