The Generation Game is back for two brand new episodes, bringing celeb guests, big laughs and family fun to BBC One. Mel Giedroyc and Sue Perkins host the much-loved game show this time, with amazing prizes (and a cuddly toy!) to be won on the legendary conveyor belt.
Four family pairs from different generations battle it out in games including Bollywood dancing, plate spinning, sausage making, pottery, cake decorating, balloon modelling, a vanishing box magic trick, and dancing the Argentine Tango.
In this rebooted version Mel & Sue are also joined by celebrity panellists, including quiz show host Richard Osman, TV presenter Lorraine Kelly, comedian Roisin Conaty and presenter Melvin Odoom. Plus there will be special appearances from Basil Brush and surprise guests!
The duo explain more below...
What can you tell us about the new Generation Game?
Sue: Four words - clay, sausages, Danny Dyer.
How does it feel to be bringing The Generation Game back almost 50 years after it first aired?
Mel: It's a privilege. This is one of the most cherished entertainment shows of all time and we don't take that lightly.
Sue: We've stayed true to the spirit of the original - we meet great families and we try to give them the best night of their lives.
What were your favourite moments during filming?
Sue: We don't want to spoil the surprise, but we witnessed some of the most graphic teapot spouts ever made on television. So graphic, some of the contestants needed counselling afterwards. It took us about an hour to stop laughing.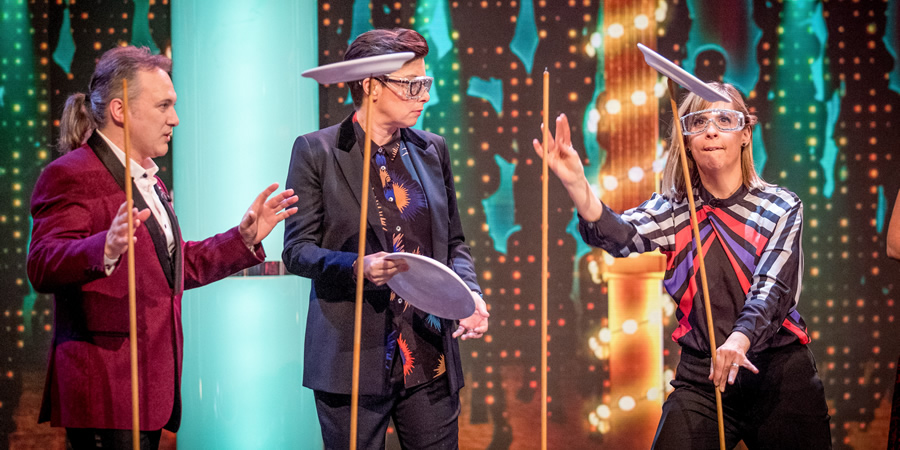 Did you try any of the tasks yourself?
Sue: We tried all of them, because essentially, we behave like toddlers and love to get our hands dirty.
Mel: After the recordings there was barely a surface of the set that hadn't been smeared, smashed or gunked by us.
What's your favourite memory from the Sir Bruce Forsyth days of The Generation Game?
Sue: We grew up with Brucie, and they don't make them like that anymore. He was the only entertainer we can think of who not only had a catchphrase, but a personalised silhouette - that bent leg, fist to forehead stance.
Mel: As soon as you saw that, you knew you were in for a good night. He was a one off, a legend and an utter gentleman.
How many items do you think you could remember from the conveyor belt?
Sue: Out of twenty? We think we could safely remember four.
Mel: Anything after the heated towel rail and the mind goes blank to be honest.
Sue: We love a heated towel rail.
If you could choose just one prize from the conveyor belt what would it be?
Mel: It'd be too easy to say the Cuddly Toy.
Sue: In truth, we'd be tempted by the fondue set, having always wanted to be those people who sit around dipping a courgette into hot cheese.