Shaquille Ali-Yebuah says his character Benji believes being a footballer is great, but having a social media presence and becoming a brand is greater.
How did you get cast in the series?
I sent in a self-tape originally, and just when I'd forgotten about it, I got a recall a month later. I then got called in for a chemistry read after that and then finally a fourth audition maybe a week after. Finally, they made the right decision and I got the call!
Were you a fan of The Inbetweeners before signing up to the show?
Of course, The Inbetweeners is a classic; it's classic TV for British culture.
What can you tell us about your character in The First Team and his role within the club?
I play the role of Benji Achebe, who has come up through the academy and has potential to be the next big thing. I'd say he's a part time footballer, full time rockstar! Out of all the boys he's more in love with the lifestyle and what fame can bring, so he goes with the flow no matter how bizarre the idea may be. Besides that, he's a young, charismatic kid waiting for his chance.
Do you relate to Benji at all?
Benji strives for greatness, I strive for greatness. Benji adores women, I adore women - so I guess these are a couple of things we have in common!
Can you comment on Benji's obsession with being liked/famous?
Benji believes being a footballer is great, but having a social media presence and becoming a brand is greater. He yearns for attention, so he believes all press is good press.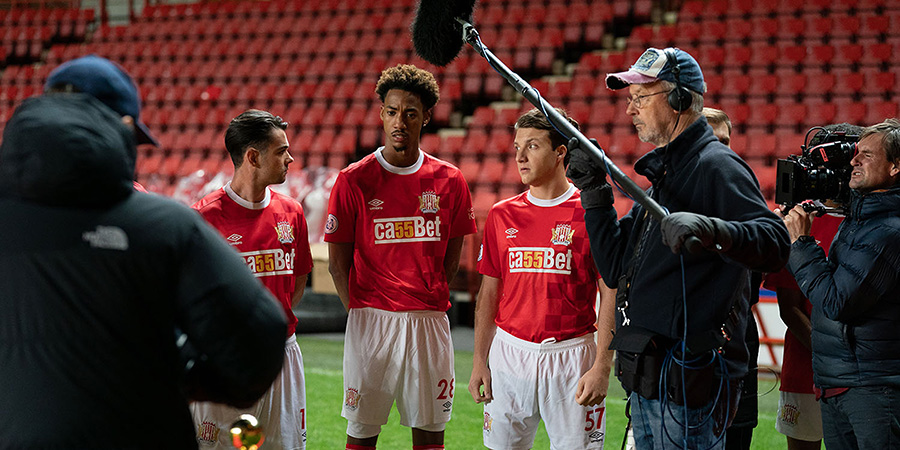 What are your thoughts on celebrity culture/fandom and social media's role in making celebrities (in this case athletes) more accessible to the public?
I believe social media can either make you or break you, as in a way, that's the only place where strangers have an opinion on other strangers behind a screen. There's no filter at times, so as an athlete it can become detrimental if you're having off days and the fans and media bash you for it. This even happens with off-pitch scenarios away from football; they'll create a story which could affect public perception. Some say: "That's what you signed up for when you became a celebrity," but I believe at the end of the day everyone is human and should be treated as such.
What do you make of Benji's relationship with his mother?
No matter how big Benji gets or thinks he is, his mother will always be there to humble him. She's very protective over her golden child, and reminds him often, even though he's bringing in the money, she makes the rules.
What was it like working with Iain and Damon? What kind of atmosphere do they create on set?
There was never a dull day on set, the energy was always up and everyone couldn't wait to hear 'action'. Sometimes we'd have to take breaks as there was uncontrollable laughter on set - the writing is just genius. Iain and Damon are great to work with as they have a cool approach to shooting and give you the freedom to explore with your character. It's always a great thing when the directors and actors have the same vision for a scene.
What was your favourite moment whilst filming?
There are literally too many to name! Scenes with Chris Geere and Will Arnett were always legendary, but there is a particular scene where me and the boys meet a so-called fan's mother at the supermarket, and end up at her house. We had to hold back actual tears of laughter shooting that whole scene.
What was it like working with the rest of the cast?
The balance and dynamic were great. There were good vibes and a talented bunch of people, so you couldn't go wrong. Everyone brought their magic to set and did their characters justice, which was great to see.
And in particular, working with Phil Wang?
Phil Wang and I looked like we were shooting Rush Hour 4 most of the time! Phil was great to work with, and watching our characters together is a joy.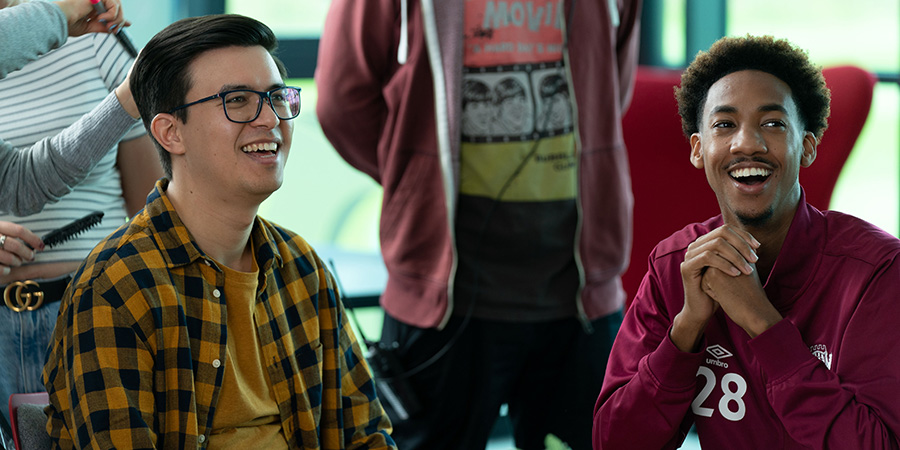 Did you grow up playing football?
When everyone was playing football in primary school, I was either having rap battles or playing kiss chase in the playground! I always enjoyed football and basketball, but not as much as my friends. I was also part of my high school basketball team but never took it any further as I was actually very short then believe it or not.
The series focuses on the culture of masculinity in the sports world. How would you describe the interactions between the teammates as depicted in the series?
There is definitely a hierarchy, the interaction between teammates is almost soldierly, standing arm in arm together about to step onto the battlefield, and the captain is the Sarge.
What can audiences expect from The First Team?
There hasn't been a comedy series centred around today's football culture and footballers' lives off pitch, so I really feel like this will be a classic for sure.