American actor Jake Short talks about playing Mattie in The First Team, and what it was like to film in the UK.
How did you get cast in the series?
The casting process always seems to string along when you're excited for a project. Production hired a casting director to cast in the States for my role. Iain [writer Iain Morris] came to my callback and read with me, but it was about a month later that I finally got the news about the booking. About a week before I got the call, I hopped on a plane to Spain and found out about three days into my trip that I was flying to London that weekend.
Were you a fan of The Inbetweeners before signing up to the show?
I actually had never watched The Inbetweeners before I auditioned for the show, but promptly binged the entirety of the series before the first audition to get a feel for Iain and Damon's writing style. Now I've seen the movies and the show, I'm a huge fan.
What can you tell us about your character in The First Team and his role within the club?
My character Mattie signs to a high profile English club, but can't figure out why. He's a college educated kid who's pretty aware, but somehow seems to find himself in Curb Your Enthusiasm type predicaments.
He's an optimist always trying to make the best of situations, but lacks confidence when put under pressure. At first his role in the club causes him to feel out of his element (imposter syndrome), but he finds his place with two other youngsters also trying to navigate the spotlight that comes with playing for one of the world's top teams.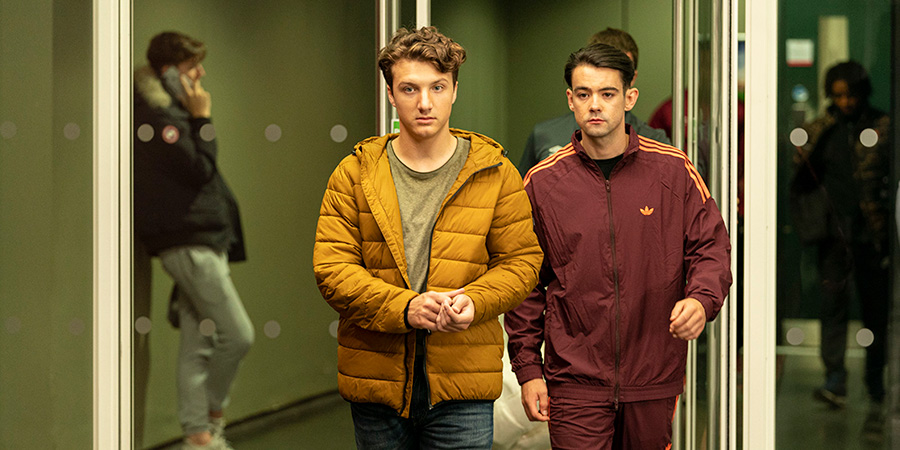 Do you relate to Mattie at all?
I definitely related to Mattie the first week in London because I felt completely out of place. I found that funny later on as I got to know the cast and crew and I think Mattie goes on a similar journey during the show. Mattie and I share spurts of confidence. He's a patient optimist and is educated so he usually only speaks up when he thinks he's right - which is all the time. It gets him in trouble. It gets me in trouble too.
What was it like working with Iain and Damon? What kind of atmosphere do they create on set?
Absolute pleasure. They're calm under pressure unless you push their buttons and have a clear, articulate vision. They switched off directing episodes, but they were always beside each other offering input and direction. The atmosphere was always light as long as we weren't cracking up too much on set. It's a funny show. That was not easy.
What was it like filming in the UK? Had you filmed in the UK before?
No, I had not filmed in London before! I had only been to London once for a few days and wasn't able to do all the much. My first couple weeks there I got to explore and take in the city while rehearsing with the cast. I love traveling, so even though I had to do it mostly alone, I did a lot of exploring around London. Also, the shooting locations were all around London, so I received a nice induction and picture of all types of city life there. Still haven't seen a football game there which is sort of a bummer, but ya know, fingers crossed for season two!
What was your favourite moment while filming?
There was lots of banter between castmates and we made the most of it. Lots of film photos taken and dark humour behind the scenes. I think that time together improved on camera chemistry, a nice plus. One of my favourite moments, we were shooting in Wales and a pair of automatic doors wouldn't shut so the entire crew just stared at them for probably ten minutes before it was decided we weren't going to get the shot. Iain was narrating his frustration throughout, I got yelled at for laughing so hard.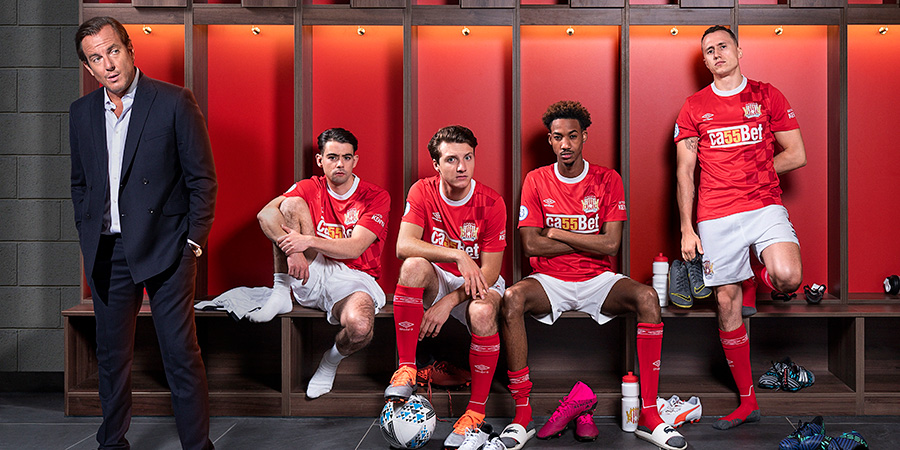 What was it like working with Will Arnett and the rest of the cast?
It was incredibly difficult, really. He's got one of the best deadpan expressions and does not break character. I'll be cracking up right next to him and he'll still be in it. He plays his character with a layer of genuineness that makes him entirely hilarious, it was a blast working with him and I learned plenty.
Everyone has their own feeling they create on set. Jack has a great laid back energy, Shaq and Theo are great hype guys on and off camera, Chris lifts everyone's spirits with his seemingly endless positivity, and Tamla was great about building me up mid-scene and leading scenes because of the amount of dialogue she always had.
The series focuses on the culture of masculinity in the sports world. How would you describe the interactions between the teammates as depicted in the series?
Certainly masculine. I would say the interactions are full of piss-takes? That's the British word I'd use for most of the series. Honestly, it's a group of friends having a great time (mostly) while navigating playing football in the world's eye, but it feels like they're just a group of guys getting along at a university.
Are you a fan of soccer? Do you follow the Premier League?
Huge fan, it's the sport I grew up playing. However, I would never speak the word "soccer" in the UK because every time I did, they would thoroughly roast me. I follow European football the way I follow most sports in the States - loosely. But I can hold a conversation and I have minor opinions I can offer up. I am sure that any die-hard Premier League fan would absolutely school me in football knowledge, but I have always enjoyed watching it.
What can audiences expect from The First Team?
Laughter, shock, comedic nudity, and jokes that may push the envelope.
Everyone's going to have their own takeaways, but we just hope they love the journey of the three guys trying to navigate their way through obstacles in the club.
Don't watch too much TV during the quarantine so you still have an appetite for the show when it comes out! Stay healthy, stay home, and happy watching. Cheers!