Jack McMullen - who plays Jack in The First Team - says some days it was pretty gruelling filming the comedy, but it was always a good laugh too.
How did you get cast in the series?
There was an extensive audition and workshop process and I was involved quite early on. It was great reading in with different actors who all brought different flavours to the other lead characters. We also had a rehearsal week, which is a real luxury in TV. It made everybody more comfortable on set and allowed a little freedom to improvise.
Were you a fan of The Inbetweeners before signing up to the show?
The Inbetweeners was obviously so immensely popular and still is, so much so that it influenced our language and culture particularly amongst my generation. I learned a few new words and phrases which I'm pretty sure I'm not allowed to mention here.
What can you tell us about your character in The First Team and his role within the club?
Jack Turner is a young up-and-coming academy player who's just starting to break through into the first team. It seems he has all the quality and technical ability to make it, but his inability to keep his nose clean off the pitch is his main barrier to success. He means well, but always manages to put his foot in it. He's got a good heart and befriends new signing Mattie Sullivan (Jake Short) after he receives a not-so-warm welcome from the rest of the squad.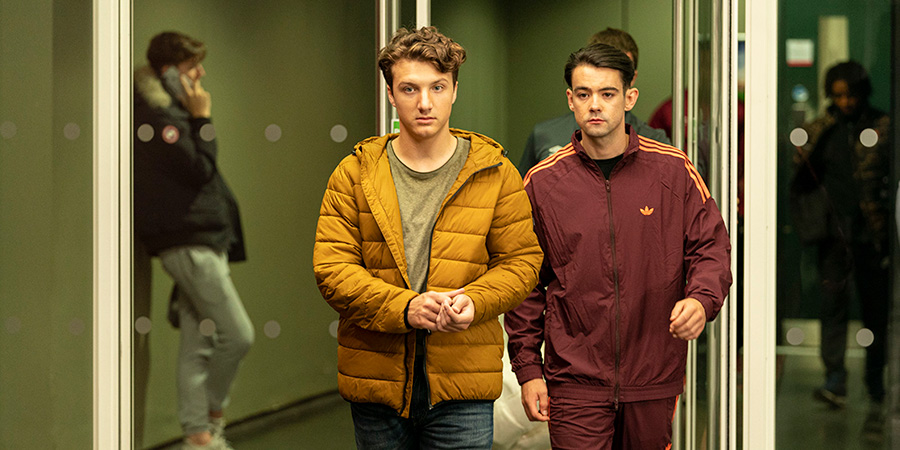 Do you relate to Jack at all?
Being a Premier League footballer obviously comes with enormous privileges, but I can see how players might resent the fame it brings as it has such a profound effect on their lives. Jack has a simplistic view on the world, and ideally he'd like to play football and live a normal life. Ironically, thanks to the privileges he's been afforded he's never learnt to do anything for himself, so he'd be completely incompetent without other people to do things for him. It's unsurprising that he doesn't have the tools to navigate the world of social media and public image.
As part of their research, creators Iain and Damon spent time at top flight clubs and took inspiration from some true stories, so hopefully the show will be a fun and fairly accurate portrayal of the effect fame has on the life of the modern day footballer.
What was it like working with Iain and Damon?
It was such a good laugh, some days were pretty gruelling, but Iain and Damon always brought a positive energy and encouraged us to have fun. They're both naturally very funny people, and their personalities really come through in their work.
What was it like working with the rest of the cast?
There was a brilliant atmosphere on set and the core group of actors got on really well. We spent some time on location away from home and ended up having a great time. I felt very lucky to work with a great cast of actors from all over the world, and some well-established comedians too.
What was your favourite moment whilst filming?
A few of us took some photos of Iain and Damon looking particularly stressed, and got their faces printed onto pairs of socks. The idea was to give them to the cast and crew as a wrap gift, but we ordered far too many and ended up giving them away to whoever would have them. There must be people up and down the country walking around with Iain and Damon all over their socks.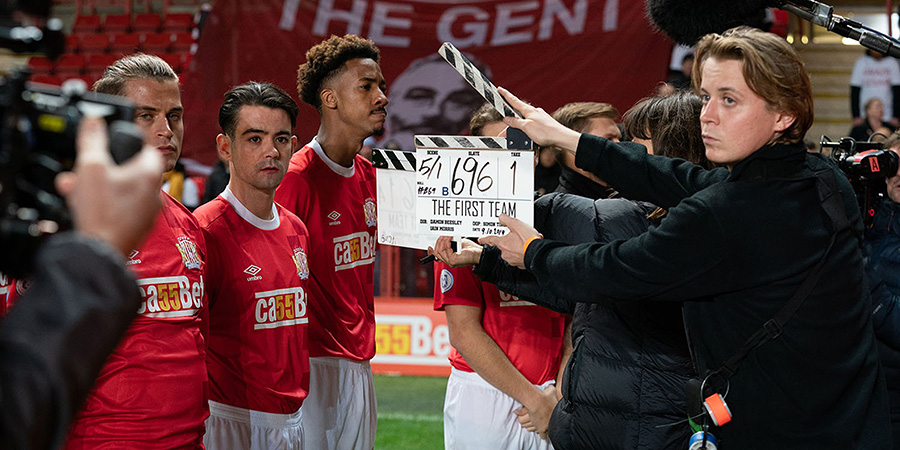 Have you always been a Liverpool fan?
Yes. I've been a big fan for as long as I can remember. I was excited to hear that Tom Werner was a producer on the show and it was great to get the opportunity to meet him.
Did you grow up playing football?
I've always loved playing football and still play regularly. A big group of us used to play 11 a side every Friday morning which is a great laugh. The standard can be pretty shocking though. Safe to say football's always the winner.
Did you have any pre-game rituals/superstitions like Jack in the series?
The left boot goes on first!
The series focuses on the culture of masculinity in the sports world. How would you describe the interactions between the teammates as depicted in the series?
During the rehearsal process Iain was interested in exploring how people form alliances in a group when they can't choose their peers, and the comedy that can bring. Whether it be our class at school, our office, or our teammates, we tend to gravitate towards the people we find least offensive even if we wouldn't spend time with them through choice. The show does explore some of the more negative archetypes associated with masculinity, but it's also about friendship and how we find our place in a group.