Today marks 30 years since the nasal boss from hell, Gordon Brittas, first strode through the automatic doors of Whitbury New Town Leisure centre. The Brittas Empire's combination of surreal farce, fun characters and dramatic catastrophes would go on to secure its status as a mainstream success.
Running from 1991 to 1997, the sitcom racked up an impressive seven series, comprising 52 episodes in total. It attracted more than 10 million viewers to BBC One at its height and was hugely popular, leading to guest appearances for its characters on other television shows. Six comic shorts, Get Fit With Brittas, were even produced to offer fitness advice to the public.
Despite the show's huge contemporaneous success, a lack of repeats have seen it fall under the radar in recent years. However, there have been discussions of a potential revival, so what would we have to look forward to if this came to fruition?
The Brittas Empire's central character, Gordon Brittas, is primarily a well-intentioned man. He often discusses his "dream", essentially no less than achieving world peace through leisure centre sport. He believes he can end war by getting people to "come in here and not fight, but to have a game of badminton instead". However, the manner with which he goes about this causes constant infuriation to all who cross his path.
Firstly, he is a master of the unintentional back-handed compliment, and can be incredibly tactless and insensitive. He regularly offers "words of encouragement" that only serve to upset their target. "I set up a brand-new course to help the overweight come to terms with their self-image," he announces. "First week, we have a light-hearted session with a measuring tape, and second week no one bothers to turn up!"
Brittas's other main fault is an obsession with bureaucracy and doing things by the book. Mountains of form-filling, a strict adherence to timetabling and regular closure of the centre for fire-drills are all of vital importance. He also willingly points out the faults in others' behaviour, oblivious to any potential for upset, and happily instructs them on how to do the "right" thing, entirely unsolicited. As a consequence he invariably gets up the nose of everyone he comes into contact with, often with extreme consequences. As he says himself, "every time I walk into a room, a fight seems to break out".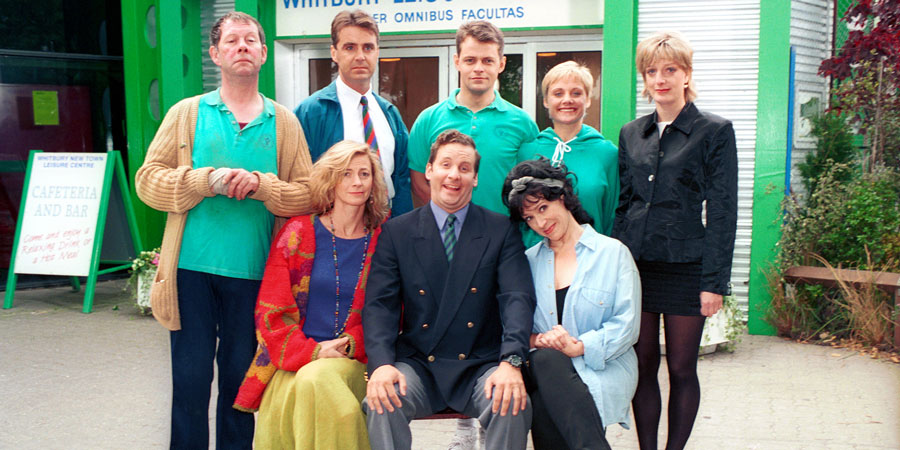 Gordon Brittas is certainly not the show's only character with quirks and eccentricities, however. For example, the centre's receptionist, Carole, keeps her babies in the reception's cupboard drawers, whilst deputy manager Colin's various skin complaints, along with a lack of basic hygiene, would certainly prevent anyone from wishing to share a pool (or perhaps even a room) with him. The cast is large, featuring 8 main characters, and although most are leisure centre staff, Brittas's unhinged, pill-popping wife Helen also features strongly.
Members of this large ensemble all play an important role as plots usually begin with the most minor of issues. However, the many small-yet-unfavourable outcomes of Brittas and his staff's actions escalate, cleverly interweaving to infinitely exacerbate the situation, resulting in surreal catastrophes of ludicrously vast proportions. Unusually for a sitcom, deaths are a common occurrence in The Brittas Empire, and equally outlandish, surreal events (such as the chaining of then-MP Sebastian Coe to a stair-rail, the blowing up of the centre, the electrocution of guests and the arrival of a Brittas doppelgänger) feature throughout.
Much humour in the series stems from the staff's matter-of-fact attitude toward these dark circumstances, to which they have become accustomed. Brittas is particularly unaffected: "Since I have been manager of this centre, I am very proud to say there have only been twenty-three deaths. And not one of them was a staff member."
However, don't think that The Brittas Empire is graphic or overly morbid. Whilst much of the show is aimed at adults (a child is unlikely to find much humour in jokes about Euro regulations or extra-marital affairs) it was pre-watershed, PG-rated and written for a large family audience. Children can definitely enjoy the show, and the manner in which darker events unfold is bizarre, ludicrous and often slapstick as opposed to disturbing.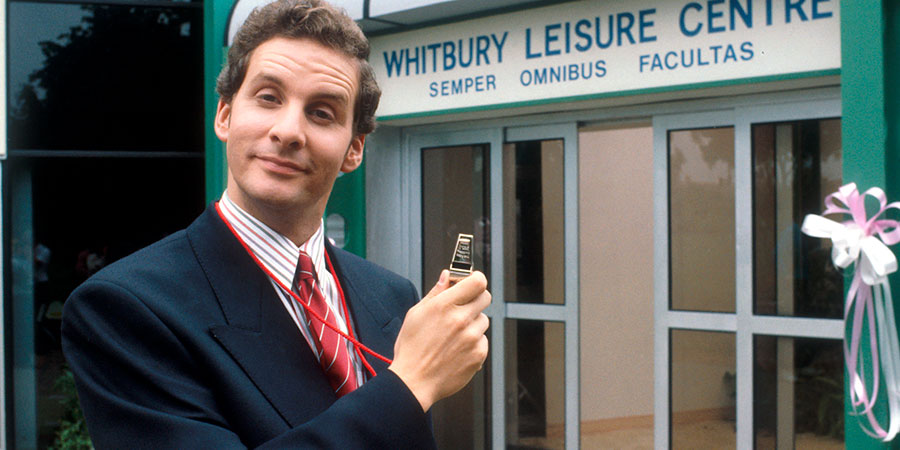 Chris Barrie, who also famously plays Red Dwarf's Arnold Rimmer, brings the central role of Brittas to life with incredible energy. As in Red Dwarf, he demonstrates the ability to make a potentially infuriating character endearing, whilst still suitably irritating. However, the two roles remain firmly separated by his almost chameleonic use of very different mannerisms, as well as the adoption of a nasal, estuary accent.
Other notable comic actors in the cast include Harriet Thorpe (also Fleur in Absolutely Fabulous), who brings a wide-eyed, theatrical insanity to receptionist Carole; and Pippa Haywood (Green Wing's Joanna Clore), who easily switches from deadpan to sinister to tearful in the role of Brittas's frustrated and unstable wife.
Thirty years since its debut on television screens and The Brittas Empire has aged very well. Though naturally a product of its time and dated in places, it is highly unlikely to offend unless you are particularly sensitive to modern issues. Though it may help to watch the show through a 90s lens, it was never the less progressive and ahead of its time in many ways, featuring - amongst others - a gay couple as two of the main characters, who are neither stereotypes nor the target of jokes; a gender-balanced cast; and no reliance on sexism for humour. In fact, the most dated thing about the show is probably the primary-coloured interior decor of the leisure centre - along with the surprisingly cheap swimming tickets it offers!
The Brittas Empire may take a little while to warm up for some viewers: for example, some complained that the character of Brittas was too annoying in the first series, so the writers and producers made a greater effort to "play up his good side" from Series 2. It would be a mistake to skip the first series, but it's certainly a comedy that benefits from familiarity with its characters, and matures as the seven series progress.
There is also a notable change in style after the end of Series 5, when the original writers - Andrew Norriss and Richard Fegen (who also penned Chance In A Million) left. Due to its enduring popularity, the BBC continued to commission further series, bringing new writers on board. These included Ian Davidson, Tony Millan and Mike Walling, among others.
For those looking for a fun, silly sitcom (especially one that can be watched with family) look no further than The Brittas Empire. Though now often overlooked, and not currently repeated on TV nor featured on streaming services such as Netflix or BritBox, in many ways it is more relevant than ever. Its focus on subjects such as management, fitness, health and safety, the EU and excessive bureaucracy are all highly topical.
After a year like 2020, the mooted reboot of a show such as this could come as "eeeexcellent" news to those looking for some daft, upbeat escapism in their comedy.
---
Gordon Brittas (Chris Barrie) is the manager of Whitbury New Town Leisure Centre. Although he means well and wants to be a good manager, he has a talent for bringing about total disaster. Deep down Brittas cares for his staff, but all he ever seems to do is to make their lives more difficult. Trying to rise above this, and to keep the Centre running smoothly, is his assistant Laura and of course Colin, complete with boil!
Behind every good man, so the saying goes, is a good woman, and behind every maniac, is a good woman losing her sanity! Helen Brittas is no different as she struggles to cope with her husband's misplaced enthusiasm.
This complete box set contains every episode from the seven series of The Brittas Empire, plus a range of other extras and features.
First released: Monday 8th October 2007
Released: Monday 14th April 2014
Distributor: Eureka Entertainment
Region: 2
Discs: 7
Minutes: 1,433
Catalogue: EKA50051
Buy and sell old and new items
Search for this product on eBay
This particular product has been discontinued. However, you may still be able to find second-hand copies.
Buy and sell old and new items
Search for this product on eBay
It looks like you're in the US? Fear not! Almost everything can still be ordered.
Amazon UK
deliver internationally,
Amazon.com
carries many items separately, or you can look out for US/Canadian flags on our product listings for direct links.
If ordering from a UK store, please note that you are in Region 1 (DVD)/Region A (Blu-ray), whilst the UK is in Region 2/B, respectively. This means that many - but by no means all - may fail to play. Look for products marked "Region free", "All regions", "Region 0" or "Multi-region". Blu-rays may also be marked "Region A/B/C", "Region free", or variations thereof. You may also check whether your DVD/Blu-ray player supports multi-region playback (also referred to as "region free"), or whether it can be set to do so. There should, of course, be no problems with books, CDs, or other physical items.
More advice & help on importing
Published: Sunday 3rd January 2021