Grime legend and social media sensation Big Narstie and stand-up comedian Mo Gilligan introduce their new TV show...
You're co-presenting a new six-part comedy entertainment series - what can you reveal about the show and what kind of guests have you got lined up?
Mo: It's a show with a breath of fresh air really and I'm not just saying that because I'm on it. It's fun, it feels like it's been a long time coming for a show like this to be on TV. If I wasn't on it, I'd be watching it so to be part of it, yeah I feel really excited man that people are finally going to see this project that's been in the works for a long time.
BN: We've got all different kinds of guests coming up. We've got Ed Sheeran coming on and then loads of surprises. It's like a Kinder surprise - you've got to crack into it to get the surprise.
Were you two already friends before this?
Mo: Yeah, we knew each other. I wouldn't say we were best mates but this has definitely brought us closer for this project.
BN: Mo and I get on really well. Mo's a cool cat.
Mo, how much of your role is going to be keeping Narstie in check?
Mo: Yeah that's pretty much me really. (Laughs) My job is to make sure that it runs smoothly at times you know. It's a good job to have because I think we need Narstie to be himself you know, it wouldn't be a show if we restricted him and that's what makes him. He's 100% himself; he's funny, charming and just completely himself and I think that's what TV is missing sometimes.
And Narstie, are you going to have an Uncle Pain segment in the show?
BN: I hope so. We might do. I don't want to give too much stuff away though.
There's also a food segment - what kind of stuff are you going to feature?
BN: Survival food. We're gonna be showing people how to cook when you've only got £40 to last you the month. I'm gonna be cooking on the show, I'm good in the kitchen. I've got lots of signature dishes.
Mo: There's going to be loads of elements but yeah there's going to be cookery. Not to give too much away but it's a show where it will be different every week. You won't sit down and watch the same thing you watched the week before, it's always going to be different. I think that's the beautiful thing about the show, it's going to keep the audience guessing. But yeah, there will be cookery segments as well.
Will you be picking up a saucepan? Are you a good cook?
Mo: Oh yeah, yeah, yeah, I'm a good cook man. I get my Great British Bake Off on, as they say. (Laughs)
You'll be chatting about what's captured the nation's attention - presumably that'll be Love Island and football?
BN: No, no, I've got my own sex life to look after!
Mo: Yeah but then there's times in the show where we talk about real world subjects, you know. Obviously we're going to talk about Love Island but then it's that kind of show, you never know what you're going to tune in to. There's going to be times we'll be talking about what everyone else is talking about but then we get to talk about what we want to talk about and I think that's the cool thing about the show really. You won't just sit there and be like "oh it's gonna be a laugh like Love Island and all the rest" you just don't really know what to expect.
Will you be giving us a detailed rundown on the latest goings on regarding Brexit?
Mo: That's it! (Laughs) We're gonna talk about Brexit from our point of view. I guess almost explain what's happening in the world in our terms, break it down for people.
Mo, you've enjoyed a pretty astonishing year - it's not much more than 12 months ago that you were selling jeans in Covent Garden, is that right?
Mo: Yeah that's true. I was still working in retail that was my last retail job I had. I've worked quite a few retail jobs. The turnaround is quite phenomenal. There are times I've pinched myself you know.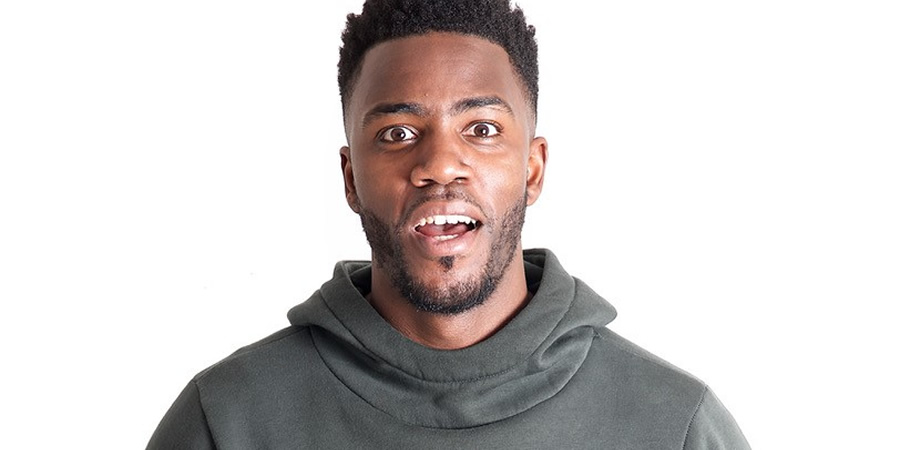 So what would you say was the defining moment from retail to entering the entertainment industry?
Mo: I guess having this opportunity really. I remember when I did get the opportunity to do this show I was like 'wow, I'm gonna be on TV on Friday nights on Channel 4', you know. I grew up watching Channel 4; it has some of my favourite TV programmes. So now joining this channel, I still haven't fathomed that, you know.
What's been your most successful online character or sketch?
Mo: It really varies because everyone has their favourite but I suppose it's gotta be the geezer. In terms of last summer, that became a slogan in itself. People saying "get a coupla cans" it really varies but I think that character really told the nation who I am and what I do.
Do you get nervous in front of the cameras?
BN: Nah! I'm in front of cameras a lot, I'm used to it.
Narstie, you've talked in the past about being a role model. Is that a responsibility you take very seriously?
BN: Yeah, of course. With great power comes great responsibility. But I'm lucky; I've been raised with the right morals.
Mo, you were namechecked by Drake - how did that feel?
Mo: Yeah, that was lovely man. It was kind of a realisation at how far my material had gone. This is me doing sketches in my house or my room you know and then you've got people like Drake who's quoting it on his social. But yeah, it's cool from anyone really like when going into my local shop and they quote something, it's like, oh rah this is really blessed and beautiful feeling.
Are you going to approach him to try and get him on the show?
Mo: Hopefully! (Laughs) I'll be like Drizzy, wanna come on man, come on the show!
Although you're success has been incredibly rapid, you've been doing comedy for quite a while, haven't you?
Mo: Yeah, so I've done comedy for quite a while now. I kinda started it as just a bit of a hobby as a 19 year-old, you know. Thought I'd give it ago. I'd say it only became a serious thing, I'd say in the last 5 years, I took it a lot more seriously. Whereas up until then, it was just something I'd do on weekends. I'd do the odd show here, but mostly the last 5 years, I took it a lot more seriously. Yeah and travelled a bit more. It's weird, when you start out, it's quite hard to say you're a comedian. People are like, "so how many gigs have you done?" and you're like, "three". (Laughs) So yeah, I've done it for quite a while so to be in this position now and doing a TV show is like wow, yeah, still pinching myself you know.
Why should people watch your show? What will they get that they can't get anywhere else?
BN: It's going to be the real world on TV for the first time.
Mo: I think that's what it is really, right there. This is a show that you wouldn't get just anywhere else. I think it's a breath of fresh air; it's introducing you to two new presenters on your TV, a musician and a comedian. We're not TV presenters. We're just two guys who are gonna give the nation a really funny TV show. To be fair, for me it's gonna be the TV show where you wanna be watching it when it happens. Yeah, it's definitely gonna have the nation talking, you know.