Meet the team that runs That Puppet Game Show...
Dougie Colon - Host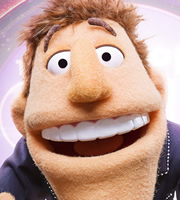 The likeable host of the show, Dougie Colon (pronounced 'Cologne') hails from the North of England and is delighted to be presenting That Puppet Game Show. Although he has a tendency to put his foot in his mouth with celebrity guests, this hasn't hindered his career so far, and in many ways his unguarded banter is his biggest asset.
Fascinating Fact: Dougie was a warm-up act for Ant & Dec for three years before becoming a presenter.
Dougie is controlled and voiced by expert British puppeteer, Dave Chapman.
Dr Strabismus - Science Expert
Dr Strabismus is a citizen of Europe with an accent to match. Born in Austria, he has worked for the likes of NASA and CERN as well as conducting his own, uncommissioned, research. After Professors Brian Cox and Stephen Hawking were approached to take part in the show they both said the same thing: "Hahaha! Oh, you're serious... Why don't you ask Strabismus?" At his audition he told a hilarious science-based joke about helium and the job was his.
Fascinating Fact: He briefly roomed with Einstein.
The Amazing Ian - Mental Agility Expert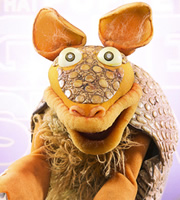 The Amazing Ian has had numerous jobs before landing his biggest gig yet as Mental Agility Expert on That Puppet Game Show. From working in an American-themed diner to a very brief stint in Las Vegas as a stand-up comic, this indomitable armadillo has done it all. Mental agility is his real passion though, and even though he may enjoy a drink at the bar after the show (and sometimes before!), The Amazing Ian is truly passionate about his talent and his games.
Fascinating Fact: Although a fan of the likes of Penn & Teller and David Copperfield, Ian regards Derren Brown as a fierce rival.
Miss Jemima Taptackle - Sports Expert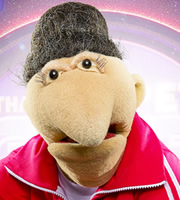 A former sports mistress at several distinguished English public schools, Miss Taptackle is a true all-rounder and exponent of the PMA (Positive Mental Attitude) philosophy. Taptackle is yet to find a physical activity she cannot turn her hand to. With an impressive pedigree in sport, including a stint as the first female captain of the men's rugby team at St Andrew's University, she has also trained both the Oxford and Cambridge boat teams, although controversially at the same time.
Fascinating Fact: At the 1980 Moscow Games, Taptackle brought home the bronze in the hammer throw. To this day Jemima maintains she would have won gold had she been allowed to hold the hammer in her teeth.
Eddie Watts - Music Expert
Shy Music Expert Eddie Watts presides over all games with a musical edge and is perfectly qualified to do so. As an introverted, allergy-plagued youth he spent hours alone in his bedroom with his keyboard and radio, absorbing the best of contemporary music, before sending a review of a Ned's Atomic Dustbin gig to the NME. They gave him a work experience job and he has never looked back.
Fascinating Fact: Eddie once roadied for Franz Ferdinand but didn't last long as he was allergic to the air freshener on the tour bus.
Jake Hamilton-Jones - Nature Expert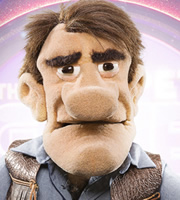 Macho nature expert Jake previously shot to fame in his native Australia on shows such as Lying With Lambs, Call Of Nature and Jake's Snakes. His image-conscious presenting style - combined with a love of the wild - made him a hit on screen. His famous stunts included wrestling a crocodile with his bare hands and cutting his way out of a python's stomach (a fake python, but dangerous nonetheless), all the while maintaining a perfect tan and sculpted eye-brow.
Fascinating Fact: Despite being a rugged outdoors type, his most terrifying memory remains the time when he was mauled at a hen party in Cardiff.
Amber O'Neill - Show business Expert
Amber O'Neill knows about all things showbiz - celebrity gossip is her addiction and she puts the super in superficial. She is also Producer Mancie's younger sister but likes to think she looks like her daughter. She moved to That Puppet Game Show from Mexican showbiz channel Scorchio. Although shallow and self-centred, Amber is never intentionally harmful and when it comes to the crunch Mancie knows she can rely on her to get the show out of a jam.
Fascinating Fact: Amber is rumoured to have gone out with David Beckham before he met Victoria (a rumour probably started by Amber herself).
Mancie O'Neill - Producer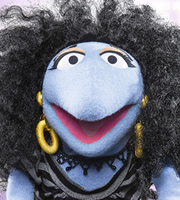 Mancie is Show Business Expert Amber's older sister. Over the years she has worked on various entertainment formats, from chat shows in the US to game shows in Japan. Her sharp tongue often gets the better of her and she's often under-appreciated despite the fact that she's definitely the hardest-working person on the show and isn't afraid to send someone to the production office in shame.
Fascinating Fact: Mancie is fan of British shows like Downton Abbey and The Great British Bake Off.
Udders McGhee - The Big Boss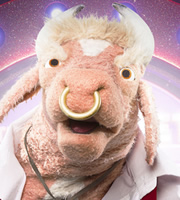 Udders McGhee is the president and chairman of his own media empire. He worked his way up from the bottom after starting in the post room at a multinational media company. He's been best friends with a number of US presidents but never could quite crack Bush, much to his disgruntlement. He constantly harasses Mancie about 'trimming some fat' but wouldn't dream of letting go of his bi-monthly annual bonus.
Fascinating Fact: He doesn't actually know the names of any of the experts that work on the show.
Clyde the Crab - Score Keeper
Hailing from New York, Clyde is the resident score keeper on the show. On the first day of rehearsals in the brand-new studio, Mancie discovered that Clyde and his entire family were already living in the scoreboard. It was clear they had nowhere else to go, so Mancie let them stay as long as he worked on the show. He asked for the easiest job he could possibly do and so was put in charge of reading out the scores.
Fascinating Fact: Clyde is married with 14 children.
---
See also:
Video interviews with the puppets
Published: Friday 26th July 2013