That Mitchell and Webb Look is an award winning sketch show starring and co-written by double-act David Mitchell and Robert Webb. Each episode features a range of different sketches ranging from the bizarre to the satirical, from recurring characters to one-offs. The series is adapted from the BBC Radio 4 show That Mitchell and Webb Sound.
Recurring Characters and Sketches
The show features some recurring characters. These include: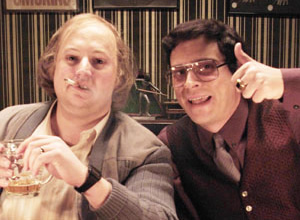 Ted Wikes and Peter DeCourcy, the Snooker Commentators: Ted and Peter (pictured) are more often than not more concerned about drinking and the darker elements of snooker than the actual sport. Their coverage tends to just consist of disturbing stories, and saying; "Oh, and that's a bad miss!" Ted and Peter both played each other in the 1975 World Snooker Championship grand final - a match that was drawn after several days playing because they had drunk so much they could not hit the balls. By series four, Peter and Ted have fallen on had times and are now hosting Late-Night Dog Poker on Dave.
Numberwang: This is the game show that everyone is talking about. If only anyone knew how to play it. The game is incredibly complicated and the average viewer cannot understand it. The first series featured separate editions of the show. The second series revolved around spin-offs of the quiz, from an advert for the board game version of the show, to the blockbuster film The Numberwang Code.
Angel Summoner and BMX Bandit: One can summon angels, the other rides a BMX. They're the least well-matched crime fighting duo in history. When the dirty plans of international criminals need rumbling, it can't help but appear that someone capable of summoning hordes of angels is a lot more useful to have around than someone who can pop a wheelie. But can BMX Bandit convince Angel Summoner to give him a go, just once?
Big Talk: Hosted by Raymond Terrific (Webb), this is a show in which a panel of boffins try and solves the world's biggest questions. However, Raymond is constantly demanding too much from them.
The Party Planners: These two men are constantly wondering which famous people or characters to invite to their parties. Unusually, they tend to hate people like James Bond, and like others such as Scrappy Doo.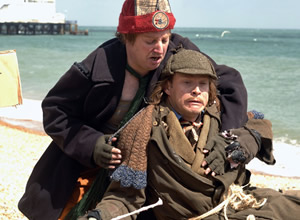 The Surprising Adventures of Sir Digby Chicken-Caesar (pictured): Sir Digby (Webb) believes he is a detective trying to solve the crimes with his sidekick Ginger (Mitchell), committed by his nemesis. In fact, they are just a pair drunken tramps who commit crimes themselves. They are so poor that Sir Digby has to sing their own theme tune (Devil's Gallop).
Barry Crisp: Barry (Mitchell) works on several unsafe rides and tourist attractions, such as jumping off cliffs or diving with sharks (in which the shark is in the cage with you). However, there is always a customer dumb enough to try Barry's attractions out.
The Posh Guy: Mitchell plays a rude, mean, condescending man who works in a range of different occupations, in which he constantly attacks his clients. He has had past employment as a vicar, a waiter and a tailor. "How can I possibly introduce you to the manager? You haven't shaved, you aren't wearing a tie and you hold your knife like a pen."
The British Broadcasting Corporation: This is a selection of clips set in the very first days of television, which mostly feature people saying how wonderful it is that people can see other people talking.
The Helivets - A parody of emergency service shows, The Helivets are vets clad in pink jumpsuits who fly via helicopter to rescue any "Pet in Peril". While the pet tends to be dead on the scene, that does not stop the cheesy team from remaining positive.
Colin and Ray: Colin (Webb) and Ray (Mitchell) work in the same office, but their jobs taken in some odd directions. Colin works as a hostage negotiator, while Ray writes the plots for pornographic films.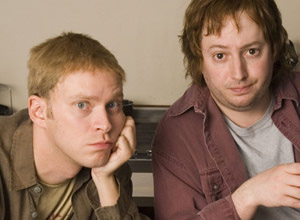 John Gibson and Andrew Turner, The Lazy Writers: These two (pictured) work writing scripts for different TV shows and films. However, they can never be bothered to do any research and so their shows are always inferior imitations of other programmes of the same genre. One of their dodgy scripts is an American courtroom drama about Speedo, a legal genius with a difficult relationship with his daughter and a limp caused by his very tight Speedos. They've not researched the legal details, as they don't want to get too bogged down in that kind of thing!
Jason: Jason came fourth in Big Brother 7 and third in Celebrity Big Brother 3 just six months later. He's the hottest property in television and the shallowest, most self-satisfied man in the country. He presents various cheap TV shows.
The Car Boot Seller: The seller (Webb) is flogging a range of different items. However, he tends to sell his items at what would be considered very low prices, considering his stock includes the Holy Grail and the wardrobe that leads to Narnia.
The Quiz Broadcast: A recurring sketch as of Series 3 and 4. The Quiz Broadcast is a post-apocalyptic television show broadcasting on the British Emergency Broadcasting Service sometime in the year 2013. The country has been destroyed by "The Event", but that has not stopped those who survived from enjoying themselves, so long as they remain indoors. Contestants on the quiz are asked questions to which the answers are generally not known, this is because The Event has destroyed much of the world's knowledge. The prizes are vital supplies such as fuel and food.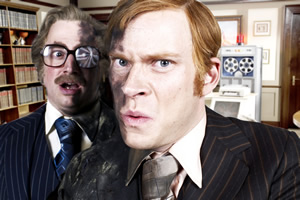 Get Me Hennimore! (pictured): This was a series of sketches which parodied 1970s sitcoms such as Terry and June and Some Mothers Do 'Ave 'Em. Each 'episode' features the unfortunate Montgomery Hennimore (Webb) trying to carry out the wishes of his boss (Mitchell). However, a series of confusing instructions from the boss, always leads to disaster for Hennimore. For example, Hennimore mixes up a meeting of dog lovers (including the boss's wife) in Room 1, with a meeting of Korean chefs in the slightly differently labelled Room I. As of series four, each of the sketches was set during Christmas.
Captain Todger: The world's most politically incorrect superhero, played by Webb. Captain Todger saves the world several times and during his subsequent press conferences he reveals his thoughts and feelings, things which probably should have remained un-expressed.
The Policeman and the Community Support Officer: A policeman (Mitchell) and a community support officer (Webb) are on the beat together. However, the policeman hates the community support officer, who he sees as someone 'just pretending to be a policeman'. He makes no attempt to hide his loathing of him, often using his worst points as an argument.
The Up Yours Parents: Webb and his real-life wife Abigail Burdess play a mother and father of a young baby. When talking to their baby they make goo-goo noises and are all sweet, but when they talk to each other they trade insults at each other, often giving each other the middle finger and shouting: "Up yours!"
The Cramped Office: A sketch from series 4, Mitchell plays Martin, the head of an office. However, his own private office is somewhat small. Everything in it is crammed so there is little room to move in, which makes it difficult whenever he wants someone to meet him.
Didldidi: A series of adverts for a budget supermarket chain voiced by Webb. All of the items are cheap and awful, such as bottle of fizzy bolognese sauce or tinned food with no labels. The shop name is a reference to shops such as Lidl and Aldi.
A Prayer and a Pint: Mitchell plays Donny Cosy, the host of A Prayer and a Pint, a TV show which is a mixture of religion and travel. Each edition takes place in a different location (such as Tokyo or the Large Hadron Collider) which Cosy has little knowledge off. Cosy always travels with a pint of beer and ends each show with a hymn. The hymn is always given by the same couple, Phil and Meg McQueen of Sulky Abbot in Bumsex (although he later corrects himself - it's actually in Sussex), who always choose the same hymn - "All I Want To Do, All I Want To Do, All I Want To Do is Praise Him".