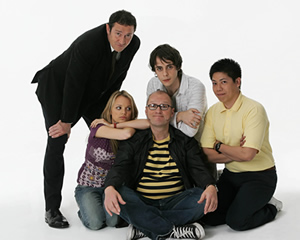 Teenage Kicks was a prime-time 2008 ITV1 sitcom starring Adrian Edmondson as a dad who moves in with his kids. The comedy was based on the 2007 BBC Radio 2 series of the same name.
Following a spectacularly nasty divorce, Vernon moves in with his teenage kids. A rebel in his youth (or so he thinks), he is genuinely excited about living in their student flat, seeing this new found freedom as an opportunity to 'get down with the kids' and be young and reckless again. Vernon has spent the last two decades living off his high-flying wife while spending vast quantities of his time in a comfy pub in the 'wild, party capital' that is Godalming. Now he's back in the real world: free, with no ties and no responsibilities...
OK, Vernon's alone, unemployable, and the local kids keep nicking the wheels off his car but these are just minor setbacks. At least now he can rekindle the embers of his glorious youth and be as hedonistic, as irresponsible and as selfish and idle as his kids!
Naturally, his kids, Max and Milly, and their flatmate David are mortified at Vernon moving in. It's only a three bedroom flat they've got, and as none of them are prepared to share a bedroom, it means Vernon has to sleep in the cupboard under the stairs - just big enough for a single mattress.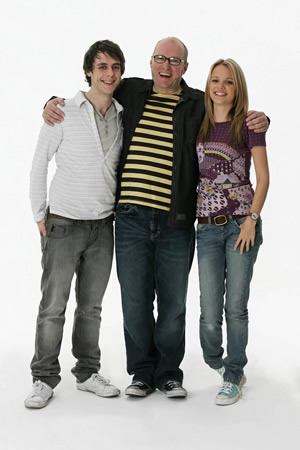 Milly is spiky, naively sexy, and a bit uptight. She is furious about the situation as she was just about to launch herself into all the things 18-year-olds do when they've just left home, and now she's got a dad in her cupboard. Meanwhile her brother Max is either very, very clever, or very, very stupid (no one can quite tell which). He is far too lazy and laid back to do much about his Dad moving in. Their flatmate David went to an English-style Public School in Hong Kong, and therefore has a very old-fashioned view of Britain, so is far too polite and buttoned-up to complain about Vernon.
When things get a bit desperate in the flat Vernon takes refuge in The Albion - a Kilburn pub where he meets his oldest mate Bryan, a smug, primary school deputy head whose sorted life is in direct contrast with Vernon's.
They were at Kingston Poly together in the 70s - a time of punk, demos, strikes, Rock against Racism - they even had a band (So, they only ever did six gigs, and no one liked them - but it was still a band). Thirty years on Vernon thinks he can do it all again, while Bryan thinks he's an idiot and should sort himself out.
Teenage Kicks is written by Adrian Edmondson and Nigel Smith. It was commissioned by Paul Jackson, ITV's Director of Entertainment and Comedy and brought to the screen by Phil McIntyre and Lucy Ansbro at Phil McIntyre Television. The eight episodes have been directed by Dewi Humphries. ITV's Michaela Hennessy Vass said: "We're thrilled to have the unique talents of Adrian Edmondson on ITV. The writing team have created a fabulous character which has been brilliantly brought to life by Adrian." Executive Producer Phil McIntyre adds: "Adrian Edmondson is one of the UK's most loved and talented comedians. I am delighted to be working with him and ITV on this five-star comedy."