Rhod Gilbert has been described as the most extreme contestant in Taskmaster history. He admits the show has revealed parts of him he managed to keep a lid on for 49 years.
Why did you sign up to take part in Taskmaster?
I don't know, I honestly don't. I hadn't really watched the show. I wish I had, if I'm honest.
It would definitely have helped. James Acaster is a big fan of the show and he's seen the house and knew where things were kept. He called on that knowledge in the show.
If I'd known what I was letting myself in for I probably wouldn't have done it. Because I think I've come across pretty badly. Every single task, I just completely lost my mind. Every single time I opened the envelope... you just see the crew staring at you and Alex staring at you and you've got a few minutes to sort it out.
The pressure to be funny, imaginative, original - what can I do that nobody else has done, after seven series? All that pressure lands on you instantly. And it gave me a mild breakdown every time. It's been horrible.
What was your strategy?
Sometimes I'd just have a few moments of quiet, trying to shut out the worst voices in my head telling me what to do. On one task, I saw with my eyes closed for a full nine minutes. My strategy was just sheer panic. Watching it back I can see that sometimes I tried really hard to be competitive and do well, other times I just threw it instantly.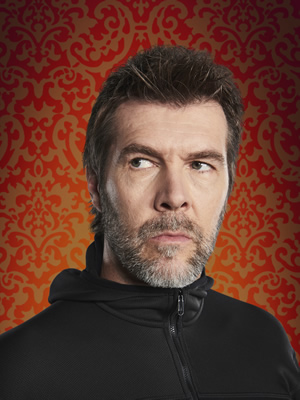 What's more important, being funny or winning the task?
That is a very, very, very, very good question. I think... winning the task.
I mean it's a very tough question, it's a philosophical question that is inappropriate, frankly, for this programme.
Which tasks were you better at: creative, sporty, logical?
I hesitate to say creative, but I think probably it was. I certainly have no logical skills, no sporting skills, no physical skills, so that leaves creativity. I've probably been a little bit creative. Only because it's the least awful of all of them.
Some of the tasks are timed but some are down to impressing Greg, and you know him very well. Did that help you?
No, because I took every opportunity to insult him. And I only realised once we came to film the studio part that the show is about impressing Greg, and that he really was in charge of dishing out the points. I hadn't really fully appreciated that when I was doing the tasks. So what happened was, I'd do a task quite well, then I'd gratuitously insult him and he'd deduct points in the studio.
Normally contestants suck up to Greg. One even had his name tattooed on his foot...
I would have an insulting tattoo on my foot, deliberately to insult him.
I can see how you would think that knowing somebody very well would give you an advantage when you are trying to impress them, but unfortunately, I chose to show a picture of him in his speedos to humiliate him. A picture he didn't know I had. I could have used our friendship to my advantage, it could have been a good tool, but I don't think I used it very well.
Had I understood the show better, things could have been different.
What do you think of Greg's relationship with Alex?
It's awkward, it's weird. Is it weird in a good way? I don't know. I don't even know what it is. Is it sexual? I don't know what it is.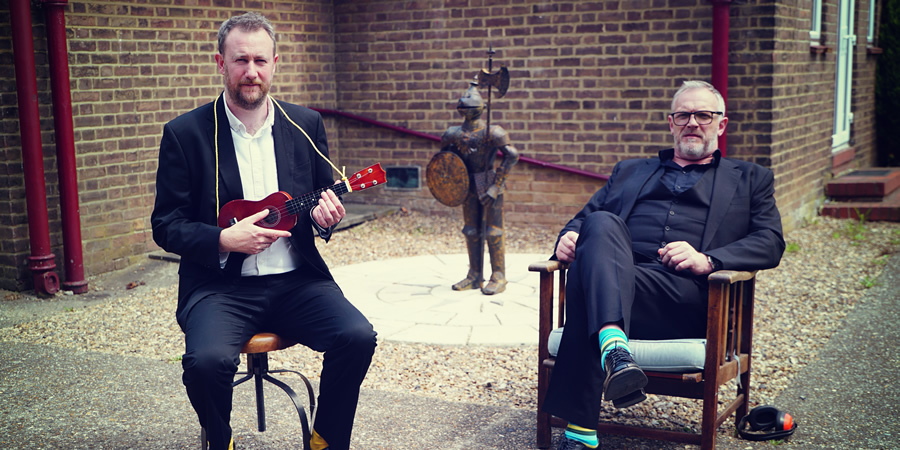 Was Alex useful to you during the tasks?
No, he remains pretty stoically silent and indifferent I think. Sometimes he'll just sort of intimate, very subtly, 'That's not a very good idea'.
He's kind of there, but he's not there really. It's very annoying, the whole thing is annoying and frustrating and stressful, and sometimes I took it out on him a bit because he's the one who has put us in this situation.
He is the one who designs the bloody tasks, isn't he? And I know that he's put me in these awful, humiliating situations.
Sometimes, I lashed out a little bit. So if he ends up gagged with an egg in his mouth and they're not allowed to show that for heath and safety reasons, then he shouldn't sit in a chair with a thing saying 'Excite me!'
Did that actually happen?
That actually happened. Well, they couldn't show it. It was banned. But we talked about it in the studio. I did take things to extremes a few times.
There's three or four tasks where I think most people would have stopped quite some time before I did. But that's the panic, and that is what this show does to you.
This show has revealed parts of me I didn't know were there, that I've managed to keep a lid on for 49 years. And they're not at all pretty.
Was it competitive between the five contestants?
Not at first but it did become extremely competitive. There were all sorts of alliances, all sorts of dynamics between us where one person will support you one minute and stab you in the throat the next.
I found that I was backing a lot of people, really bigging them up and applauding what they did, only for them to turn around and stab me in the back seconds later.
Who do you think would be a good contestant in a future series?
Paul Simon. Mary Beard. Donald Trump. The Obamas, and Richard & Judy.