Joe Lycett says he is dreadful at planning things and is very much a 'that'll do' kind of person.
What made you decide to do the show?
I love the idea and premise of the show and love Alex and Greg, so when they asked me to do it was a no brainer really. I'd wanted to do it before they asked. I rarely want to do things enough to ask to do them but it was one of those where I was thinking of asking my agent to push for it, but then I was asked.
As a comic doing a lot of panel shows, you end up doing quite a lot of similar stuff and I get quite bored of anything, I love new experiences so this is right up my street. I know a lot of people who have been on it so I spoke to Roisin Conaty and Sara Pascoe about it and they said 'do it, it's the most fun'. Every day you have no idea what to expect and genuinely you discover things about yourself doing it.
What have you learnt?
I'm dreadful at planning things. I come up with mad ideas and they never really work. There was one task where I had to get the highest splash and I made this bizarre thing so I could get a bucket of water as far away as I could and then threw a bowling ball at the bucket and it just chipped the side. I hadn't actually thought about rehearsing the throw of the ball. So that was embarrassing!
And I got really competitive about the creative ones where you have to draw or paint something. I love doing all that stuff and get frustrated when I feel like it's shit, so when it's being recorded and immortalised on a TV show, it's even worse.
How good are you at applying yourself to tasks generally?
Normally I'm pretty lazy and try to avoid things until the last minute. I'm very much a 'that'll do' kind of person. But that's why the show is perfect because there isn't enough time to perfect anything so you have to go with your instinct. I often do something once or twice and then get bored and do something else rather than spend years perfecting something, so this show is perfect for that kind of mind-set.
Was it harder than you thought?
I think so, yes. I think I was more frustrated with myself than I was expecting. There was one where I had to keep a basketball on a treadmill for as long as possible and I managed to last 10 seconds because I didn't think through all of the eventualities. I was really frustrated after that.
The most annoying one was make an exotic sandwich because I should have second-guessed that they were going ask me to eat it. I made this giant sandwich with about three layers of bread with a lamb bhuna, arctic roll and smoked salmon and then they said 'eat it, fastest wins'.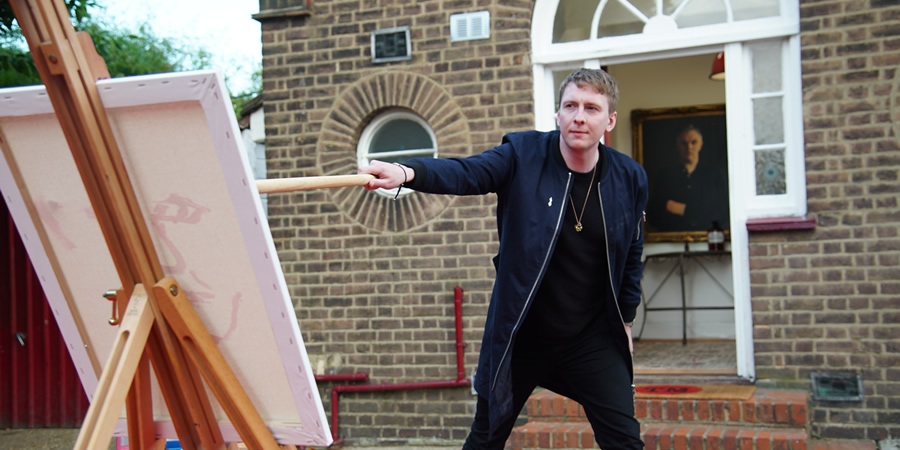 What was your favourite task?
There are so many! I do like the creative ones, like where I had to do a caricature of somebody I couldn't see. My most favourite was probably the one we did as a group with Lolly and Noel. We had to get some loose flour from a bandstand on to a target without getting off the bandstand and in the end we ended up just throwing things. I threw a trestle table off the bandstand; I'd never done that before and it felt very liberating.
You're encouraged to be a big kid; you're celebrated for it. I keep saying I want to do it again every year but you can only do it once, which is really annoying.
Are you very competitive?
Not normally, I'm normally like 'someone else can win'. But I really want to win this; it's weird! It's new to me that. Because I normally don't care, as long as I can get to bed before everyone else then I'm happy! But this is different.
Who do you think is your biggest competition?
Well I was worried before I did the group day because I thought Noel would be really creative with his thinking. But having done it I realise that he's just madder in his thinking, so it's more scattered. So actually I think I might be more logical about things than him but I think Hugh might be more logical than me. And Mel will be better at certain things.
I think everyone has certain skills but I think Hugh is the one actually who'll think things through better. I think he's wise, but we'll see. I prefer improvising because I don't have homework to do, which is why this show is great because there's no prep, you just turn up and hope for the best. I've surprised myself at how good I was at improvising certain things but I'm sure not as good as other people are.
Will people see a different side to you?
Yeah I think so. That's the beauty of the show is that they see a different side of everyone on the show. It's unlikely you'll see Mel Giedroyc tying to camouflage herself or making a high splash or whatever the mad tasks are. A lot of the time, rather than playing up to the cameras, you want to do the task well so you forget the cameras are there. I became a task geek rather than focusing on trying to be funny. So you'll see a more concentrated version of me that you don't in other stuff.
What will it mean to you to win?
Oh, a lot. I really want to win it! I am really surprised at myself. I'll be very disappointed if I don't, I'll be sad.
Who would you like to see on the show?
I'd like to see Vic Reeves do it, and someone like Harry Hill would be amazing on this show. People like Alan Carr and Russell Brand I'm sure would be very amazing at it too. And Jimmy Carr because he's quite methodical the way he does things. He's a words person so putting him in situations where he has to make things; I don't know how good his hand-eye coordination is.
Video interview task