Alex Horne says he'd happily do Taskmaster for another five years - there are limitless task possibilities.
What can we expect from this series?
A great question. I don't want to say 'more of the same' but, now that it's existed for three series, the difference is the different tasks every time. So if people have seen it and they think people are going to be wiser or cannier in some way, they're as stupid as ever! It's basically funny people doing very stupid things and occasionally someone doing something well. It's all real; the camera is rolling and the clock is going - there's no warning so under pressure they behave in really interesting ways.
Do you see some very different sides to people?
Yes, Hugh Dennis this series is really interesting because you've only really seen him be quite measured. On Mock The Week he's always in control and when he's acting he plays quite calm personas, whereas you worry about his sanity in this. There's definitely a side to him that's on the edge. I really enjoy that about the show.
You expect Noel Fielding to be a bit off the wall and he is and he's great. And actually you see a bit of Noel being sensible which is quite good. You see him using a hammer and playing football. It's seeing people you think you know actually being themselves.
Who's surprised you the most?
Well I don't want to go on about Hugh but I really enjoyed watching him! Mel Giedroyc is great and maybe didn't surprise me, but it's really fun to see her go back to her comedy roots rather than presenting. She's really funny and a good all-rounder - she can be funny, sing, dance and be really stupid and rude. She just chucks herself in to it, which is great.
Joe Lycett didn't surprise me at all; he's one of those very funny people who you know as soon as he walks in to the room it lights up. Lolly is the youngest person we've ever had; I think she's 26, not that young but the freshest. I guess the thing about her is that we don't know her so much; we're familiar with the others. It's the best mixture we've had I think.
What makes a good mixture? How do you go about selecting people?
I try not to worry about it too much. I think you can try to recreate old combinations. The first series we had Frank Skinner representing the old guard and Tim Key representing more quirky offbeat people. Whereas this time I think we've just picked people we wanted to do it and chucked them together. I don't think there's been a programme where Mel, Noel and Hugh have been on at the same time.
What makes a good contestant?
As long as they're up for it, anyone would make a good contestant because they're all in comparison with each other. The ones I like best are the people who have a bit of depth.
Noel Fielding is great because he can do things really well - like art - and gets really annoyed when he can't do something really well - like anything practical. He really does his best, so the funniest bits with him are when he's trying but failing.
They also they need to be competitive and that's where Hugh is great because he really wants to win and when he fails something he's so upset. If they don't want to win it's kind of pointless; there needs to be a genuine element of competition. First of all, you don't want to look like an idiot, you want to look like you can do things. Then in the studio you do want to beat those four other comics - it's a sense of accomplishment.
You have more women this series - why weren't there more before?
Basically, we didn't get more women. We did try! It felt like it was quite a male show because it's quite physical and we get people to do embarrassing things, not in the Jackass style but you're quite exposed. And we did ask quite a few women who said no. But actually, I don't think we tried hard enough and we should have kept on going because this series is so much more balanced. It's brilliant having two women because otherwise it's four men against one woman. So, for the next two series we're so pleased there is more than one woman. We might even have four women one day! There are fewer female comics and if we want to keep going there is a limit because we also want everyone to be brilliant - we don't want anyone to be in it because of their gender.
How do you come up with the task ideas?
My wife, for my birthday last year, hired a hot tub for a week - it was the best birthday present ever. And quite often I sat in there and came up with ideas because I couldn't have a phone or a computer so you can't do anything but use your brain. I quite often go for long walks too. I think it's one of the few things I'm quite good at is coming up with these tasks. So, I'm quite lucky that it's useful in this job.
My kids are 4, 6 and 7 and they're quite handy sometimes - but I'm a disappointingly boring dad. People say 'your kids must have such a fun time at the weekends doing all these things', but no.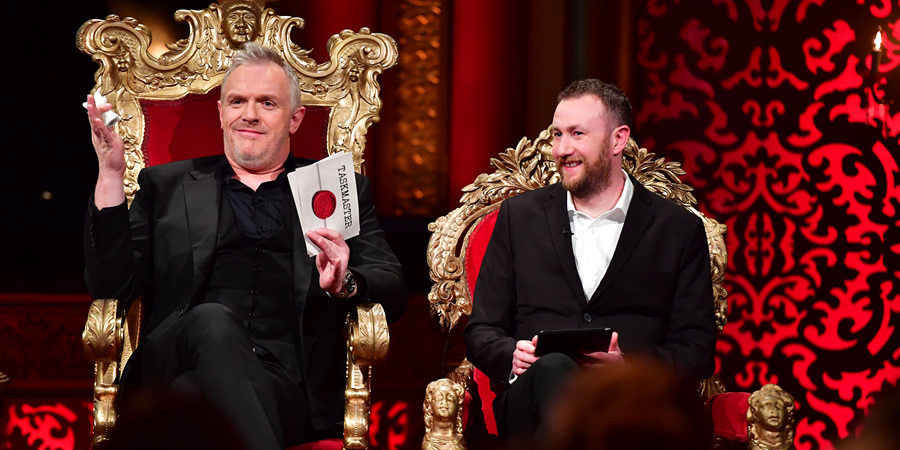 Why do you and Greg work so well together?
I think it's a lot of luck. He was absolutely the only choice for that role and such a perfect taskmaster - nothing to do with his height but because of his authority. And mainly because he's really funny and revels in the stupidity of things. His sketch show We Are Klang was just lunacy and I think he really likes the fact that he can be himself.
When we did the pilot for Taskmaster, we were more pantomimey and he played a role as this dictator figure cross with everyone, and that was wrong I think. We've learnt that now if someone doesn't do something well we really enjoy it so he can be himself. He likes having a little pet, which is me, and I quite like being obsequious because it's a fun role. I think it just happens to be that we fit in to those roles quite neatly.
Quite often people say 'it's a shame that you didn't get to host it'. I did it by myself in Edinburgh but that was never the plan and I would be so bad at it whereas he's so good.
Did you have a natural chemistry?
I don't think we did at all. We were quite worried about it. It was like God we don't know each other very well. But that happened very quickly and I think it's getting better and better. The last series we felt very comfortable.
Do you get star struck?
Yeah. I was pretty star struck by Noel actually for the whole first day with him. The Boosh was one of my favourite things and now working with him and making him do stupid things. But one of the things I really enjoy about this show is I get to spend six days with all of these people, so that's 25 people counting all of the series and I know them all really well, which is great and we're almost friends. I think I'm almost friends with Noel Fielding, which is exciting!
Who gelled the best on this series show?
They do team days so we put Mel and Hugh together, because it sounds like Mel and Sue and they've known each other for a long time... so they were like a bickering married couple. That was a bit of a risk as the other three were funny mixture but Lolly, Noel and Joe all start Jo, Lo and No! But they complemented each other well.
We just try to pick nice people - that's our one rule. We don't want to pick anyone who won't gel with people because that would make it difficult, although there aren't many divas in the comic world.
Do you have a favourite task?
There are so many. One of my favourites in Series 1 is when they had to do something that looked impressive backwards and then we reversed the film. They had an hour and normally in comedy that would take a week but they used their comic brains really quickly and the crew made it look so artistic and beautiful.
I love ones where they panic more as they're under pressure, like where they had to eat an egg - there's a lot of psychology. The audience are like 'I really want to see how they do this', and they're all meant to be things you can do at home. It's not like Crystal Maze or The Cube where you're thinking 'I want to do that'.
Has it changed things for you career wise?
Yeah, it's been brilliant. It feels like I now have a career, which helps! It's more just like a regular job so I get to see the children at the weekend. It's 9-5, go to work in my suit, do these tasks and come home. But it means I can still do stuff with my band The Horne Section and people seem to come along more now, I don't know if it's because of Taskmaster.
Do you get recognised much?
Very seldom, which is great. But occasionally I do and people who do really seem to know the programme well. I think it has a nice audience and a lot of people have got in touch to say they've had Taskmaster parties and someone was doing a Taskmaster hen night.
A group of Cub Scouts did their version of it too and filmed it - it's an amazing feeling that people are actually taking it on. People often ask us whether they keep each other's possessions, and they do which is quite nice. The odd thing gets returned like Romesh Ranganathan's car but Tim Key lost a reindeer skull, which is now hanging in Frank Skinner's house, and his Perrier Award too. I like that these possessions are moving around peoples' houses.
Are you hoping it's just going to run and run?
Yeah. I don't want to name drop but Frank Skinner said to me recently 'surely you want a break from it and have a year off and do something else', but I really don't! I'd very happily do at least another five series; I think there are limitless tasks and there are so many people I want to be on it. I don't get bored in the slightest.
Who else would you like on the show?
Lee Mack is so funny; I'd love to see him tackling it, and David Mitchell and Jo Brand. What I like about Mel and Hugh is that they have so much experience so I think Jo would just own it. I'd like to get some foreigners - it'd be nice to have an American with their enthusiasm. They make the programme in Sweden and Belgium now too and I'd like to get one of them over. The show is not a bear pit at all; some panel shows can be accused of people shouting the loudest to get their joke heard but you don't need to do that in our show.