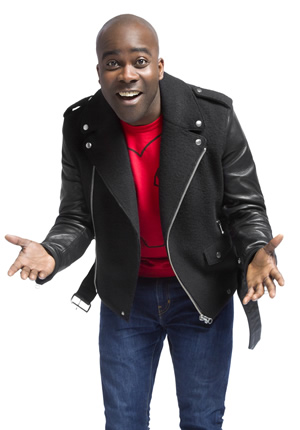 Melvin is one of the team captains on Sweat The Small Stuff. CBBC viewers might recognise him as he presented Swap Shop with Basil Brush in 2008 and played various characters on Dick And Dom In Da Bungalow. Radio listeners will know him from Kiss 100, where he co-hosts the breakfast show with fellow team captain Rickie.
What do you 'sweat' over Melvin?
I sweat over lots of things... whether it's OK to wear a onesie in public? (they are so comfortable and they just look like tracksuits so why can't we wear them out?)
I have been sweating about whether it's ok to use a voucher to pay for a first date? (at the end of the day you're still eating).
I have also been sweating about people who use hand free kits but still hold the phone in their hands (it's annoying either hold your phone or hide it!)
Good points. Do you have a favourite round on the show?
My favourite round is when Grimmy sets a challenge between me and Rickie! I heard he has some crazy ones lined up so they should be fun!
Will there be much rivalry between you and Rickie now that you're team captains on opposing teams?
There will be some rivalry between me and Rickie but to be honest I feel sorry for the kid because with a captain like me against him he does not stand a chance!
You've worked across countless genres - children's TV, radio, music shows and now a celebrity panel show - what's been your career highlights?
My highlights have been working on the Sony Gold Award-winning Kiss Breakfast Show alongside my friends Rickie and Charlie. Presenting on MTV, 4 Music and Kiss TV, hosting Backstage at The MOBOs and my first ever job in TV was on BAFTA-winning Dick And Dom In Da Bungalow for the BBC.
Rochelle will be a regular panellist on the show - will you step in as midwife if her waters break in the studio?
If Rochelle has her baby on the show I will back her all the way!! Plus it would make great TV. Puuuuuuush!!!
Who has better hair - Grimmy or Rochelle?
Grimmy of course! The only person with a better quiff than Grimshaw is La Roux!