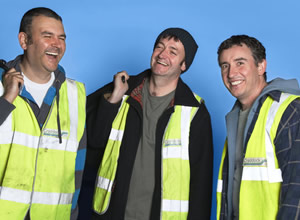 Sunshine is a three-part comedy drama co-written by Craig Cash and Phil Mealey (pictured), the team behind the BBC's hit comedy Early Doors, and co-writers of the BAFTA award-winning The Royle Family.
Starring Steve Coogan, Bernard Hill (Lord Of The Rings) and Lisa Millett (Drop Dead Gorgeous, Blackpool), Sunshine is the bittersweet story of three generations of the Crosby family.
Bing has been fascinated with gambling since he was a child. Bernadette was his childhood sweetheart and, in spite of his addiction, they have become a couple. The family is completed by their eight-year-old son, Joe, and Bing's father, George.
The relationship between grandson and granddad is a golden one - based on absolute trust and mutual affection. But Bing's gambling starts spiraling out of control, his losses reach unsustainable levels, and the only thing left to lose is his wife and son.
Although it sounds a bleak premise, Sunshine delivers very warm, character-based comedy in amongst the drama.
Sunshine is the first time that Steve Coogan has been directed by Craig Cash, but the pair go back a long way. The Alan Partridge star explains: I met Craig probably about 20 years ago. He was friends with Caroline Aherne. I was at college with John Thomson and there was John and myself and Caroline... so Craig was around. Craig was a DJ on the Stockport radio, CWFM it was called, and I used to go on his radio show. Craig would actually ring me up and say will you come on my radio show for free and just say some funny things, late at night, which I would do. I did it a few times.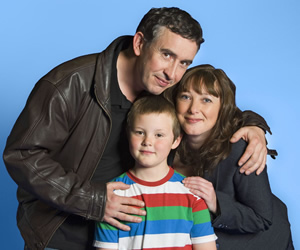 Lisa Millett, who plays Bing's wife in Sunshine, has also previously worked with Craig Cash. She played the role of Debbie in Early Doors. She says: I first worked with Craig on Early Doors; when I found out I had the interview for the job I was so excited, I didn't tell anybody. Then when I found out I'd got the job, I rang my dad who said meeting Craig Cash was going to change my life and it has, it really has. I love him. I would walk on hot coals for him, I really would.
Lisa continues: Craig is a genius, him and Phil Mealey both are. As an actress and as a human being, you couldn't ask for more, the stuff that they've given me to play; everything from giving birth to getting married, those are the things I've not experienced in my real life and it's dead exciting! Just the range of emotions to play, I think you'd be hard pushed to beat it, I really do.
Craig and Phil had Lisa in mind when they wrote the character of Bernadette and Lisa was desperate to finally be able to read the script. I was badgering Craig to let me read it for ages and he said I couldn't until it was ready. Then, eventually when he sent me it, I read the whole thing in one sitting. I couldn't put it down, and I laughed raucously and cried profusely. I think I phoned him straight away in tears just mumbling and he's like 'you're incomprehensible; I don't know what you're saying!'. "I'm going 'it's brilliant, it's brilliant', I was just absolutely bowled over by it. I just couldn't believe it, that this was perhaps something that I was going to be working on, it's just the stuff that dreams are made of really.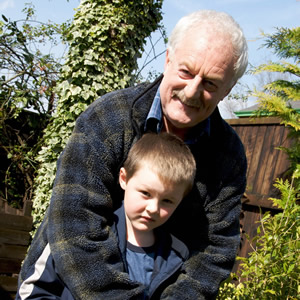 And how did Lisa find it working with Steve Coogan? We battled with the weather from time to time but it's just been such good fun. I've loved working with Steve. I come from a position of being a fan of his work anyway prior to this and he's just been fantastic to work with. Every day before I came into work I thought right I'm doing my favourite scenes tomorrow and I said that every day, they were sick of hearing it.
Bernard Hill who has previously taken on big Hollywood roles like that of Captain Smith in Titanic and King Theoden of Rohan in The Lord Of The Rings, enjoyed working with Dominic Senior, the young eight year old actor who plays Bing's son Joe in Sunshine. The two got on famously.
Hill explains: He and I got on really, really well. He's a great lad and he needed someone not to take it so seriously because he had to have a bit of a discipline because he's not trained at all, this is the first thing he's done. So, it was all brand new for him, and he kept forgetting that he was not supposed to look at the camera, and he's supposed to do this, supposed to do that, so I tried to make it fun, and as a result we got on really well.