Ford Kiernan and Greg Hemphill talk about preparing to bring their sitcom to an end after nearly 20 years on screen.
How does it feel to say goodbye to Jack and Victor after all this time?
Ford: It's a combination of happiness and sadness but we've had a phenomenal run. We're all happy that we got to enjoy Still Game for so long and happy we're going out with a bang but there's a tinge of sadness too.
Greg: It feels bittersweet, very strange because neither Ford and I have never finished a sitcom before. Even though we stopped doing Still Game a few years back, we never actually finished the show. Onwards and upwards I guess!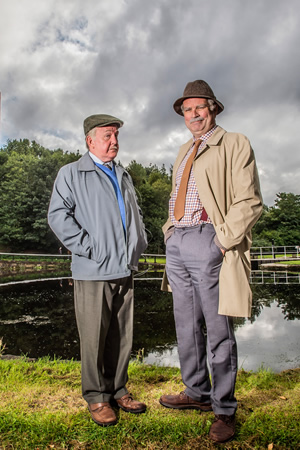 Will you miss pulling on your character's slacks and comfy shoes?
Ford: I will but then I don't have that long to wait until I'm actually doing it for real. I see this only as a brief hiatus.
Greg: I don't know what pensioners will be wearing in 20 years' time but I hope it's Victor's style. They are actually very comfy, the only person who wasn't comfortable was Jane McCarry [Isa] because of all the layers she had to wear.
What can fans expect from this last series?
Ford: Well we laboured long and hard about how we were going to wind this up and obviously the onus was on us to make this completely satisfactory for everyone. We wanted to make sure that no one felt cheated and we've put a lot of effort into making sure it's the right ending. We hope the fans are happy with what we created - we certainly are.
Greg: They can expect a lot of stories - not just Jack and Victor's - to end because it's the finale and the last chance the audience will get to see them on the TV. It's important everybody's stories are tied up.
This last series sees some famous faces come to Craiglang - what was it like having them around?
Ford: It was great having Martin Compston around. He came to visit us on set a couple of years ago so it was wonderful to have him filming with us this time. Amy MacDonald is also a fan of the show and even had Still Game as her specialist subject on Celebrity Mastermind. And then you get someone like Midge Ure and you think "Wow! It's Midge Ure!" and then suddenly he's standing in front of you and you think "That is outstanding!"
Greg: Over the years we've had people like Robbie Coltrane and Billy Boyd out and all sorts of people so it's always nice to meet and work with actors you wouldn't always cross paths with. We had Martin Compston in the first episode which was good fun. He'd expressed a love of the show and is a big fan of Still Game and it's always nice to have people like that around, people who have done so amazingly in their own line of work. He's one of the biggest stars in the UK at the moment so for him to come in and spend a bit of time with us was fun.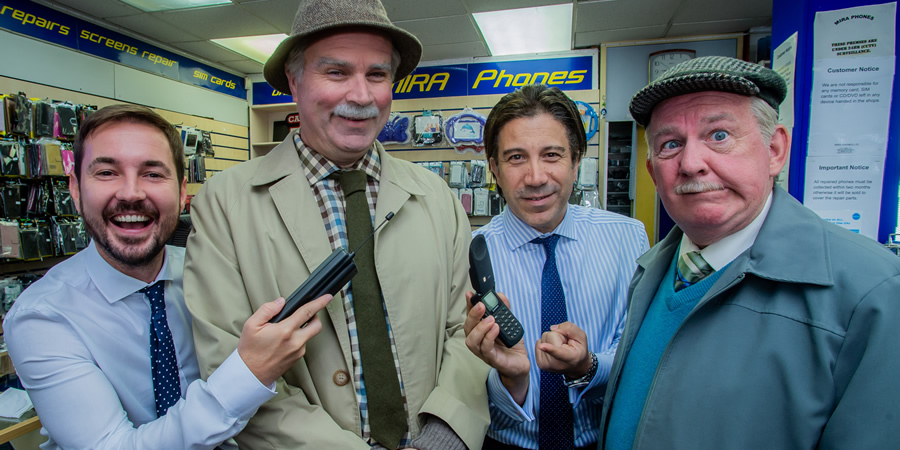 Any stars you wish you'd cast? Any storylines you wish you'd done?
Greg: Margot Robbie. She'd make a great old lady I think!
Ford: Now that would have been good - Jack and Victor ice-skating. Now there's a storyline...
What's the weirdest thing to happen to you on set?
Ford: It was before it was Still Game, we were playing Jack and Victor in Chewin The Fat, which was the forerunner. The two of us got chatted up by the same old woman in Byres Road one day when we were filming a sketch. She invited us up to her house to rub her feet and have tea and stuff like that. She genuinely did think the two of us were of that age.
Greg: Jane [Isa] one time went to a chemist to buy a breast pump so she could express milk because she'd just had a baby. She was dressed like Isa and the woman was like "this poor woman's coming here and thinks she has a baby!".
Where is the strangest place you've been recognised?
Ford: I was in Italy a couple of years ago and someone shouted to me from a tour bus through the streets. There you are having a cup of coffee in your shorts and someone's shouting "Jack! Jack!". Of course, in my mind I don't look anything like Jack... but I do! I think that when I take my moustache off I look like Clark Gable or someone like that.
Greg: It's always abroad where nobody knows who you are and then, suddenly, you'll get one grinning face coming towards you. I always quite like that.
If you could be any other character in the show - who would you choose and why?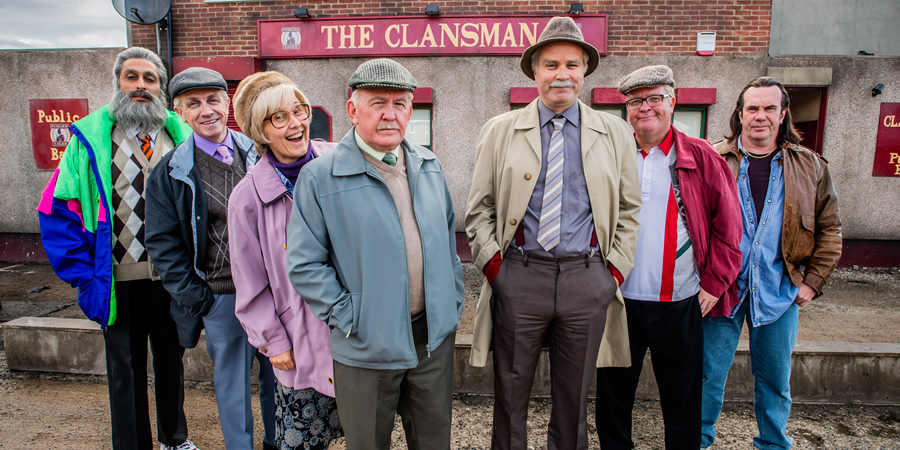 Ford: I think I'd probably be Isa because I love Isa's dialogue and she's very much the pivot between the characters. I've always had great admiration for the way Jane [McCarry] plays Isa. I'd quite like to be Tam too, Mark Cox is a genius at playing him - it's in his eyes, you can tell that Tam's miserable. There's a Fagan in Tam and he brings it out every now and again.
Greg: I always love this question! Probably Winston because he gets to do and say all the things that Jack and Victor sometimes don't. He doesn't mince his words he doesn't have to do anything he doesn't want to do, so he'd be fun to play. But I wouldn't' be able to do it as well as Paul [Riley] does though!
Of all the episodes - which one is your favourite from this series and why?
Ford: The last episode [Over The Hill] is going to end up being my favourite - I can't tell you why now! You've grown to know all these characters over the years and what we've tried to do is put a resolve on all of them. My memory will be us all bolstering ourselves to get through the final scenes, knowing that we've done the right thing.
Greg: I think Over The Hill because I'm really excited to see how audiences will take to the end of the story. When sitcoms end, people's reaction sometimes vary so there's no way of knowing but having heard the audience reaction at the laughter track recordings I think we've got it right. Only time will tell.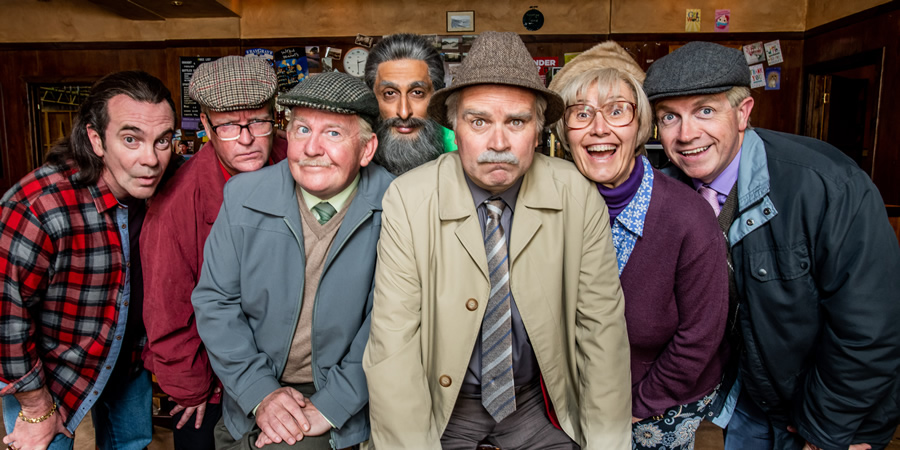 What are you most proud of about the show?
Ford: I think the longevity and the length of time people have been prepared to stick with us and keep supporting us. That's as much as anybody can get out of a sitcom. I'm delighted with the way it's worked out and just how good they are to us.
Greg: We're proud of the way we've written the show, exactly the way we wanted. Because the shows that we love like The Simpsons and things like Cheers are all about community. Still Game is a show about community and if you ask most people that's the thing they relate to the most. Everybody would wish for a set of pals like Jack and Victor have.
What do you think it is about Still Game that has captured fans affections?
Ford: Over the years, we've discovered our fans are anything from 6 years-old up to their 90s and it's great for us to have such a wide fanbase. Our characters all have a resilience which has a broad appeal.
Greg: I guess it's a combination of people knowing characters like ours in real life, the interaction obviously and the outlook they have. I mean they don't sit around and talk about medicine in their cabinets, or their blood thinners, or the fact that they have bad knees - they don't talk about the things sometimes associated with old age. They live their lives and they enjoy their lives and, I think, that for a lot of people that's an aspirational quality they have. We don't aspire to the traditional things like money and cars, the things we aspire to are enjoying your life, everyday whatever life throws at you. That's the philosophy of the show - you're only old once you're dead.
What do you hope Still Game's comedy legacy will be?
Ford: I would like to see a new gang of people coming up, a new ensemble comedy piece would be great.
Greg: I'm a big comedy fan, a big sitcom fan, the legacy will be what it will be - it's up to the fans. I hope people keep on talking about it. At the moment, I'm watching Seinfeld, I think I've seen around 95% of all the episodes. I love good sitcoms especially ones like Cheers and Frasier. But it's exciting to see how it will live on.
Will Craiglang live on forever?
Ford: I think in the memories of people, it will. The flats featured as Craiglang have become iconic now. People come from as far afield as Canada and Australia to get their pictures taken outside the flats so in people's minds, Craiglang is a real place.
Greg: It would be an honour and a privilege if people are still talking about the show in ten years time, laughing at it and enjoying the shows. Time will tell.
What was it like when the director shouted "It's a wrap!" on the last day?
Ford: There was a big round of applause and everyone cheered. There were a couple of people here and there having a bit of a bubble. It's a funny thing to see an entire body of work come to an end like that, you can't really pinpoint how you're feeling. It's not relief or joy - it's somewhere in between.
Greg: It didn't feel that different to other series because you always have that "Wow!" feeling on the last day. I guess we all know that we'll work together again - it's a small place, the entertainment industry. So it didn't feel like the end of an era and maybe that's because we've still to do the live shows, it sort of feels like in six months time we'll all be back together again.
The series will premiere on the new BBC Scotland channel - how does that feel?
Ford: Scotland's where Still Game started and it seems fitting that it should end there on this new digital channel. It's an exciting time for BBC Scotland and we're chuffed to buttons to be part of that.
Greg: Very exciting - it feels strange as we're saying goodbye while the channel is saying hello.
Does it feel like it's over or has it not hit home yet?
Ford: It hit home a couple of years ago because we started the winding down process then. It'll be fine - we've braced ourselves.
Greg: It does feel like it's over and there have been lots of last moments like the last day on set, the broadcast on TV. It really is strange because we're saying goodbye to characters we created but we feel like they now live on and also they don't belong to us anymore - they belong to the audience. It's quite a mixture of emotions.
What farewell message to you have for fans of the show?
Ford: We're enormously grateful for the love and support you've shown us over the years. You've been so super loyal, you're just a fantastic outfit. The good spirits you've shown us all from the start until now has just amazed us so it's a big thank you from us.
Greg: Now - call your grandma and call your grandpa!