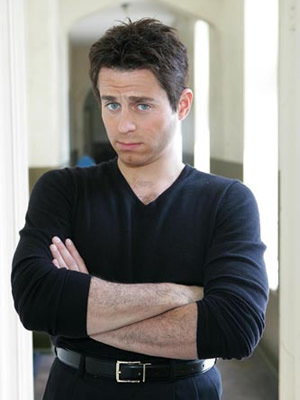 Kevin Bishop (pictured right playing Simon Cowell) is one of the major stars in Star Stories. Although Kevin has been popping up in British comedies for a long time (his CV includes appearances in My Family, According to Bex, Spoons and Peep Show amongst others), it was his performance in the first series of Star Stories that brought him to the nation's attention and receive a nomination for Best Newcomer at the British Comedy Awards in 2006.
Frankly Kevin Bishop is something of a rarity in showbusiness - he's a former child star who has not only found success as an adult, but has yet to show up in rehab, join a religious cult, or even have a breakdown. Back in 2007, Benjie Goodhart caught up with Kevin to find out more...
You've been acting since you were really young. When did you start?
My first professional job was when I was 11, and it was The Sound of Music in Sadler's Wells. It was an open audition, and I remember thousands of kids there, and I remember towards the end of the day thinking 'This must be over soon,' and someone turned me around and introduced me to a reporter from Newsround, and we were on Newsround, and we were the kids who had been picked. And from then I got an agent, and I suppose I've never really looked back.
So if you were in The Sound of Music, you must be able to sing as well?
A bit. I was in a film with The Muppets, Muppet Treasure Island, when I was a teenager, and that was a musical. I played Jack Hawkins. Most of my work as a kid was musical.
What was it like acting with Muppets?
Fantastic, only very, very difficult. And I suppose you could say I'm still acting with muppets!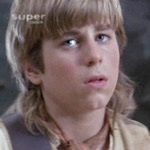 Muppet Treasure Island got you quite a big female following among young teens, didn't it?
Yeah, weirdly enough. I didn't even know about that until I went on to the internet a few years ago and there still seemed to be a lot of interest in me in that film, and I just think I'd shatter their dreams now, because I'm a 27-year-old man now, and I think the majority of girls on those websites are looking for a 14-year-old boy.
You also played Dick Whittington a few years ago in a big TV panto, with everyone from Paul Merton to Harry Hill to Richard Wilson. That must have been fun?
I remember thinking before the job, when I saw the cast list, 'This is going to be a laugh-a-minute,' because there were so many brilliant comedians involved. But it wasn't at all. It was quite boring, actually. They were all far too serious, and they took themselves very seriously.
But you were also appearing with Hear'Say. It doesn't get any better than that, surely?
Absolutely. Actually, they were very nice. But at the time we weren't really allowed to talk to them, because they were Hear'Say, and they were the stars of the show. They were kept very separate to us, because they were too big to be introduced to us. It's bizarre to think of now. I remember one of them was ill, and it was all hush-hush in case the papers found out.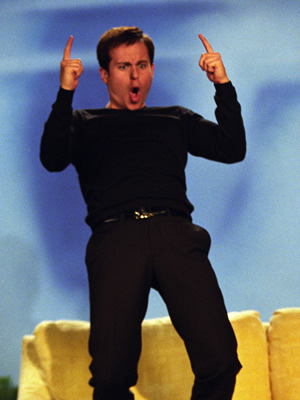 What other projects have you done that you've been most proud of?
I've just done a film with Marianne Faithfull called Irina Palm. That's a good film, it did really well at the Berlin Film Festival.
Are you aware that according to the BBC Comedy Guide, you have produced and directed some of Jim Davidson's finest work?
Yes, that's true, Jim and I go back a long way! No, there is a Kevin Bishop at the BBC who's a bit old school, a big-time producer there. He does the Royal Variety Show and French and Saunders and Jim Davidson, but it's weird, because on the internet quite often it will have my flexography and then it will go on to outline 'my' work as a director. Every now and again he gets one of my cheques, but I never get one of his, sadly. I think his probably outweigh mine by about ten to one.
For the uninitiated, can you explain the concept behind Star Stories please...
Well, it's our take on the life stories of celebrities. Stories that we already know, but we just re-tell them ands take the piss out of the celebrities. It's a bit like extended versions of the Rock Profiles that Matt Lucas and David Walliams used to do, but a bit darker. It's not like an impressions show - we normally don't sound anything like the people we're playing. In the whole series, we play about 130-150 different celebrity characters, and I think only about three of them are ever spot-on impersonations. It's much sillier than that.
The first series won a British Comedy Award, and you were nominated for a couple of individual awards. Did you have any idea the show was going to be such a hit?
I remember seeing the show and thinking it was very good, and thinking the other cast members were so brilliant and fearless, I liked that approach. I was pissing myself laughing all the way through filming anyway, so I thought it was funny. I couldn't stop laughing, which I thought might be an indication that it was working. So I was quietly confident. But despite being an industry hit, it didn't get very big audience figures.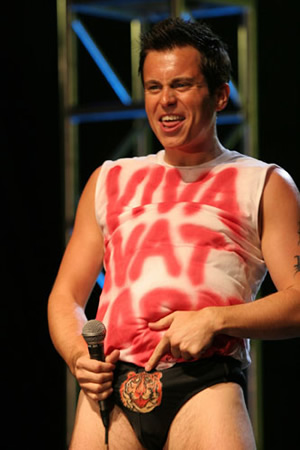 It looks great fun to film...
It is, it's such good fun. For series two, we filmed four episodes in four weeks. That is a very tight schedule. And there are just certain actors that I just cannot be in scenes with, because I cannot keep myself together. And because the schedule was so tight, and we were up against it, we'd get to ten to seven and still need to film two scenes, so the pressure would really be on. And I'd be the one who would ruin it by laughing. And the more the pressure's on, the harder it is to keep it together. It's not just me, I suppose - everyone did it. We just had a brilliant time. And it's also fun because when you're playing so many different roles, as we all do, it keeps it fresh, it's a lot of fun. You're coming in every day and playing someone completely different.
Who have you really enjoyed playing in series two?
I really don't know. I enjoyed playing Robbie Williams for the new series, and Justin Timberlake was fun. Simon Cowell is another one for this series. Last year I think my favourite was George Michael, and Michael Douglas as well.
Do you ever get any feedback as to what the celebrities featured thought about the films?
You get bits of feedback, but you never know if it's true or not. We heard that one star was furious, and I heard that one woman had been thinking about suing, but that's it. I think most of them can probably laugh at themselves.
You mentioned legal issues. Do you have to be very aware of that side of things when you're filming?
Yeah, it's a very complex process. We're not allowed to say anything about anyone that isn't true. It can be quite tricky. Sometimes we've had to change lines even when the filming is all finished, and we go back to the recording studio and put one line over another line. But it's very well looked after by the lawyers. The only reason I reckon we've not been sued is because actually we've not said anything that technically we can't.
In the Take That and Robbie episode, Harry Enfield guest stars as Elvis Costello. How did that come about?
I went to dinner with Harry and Paul Whitehouse, and they were talking about how much they liked Star Stories. And I was a huge fan of the two of them - all of my comedy is based on their style of comedy, that's what I grew up on. And so when it turned out they loved the show, I told the producer, who then cunningly went and got Harry a part in the show. They were both supposed to do it, but apparently Paul couldn't, because he had other arrangements.
Is there anyone you'd ideally like to play in a Star Story?
I made a suggestion the other day. I'm playing Cliff Richard in an episode in this series, and when I put his teeth in, I looked uncannily like Freddie Mercury. I'd like to have a go at playing him as well. I think we could have a lot of fun with that.
See Also: Our 2008 interview with Kevin