Russell Howard is back with a second series of his stand-up show for Comedy Central. Here's a quick interview...
Hi Russell. How did you prepare for Stand Up Central?
I spent 2 months on the road every night doing new material at tiny gigs around the country. It was a blast!
Do you have any pre-show rituals?
I slaughter two hamsters and turn them into slippers before performing my sacred giggle dance. Nah, I just have a poo and think about the stuff I'm gonna waffle about.
Who has been your favourite guest on Stand Up Central so far?
Tommy Tiernan. He was amazing, he's just the most fantastically charismatic performer, I could watch him for hours. That sounded creepy! You know what I mean. I don't break into his house and watch him sleep!
Where is your favourite place to perform?
I dunno. I really love gigging in New York and Washington but then the Albert Hall takes some beating. I'm doing 10 nights there in February next year, I can't wait.
Do you enjoy audience interaction?
I love it. I was asked at a gig recently whether I thought astronauts masturbated in space and a booming voice went "OF COURSE WE DO", so I ended up having a chat with this pervy spaceman. I always enjoy it when a gig comes off the rafters a bit.
Have any members of the audience ever really shocked or surprised you?
I had a pair of pants thrown at me in a gig in Camden. That surprised me! I've never enjoyed a joke so much I wanted to let my privates get some air.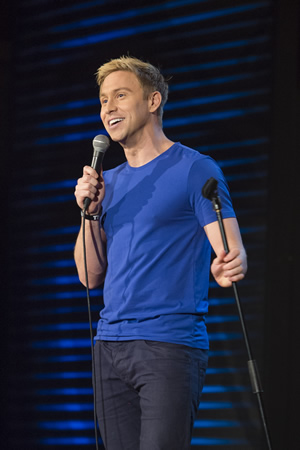 Has there ever been any content which you haven't been able to include in Stand Up Central due to it being too rude?
Loads! I'll probably just do it on tour!
What's the weirdest place you've been recognised?
In a waterpark in Benidorm at the top of a terrifying ride!
What's the strangest thing a fan has ever asked you?
"When you cum do your eyes go straight?" I've signed boobs as well. Men and women!
What do you think makes a good comedian?
I dunno. Being interested in people I guess. Having a fascination with the world and really thick skin.
Stand Up Central offers a platform for established and new comics - are there enough TV opportunities for new comedians to be discovered?
Yeah there's loads. Live At The Apollo, Stand Up Central, Mock The Week, 8 Out Of 10 Cats to name but a few. When I was young there was no stand-up on TV, now it's everywhere.
What are your thoughts on YouTube, the rise of social media stars and their movement into comedy?
I think it's great. People watch stuff when they want to. We put up loads of clips of Good News and bits of stand-up, and some of it has been watched all over the world. We did a piece on the junior doctor strikes and the tampon tax, and I think they were watched around 10 million times each.
Is comedy an easier industry to get into due to its acceptance of diversity, compared to acting for example, which still seems to be a closed shop?
I dunno, I've never thought about that. Comedy is relatively simple: if you're funny they laugh and you progress, if you're not, they don't, and it doesn't matter whether you went to Eton or not. If they're not laughing, it's not happening.
Could you ever see yourself presenting your own chat show?
I wouldn't mind giving it a go. We interviewed some brilliant people on Good News and the audience really seemed to enjoy it. Who knows, maybe in the future?
You've got a brand new travelogue series starting in October on Comedy Central which will feature what you and your mum get up to in America. Is there anything else you'd like to try?
It's gonna be amazing! We're spending time with UFO hunters, preppers, going to a high school prom, watching a pensioner beauty pageant, and going to Vegas to meet a man who talks to the dead! I can't wait.
You've worked with your sister and your mum now. Are there any other members of your family you'd like to work with?
I would work with my brother, but he's far funnier than me.
Series 2 of Russell Howard's Stand Up Central is on Comedy Central on Wednesdays at 10pm. Episode guide