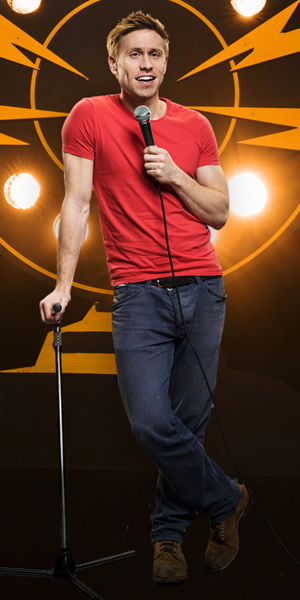 Russell Howard is presenting a new stand-up show on Comedy Central. He explains more in this quick interview...
Hi Russell. What can people expect from Russell Howard's Stand Up Central?
It's me and a bunch of brilliant stand-ups from the circuit telling jokes in a tiny club in Camden.
How did you choose which comics would feature on the show?
They're people on the circuit who I think are great. John Robins, Andrew Maxwell, Sara Pascoe, Nish Kumar...
You talk to the audience as part of your hosting duties. Did any of their questions surprise you?
My favourite question was definitely "do you think normal dogs see police dogs and think 'oh no it's the cops! Act normal'?"
Ha ha. Do you prefer stand-up to presenting?
I've never done presenting. I've only ever done stand-up. Good News is just stand-up with sketches and clips, when you think about it.
Does performing stand-up on TV add pressure?
I guess so, cos you go through the myriad of what you can and can't say... but, to be honest, once you get going it's just a laugh isn't it?
What did you want to be growing up?
I wanted to be a footballer, I still do to be honest. I'd give it all up to play once for Liverpool.
How did you get into comedy then?
I got into comedy when I was about 15. I saw a Lee Evans video - a VHS... I'm an old man! - and it blew my mind. I started writing jokes in my room and eventually when I was 18 I plucked up the courage to give it a go and after that I was hooked.
What is your favourite TV comedy show?
I absolutely love Gavin & Stacey. The writing is so deft, the performances so small, it's warm and funny and silly and loveable. I came to the show quite late because I was always out doing gigs but I devoured it all in one weekend. What happened on that fishing trip?
'Russell' seems to be a popular name amongst comics. How often do you get confused with Russell Brand or Russell Kane?
Brand quite a bit. Kane, never.
Russell Howard's Stand Up Central is on Wednesday at 10pm on Comedy Central.