Julie Bower, the creator of So Awkward, talks about how the show was developed...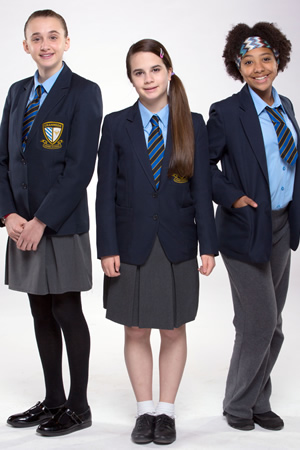 So Awkward began life about 8 million years ago (well, five) as a teen sitcom pilot called Rubbish At Boys. It was about three 16 year-old girls; a nerdy one, a crazy one, and the one who wants to get the boy.
Over various coffees that year, producer Sally Martin and I had discussed developing a nerdy female skewed show together. It seemed at the time (2010) there wasn't really anything like it; teenage girls are always getting portrayed as moody, or fashion obsessed or the un-gettable object of some teenage boy's affections. This was an opportunity to try and do something a bit more interesting.
I wanted to create something fun, inclusive, female but with flawed characters. I'm a sucker for warmth in comedy. My favourite sitcoms are the ones that not only forgive but celebrate the flaws of the protagonists. It seemed to me that's what the girls needed to be; a bit rubbish, but ultimately loyal, prone to mistakes and messes, but in an upbeat, hey-at-least-we've-got-each-other kind of way. I wanted that idea; that it's ok to be rubbish, or weird, or different, stamped across the show, for no other reason than to make the audience feel good about itself.
At the time I didn't have much TV script writing experience so I just tried to follow my instincts, tried not to rip off The Big Bang Theory too much, and made it as funny as I could. Reading it back, the original pilot for Rubbish At Boys was massively thin on plot. The girls go to a party, one of them wants to be there, one of them doesn't, one of them's making a documentary. The uber nerd gets off with a hottie, the nice girl yells at the boy she wanted to impress, and then a phone gets broken and they all go home.
Anyway, I tinkered around with the concept for ages in between working on other stuff. At one point the three girls were in a flatshare in their 20s, and I tried making one of them a boy - just trying different ideas out. But it seemed that the younger we made the characters, the funnier they became. A 17 year-old girl worrying about her A-levels for example is fair enough. A 12 year-old girl planning her UCAS application on the other hand is just that little bit more interesting. Because they were nerds, the characters had a real innocence to them which gave them a kind of child-like quality, so writing them younger just made sense. And that was how the show came to be pitched to CBBC.
So Awkward isn't a memoir to my childhood or anything and I didn't base the girls on any one person. I suppose Lily, Jas and Martha are all probably bits of my personality, past and present. Growing up I have shared Lily's anxieties about fitting in and Martha's confusion about girly stuff. Nowadays, my favourite things are cake and puppets, so 36 year-old me is probably most like Jas.
I think if I'd had a CBBC audience in mind from the beginning, So Awkward would have turned out very differently. To be honest I didn't have an audience in mind at all, I was just concentrating on the characters and trying to make them funny. We've always tried hard to work with everyone's feedback, while staying clear about the central characters and the main themes of the show, and then other elements have evolved organically along the way. I particularly love how the supporting characters have built up as we've gone along with some lovely performances from the adult cast.
Fundamentally though it still feels like that show I first set out to make. In many ways it's stronger. We've so far managed to steer clear of cliché "bitchy girl" themes and storylines. We generally try to keep the girls' world a positive place, sometimes irreverent, but mostly grounded in reality. In telly terms I was a bit of a newbie when I started out and Series 1 was a steep learning curve, but I learned tonnes from Sally and the rest of the writing team (Matt Brito, Mark Oswin and Bede Blake) and it was lovely watching the girls come together and the characters evolve. We've been very lucky with the casting. We asked a lot of the main five and they've all risen to the challenge rather wonderfully.
CBBC screened an episode to a focus group at Christmas to see what they made of the characters. My favourite comment was from a little 8 year-old girl who said "I like Martha because she is weird and I am weird."
That kid made my day :-)
Sally Martin, Producer
Sally Martin, who is the producer of the show, adds: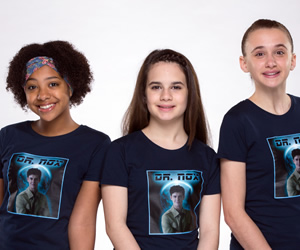 Julie's account of So Awkward's long and winding journey shows how patience, some tenacity and a willingness to be creative and flexible can sometimes pay off! Someone to champion a piece along the way is vital, too, as Sue Nott at CBBC did early on with this. And a bit of luck! It was a case of right place right time when CBBC introduced the idea of commissioning pilot episodes of narrative pieces for the first time. This provided the opportunity for the show to prove itself and earn a series commission.
It feels like we've definitely ended up in the right place - CBBC feels a natural fit for the tone and humour, where the piece can breathe freely and be its natural self. Great, too, to have a longer commission of a 13 episode series to establish the world and characters, rather than the 6 episode norm for adult pieces.
So far, and long may it continue (!), the integrity of piece feels like it's remained intact. Preserving Julie's authored vision has always felt vital and the writers have been very respectful of that. All have aimed to reflect her vision when writing their individual episodes, whilst at the same time, I hope, feeling they had the freedom to express themselves fully as writers, too. We were keen to avoid any whiff of sausage factory about the process and I hope it's worked!
It's the first time I've been involved in a project for children's TV and I hope it won't be the last. It's been great to work with a young cast - their energy and positivity very infectious and disarming. With their young, sponge-like memories they are also very good at learning lines!
'So Awkward' is on CBBC on Thursdays at 4:30pm, repeated Saturdays at 9:30am.
Published: Thursday 11th June 2015