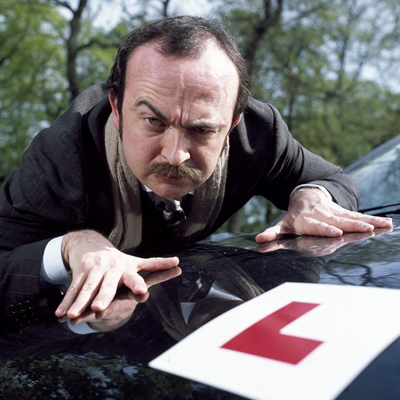 British Comedy Guide chats to Peter Slater, star of Slaterwood...
Hi Peter. Thanks very much for talking to us. Firstly, congratulations on getting your own sketch show pilot. How did the idea come about?
Hello and thank you. Well, it was my agent who suggested to Channel K (the production company) that I should have my own sketch show. You see, I'd been doing a live sketch show in Manchester called Bastard Funny, and I had a whole bunch of characters that seemed to go down really well with the audience.
Channel K came and watched the show, liked what I did and from there, over a year's period, I did a few projects with them including Mike Adams Academy for Paramount Comedy, Comedy Spinner for Channel4 Radio and the online sitcom Where To Mate?. Then when it came around to doing taster tapes for the Comedy Labs, I put together with Channel K a collection of my best characters from the Bastard Funny shows and some new stuff and we sent it off to Channel 4 (with fingers crossed). They liked it and I got this Comedy Lab pilot!
Could you give us an idea of what to expect on Friday?
No. Ha, ha. But seriously folks, expect a very silly show with some dark moments, as if Hollywood has been taken over by a Northerner. And it's all based on a true story.
You play a wide variety of characters in the show - who did you most enjoy being?
Mmmm. That's a difficult one. I enjoyed them all really but if I had to pick one, then I'd say Sir Arthur Conan The Barbarian because he's roughly based on the late actor Oliver Reed and is a lot of fun to play. I enjoy doing his voice and all his weird mannerisms, constantly combing his hair with a big orange comb. If you like orange combs then this is the show for you!
Ha ha. That's us. You first appeared on TV in 2000, with That Peter Kay Thing and then worked with Kay again in 2001 on Phoenix Nights. How did you come to get involved in those projects Peter, and what were you doing previous to getting involved in acting?
It was part of my community service. I'd always been interested in acting from an early age (I appeared in a mushy peas advert when I was 12, it was tough because I don't like mushy peas!). When I wasn't trying to get acting work I worked as a pot washer, in a video shop, in a record shop, a bakery and doing deliveries for a printers. It was always non-stop glamour.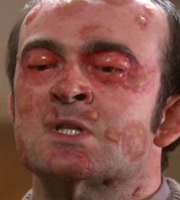 There is a fair few nutters in Slaterwood... plus, very memorably, you've also taken on the role of Alan, the psycho Christian builder, in the hit BBC Three sitcom Ideal. Um, how can we put this, do you have to be locked up at night by the authorities? ha ha.
Seriously I'm on medication and I have to be locked into a cage after midnight. Just like that movie Gremlins, I cannot be fed after midnight and don't spill water on me or I'll multiply! I'm ok with bright lights though.
Ha ha. We'll bear that in mind. Talking of Alan from Ideal, what was it like playing the blister-covered builder?
It was a blast! Graham Duff created a really fascinating character and he was great fun to play. To go from this jolly easy going guy to a complete psycho was just a real incredible journey. Perfect for an actor, plenty to get your teeth into! Thank you Graham Duff!
You must have been in the Ideal makeup chair for hours?
It was normally 2 hours. But I just had to sit there, the make up people have the hard part! In fact, I fell asleep twice! Oh, an actor's life!
And, any idea if there's going to be a fifth series of Ideal?
There will be a 5th series, a video game and a talent show called The Ideal Factor. There's also plans for a movie Ideal vs Shameless and Ideal action figures. My figure includes the bee hive. Only one of those is true.
Back to Slaterwood, what was it like filming the series. At one point you have a bloody gunfight in the street - did that raise any eyebrows from passers-by?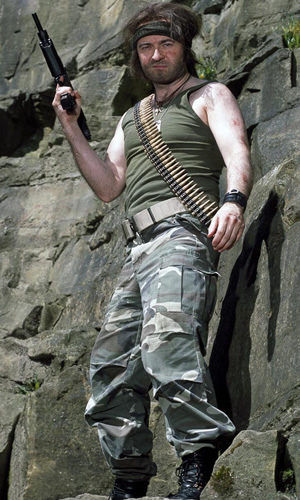 It did raise a few eyebrows, and we burnt a few too. All passers-by were shot, but accidentally. It was great fun and amazingly the weather was beautiful for us. We filmed the show back in May in Wigan (Haigh Hall), Bolton and Salford. It was a thoroughly enjoyable experience and I wish it would have lasted longer! Blessed with a great crew and cast, for me it was a real joy to work on.
In one of your sketches you are advertising a product which is sun cream, ice cream and beer all rolled into one... whose idea was that? It's a genius product. Can we buy some off you now?!?
I'm going to go on Dragon's Den with that product, The Cream Dream - I'm just waiting for the patent rights to come through! This was my idea and I guess I was inspired by these ridiculous products that pop up from time to time, that are 1: Not really necessary 2: Claim they can somehow save you time and 3: They're absolute shite!
Obviously you're hoping that Slaterwood will be commissioned for a full series, but in the meantime do you have any other projects in the pipeline?
I'm working on a few ideas to be sent off to Radio 4 with a group of writers. And I'm working on sketches for hopefully what will become Slaterwood - The Series. And I have a film idea and a few other writing projects. Just keeping busy writing really!
Great stuff. Finally, a question we try and ask everyone we interview: excluding any series you've been in, what are your favourite comedies?
Recently it would have to be Curb Your Enthusiasm, I love Larry David and the fact that it's all improvised. I think that's why the performances are so natural. The storylines are excellent too. Addictive viewing!
As for past comedies, there's so many! Knowing Me, Knowing You, Brass Eye, Blackadder, Police Squad, The Comic Strip Presents..., Saturday Night Live (the original USA version, especially stuff with Chevy Chase and Bill Murray and when Christopher Walken is the host), Only Fools and Horses, The A Team (that was a comedy wasn't it?). There's probably more but it's nearly midnight so I'd better get back in my cage!
Ha ha. We'll make sure that's padlocked nice and tight. Thanks very much for taking the time to talk to us Peter, and best of luck with the pilot on Friday!
The pleasure has been all mine, cheers.