The Farmer's Llamas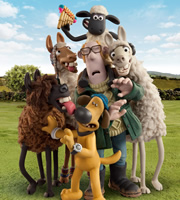 First broadcast: Saturday 26th December 2015
When the Farmer and Bitzer go to a Country Fair, Shaun steals away with them intent on causing mischief.
Buy The Farmer's Llamas
Release date: Monday 8th February 2016
Children's animated special from the popular Shaun The Sheep series, directed by Jay Grace.
Justin Fletcher voices Shaun, a mischievous sheep who regularly torments The Farmer and his dog Bitzer (both voiced by John Sparkes).
When the farmer and his dog set off to a country fair, Shaun stows away...