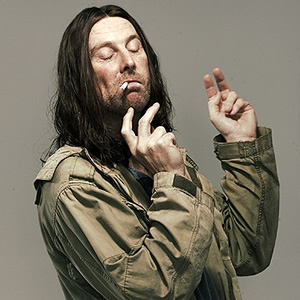 As Series 8 brings Shameless to the impressive 100th episode landmark, creator Paul Abbott and cast highlight their favourite memories of the show, and present 20 Shameless Moments.
Paul Abbott (Creator of Shameless)
My all time favourite Shameless moment is in Series 6, Episode 3 written by Jimmy Dowdall, where Frank is unfathomably summoned for jury service. He compulsively spots a real earner and obstructs the verdict - any verdict - to rack up his expenses for 'loss of earnings'. In one speech he refers to a "boss-eyed scouser selling a fake shirt on the market to another little immigrant..."
That's a perfect pitch on Frank, the hardest character to nail properly - but written by one of our newest recruits who aimed for high mischief with intrinsic honesty. That's a quintessential Shameless writer for my taste.
David Threlfall (Frank Gallagher)
After so many years it really is impossible to single out just one favourite moment. It's been a joy just to play and develop Frank for 8 years - something I certainly did not anticipate as an actor when we began. The other aspect that the show and Paul (Abbott) and George (Faber) have lent their support to, is my desire to direct. When I was asked to do that for the first time it was a wonderful situation where I had to direct my wife Brana Bajic who was playing Lena in Shameless at that time. I knew then that directing would sit alongside acting as equals. Directing Sean Gilder (Paddy Maguire) playing his twin in one episode; then him playing another character in a flashback in the Jockey in another episode, brings a smile to my face. As I say, difficult to choose just one out of the ongoing memory of just being in work all this time with such a great group of people.
Elliott Tittensor (Carl Gallagher)
1. Carl as Golem (my twin brother filmed that scene, as we shared the role in the first series, but I did the ADR - Additional Dialogue Recording).
2. Frank stuck in France, also Series 1. You can't beat a bit of old school humour!
3. After watching the first series again last week, it really brought back all the fun memories of the last 8 years. There was one time when Liam (Johnny Bennett) couldn't stop joking in a scene, we wet ourselves and got a little telling off. But that only made us laugh more.
Rebecca Atkinson (Karen Maguire)
Jamie and Karen's wedding (really enjoyed the make-up & dress process)! My favourite storyline has to be Sheila (Maggie O'Neill) and her agoraphobia and overcoming it (I loved the comedy and wackiness). And my favourite memory has to be meeting Ben Batt (now my boyfriend), who played Joe Pritchard; and working together in the Joe, Karen and Mandy triangle.
Tina Malone (Mimi Maguire)
On a personal level my "fat" episode was very close to my heart! Quite cathartic filming it, painful and challenging. Comedy has to be Frank when was on jury duty! And I loved filming that Take That song at Karen and Jamie's wedding - fab day!
Aaron McCusker (Jamie Maguire)
Scene: The Maguire boys find out Paddy is on the Brown when they walk in on him in the bog.
Storyline: Carl working for Jamie while Jamie tries to freeze out Shane. Then in Series 8, episode 6 with the character Kermit (Paul Kaye) was especially good.
Ciaran Griffiths (Micky Maguire)
The fireman episode for me (Series 7, episode 12)! Both my dad and uncle were firemen and my step-mum worked in the control room, so it was ironic the writers chose that profession. They asked me at work about Micky joining the police and I said "no chance the fire service is much better" - and it worked brilliantly for Micky. I even got to film with the fire service at their station - and I loved being in uniform!
Nicky Evans (Shane Maguire)
Doing scenes with the Maguire brothers, and the scene when they are briefed by Paddy (Sean Gilder) about all those little jobs that need doing for the family business!
Karen Bryson (Avril Powell)
Avril has a Life On Mars moment waking up in 1973 in (Series 8, episode 15). I had to wear a full 1970s outfit complete with an afro wig! It reminded me of old photos of my mum. I always enjoy the big community scenes. Especially a scene when the Chatsworth community and a special needs drama group cobble together the nativity play culminating in a song! Filming that episode lifted my spirit because of the huge sense of community (Series 8, episode 21).
Valerie Lilley (Patty Croker)
The story when Patty is in the woods kidnapped by her minder, Patty is rescued by her daughter Libby (Series 8, episode 11). It's a glorious performance by Rosie Cavaliero as the demented widow and wonderfully directed by Lawrence (Till). Rosie, Pauline and I all knew each other and the script was a lovely Shameless mixture of sad reality sailing on to fantasy and madness....I hope.
Sally Carman (Kelly Maguire)
The return of Marty Fisher - Brilliant! (Series 8, episode 17.)
Emmanuel Ighodaro (Jackson Powell)
My favourite scene has to be the fight in the episode which sees the arrival of Aidan Croker and my favourite storyline is the fight club in (Series 8, episode 3). Shameless has been a joy for me so far, not only do I get to have fun with and develop a character throughout the series but I get to do it on one of Manchester's iconic backdrops - buzzing!
Alice Barry (Lillian Tyler)
Series 8, episode 11: Bonnie Tyler (Rosamund Hanson) and me, where she kills herself.
20 Shameless Moments
Steve and Fiona sex scene in the kitchen (S01E01)
Frank wakes up in Paris! (S01E02)
Frank's fake funeral (S01E08)
The truth about Ian and Mandy's pregnancy comes out at their engagement party when Lip decides to do the right thing (S02E06)
Fiona and Steve leave the Chatsworth (S02E10)
Debbie fakes Liam has cancer (S03E01)
Frank and Sheila's wedding (S03E08)
Ian and Micky's relationship (S04E05)
Jamie and Karen's wedding (S04E08)
Mimi wants to lose weight "I'm a fat fuck, I'm a fucking fat fucker..." (S05E02)
Micky surprises the family when he comes home with a pink limo (S05)
Stella is born (S05E16)
Paddy is kidnapped by Maureen (S06E06)
Mandy's funeral (S06E16)
Karen's bipolar (S07E03)
Shane and Kelly get married (S07E08)
Jamie's revenge on Joe (S07E15)
Mimi has a surprise birth (S08E16)
Frank's Dr Who fantasy (S08E02)
Frank's One Flew Over The Cuckoo's Nest (S08E05)
Published: Tuesday 2nd August 2011