Fans of Scotland's favourite comic cops have lots to celebrate. Scot Squad is back for a Christmas special... followed by a new series.
Christmas Special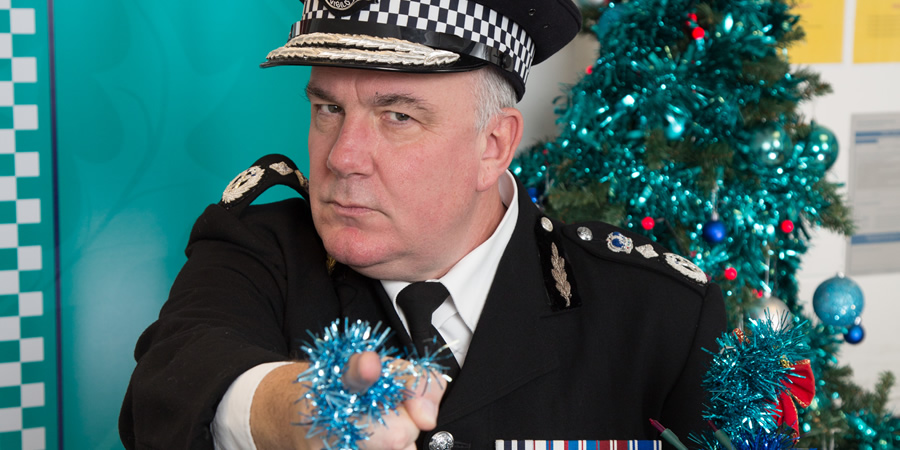 Due to be broadcast on Wednesday 21st December, the new festive special sees volunteer officer Ken Beattie attend to an old acquaintance up an alley - Jamie Lee McGurk is back! And she's got more good cheer than ever to share with her favourite hobby bobby.
Meanwhile Police Chief Cameron Miekelson opens up his 'Radgevent' Calendar, shows the nation his personal season's greetings card, attends to a Christmas crisis up North and makes it his mission to celebrate every festive celebration celebrated in Scotland.
Elsewhere, Officer Karen keeps cool when Bobby gets burnt by dodgy aftershave, and rural duo McIntosh and Mackay encounter a kingdom of crud as they investigate the world's worst winter wonderland. Queen of Communications Maggie Le Beau draws the short straw and ends up having to work Christmas Day; city cops Fletcher and McLaren are on the case when the party animals are all over the place; and PCs Singh and McKirdy share a seasonal sing-song in the cop car and do their best to bag the first arrest of the new year.
Series 3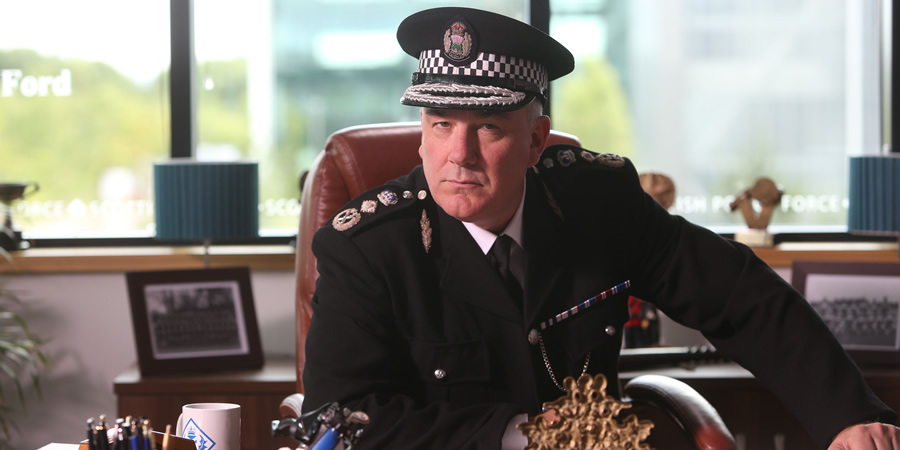 2017 then sees the return of the gang for a five-part third series. As well as all the crime-fighting favourites, the new series welcomes an array of well-known faces as guest stars, plus cameo appearances including author Ian Rankin, actors Bill Paterson and Paul James Corrigan, music icon Phil Cunningham and broadcaster Shereen Nanjiani.
Executive Producer Rab Christie says of the filming: "It was a delight to welcome a galaxy of stars among the mug-shots as the great and the good graced Scot Squad with a cameo. Our talented cast of character actors, stand-ups and the odd wrestler now includes a few national treasures!"
Joe Hullait, Scot Squad's Story Producer & Narrator, adds: "Getting famous faces into Scot Squad has become a very fun aspect of making the show. We've got presenters, actors, writers and even musicians. What we're missing is a sportsman and a spy, so if Andy Murray and Sean Connery happen to be reading this, we'd love to chat."
Here's more details on some of the guest stars and the parts they are playing...
Crime writer meets crime fighter in the second episode of the new series when Chief Commissioner Cameron Miekelson meets acclaimed author Ian Rankin. Miekelson wants to pick up a few tips, share the wisdom of his experience and offer some creative advice to Rankin but will this be a momentous meeting of minds or disastrous clash of personalities?
Patterson plays Sir Neville Archibald, an old school ex-Chief Police and ex-boss of Chief Commissioner Cameron Miekelson who lets the new chief foot an extortionate boozy lunch bill.
Executive Producer Rab Christie explains how Bill's guest appearance came about: "On the red carpet at the Scottish BAFTAS in 2015, Bill confessed he was a fan of Scot Squad. The sharp ears of the force were alerted and soon a character was created especially for the Scottish acting legend and national treasure! Bill shows his skill as an improviser as his character runs rings around Jack Docherty's character, Chief Miekelson. It's brilliant to watch."
Dreams come true on the Scot Squad set. Chris Forbes who plays country cop PC Charlie McIntosh is an adept accordion player and his hero is Scotland's Greatest Squeezboxer of all-time, Phil Cunningham MBE. Chris's on-screen partner Ashley Smith (PC Jane Mackay) is also a keen musician and a big fan of Phil.
In a departure from their usual storylines, the countryside coppers go undercover as part of a sting operation to cut out counterfeit sales in rural pubs and meet music maestro Cunningham along the way.
Chris Forbes was delighted to duet with the music maestro: "The sound man on the set gave me a recording of me and Phil playing together which I sent onto my mum. She always told me to stick in at the accordion as she said it would come in handy one day!"
As Rab explains, it was a memorable musical moment for all: "Phil was a great sport on the day and within minutes of the shoot Chris had sent photos to his Mum and family of their son trading accordion links with the great man."
Every community has a hero. For local man and Scot Squad regular Bobby Muir (Daren Connell), there's only one person who fits the bill - Officer Karen (Karen Bartke). No matter what craziness he brings through the police station door, Officer Karen just about manages to keep a lid on things and deal with it.
This series Bobby picks the worst possible moment to bother his favourite cop and brings along broadcaster Shereen Nanjiani to announce she's nominated by Bobby for a Community Hero award.
Rab explains: "Shereen has encountered a few unique characters during an extensive media career, but she'd never encountered anything like Bobby Muir before. She improvised brilliantly and did a fine job keeping a straight face!"
River City, Gary Tank Commander and Still Game star Paul James Corrigan appears in the debut episode of the new series as a bed-bound poor soul with a secret past. Playing up his helplessness but hiding the dodgy truth about his injuries, he persuades Volunteer Officer Ken Beattie to do his washing and ironing.
Published: Friday 9th December 2016