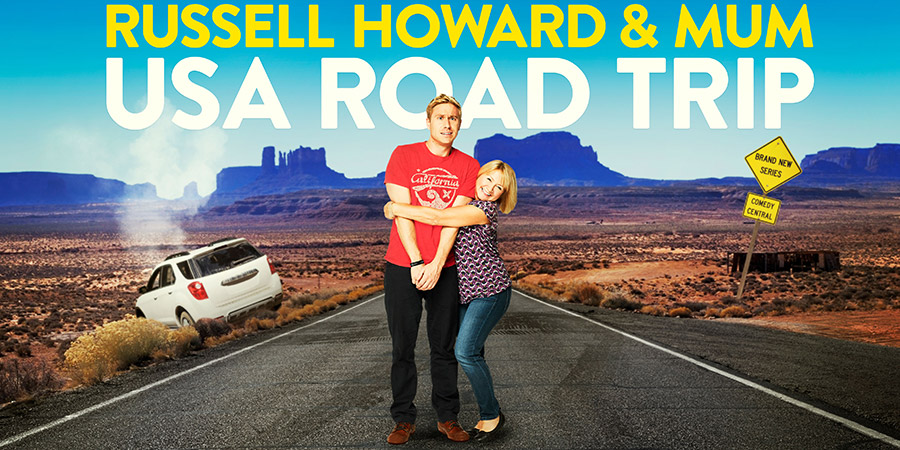 Genre

Factual

Broadcast

Channel

Episodes

Features

Director

Producers
Russell Howard takes his "twinkly eyed smasher of a mum" Ninette on an eye-opening trip around the USA, meeting an array of weird and wonderful characters and experiencing their unusual hobbies and obsessions.
Spending hours on the road together in a minivan, Russell's funny, warm and engaging relationship with his mum is put under the microscope as they discover the eccentricities of 'The Land of the Free', as well as having to regularly correct the peculiar local assumptions that they are in fact a couple.
On their tour of the USA, Russell and Ninette join a community of US Armageddon 'preppers' in a sleepy Utah suburb, who are readying themselves for a future catastrophe (think financial collapse, natural disaster or even zombie apocalypse). They check out a $200 a night 'doggy hotel' where they meet the Instagram celebrity Marnie (a Shitsu with two million followers) and attend a French bulldog's luxury third birthday party in the Big Apple.
In Nevada, home to infamous Area 51, the pair hang out with alien abductees and learn how to defend themselves against a Martian attack, as well as how to communicate with extra-terrestrials, whilst in hip-hop capital Atlanta, under the supervision of a renowned graffiti artist, they attempt to infiltrate the thriving music scene.
Russell and Ninette also make a pit-stop in one of America's most haunted cities, Savannah, where they expose themselves to a host of paranormal activities - how will Russell cope staying in a room alleged to be haunted? (Clue: badly) - and venture to South Carolina to experience the touring demolition derby where the aim is simple: to Smash. Up. Every. Single. Vehicle.
They check out the legal and recreational use of cannabis in Portland, learning how it's made on a weed farm before trying some out for themselves (cue munchies). The pair hang out with Guns N Roses drummer Steven Adler and Kiss's Paul Stanley at LA's world famous Rock And Roll Fantasy Camp, where they have just 48 hours to form a band and perform their first ever gig in the heart of Hollywood.
In Las Vegas, they don make-up and dresses in beauty queen training ahead of judging a Mrs. Globe Pageant during which Ninette takes an unlikely shine to a contestant. At a cowboy ranch in Oregon, they say goodbye to their city slicker ways and hello to life on the range through mastering the rope, cattle drive and a good old-fashioned hoedown.
The series culminates on the 4th July with the oldest travelling side show in the country - how will Ninette survive the ultimate crime of being British on Independence Day? (Clue: badly.)
On this truly unforgettable adventure, we finally get to meet Ninette after hearing so much about her in Russell's stand-up, and their dialogue doesn't disappoint. During their USA trip they find themselves in truly ridiculous situations, including trying to break from an escape vehicle's trunk, battling through a house of the walking dead and getting pressured into getting tattoos, proving to be an unlikely but hilarious comic duo throughout.