Series 1, Episode 5 - Alistair McGowan, Hilary Devey, Josh Groban
Further details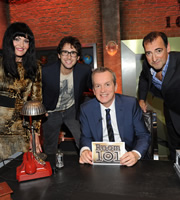 People
- Alistair McGowan: Children - Into Room 101.
- Hilary Devey: Football fans.
- Josh Groban: Pet owners who treat their pets like people.
Going Out
- Hilary: Smoking bans - Into Room 101.
- Alistair: Pints of beer.
- Josh: The exclusive night club experience.
Audience Choice
- People who call you "Mate" that you've never met before - Into Room 101.
Wildcard
- Hilary: Valentine's Day.
- Alistair: Tattoos.
- Josh: Auto-Tune - Into Room 101.
Alistair McGowan's Extra Item
- Little iPod earphones that easily break - Into Room 101.
Broadcast details
Date

Friday 17th February 2012

Time

8:30pm

Channel

Length

30 minutes
Repeats
View more broadcast data
This content is exclusive to
BCG Pro subscribers
and
BCG Supporters
. Join them and get extra features including this episode's audience figures and further repeats data.
Already a donor or subscriber?
Sign in
Cast & crew
View related press