This interview is from Series 1.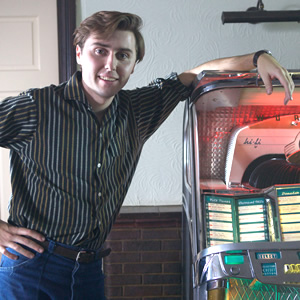 For the young star of The Inbetweeners, winning the part of young Del Boy in Rock & Chips was a dream come true for James Buckley.
Here James talks about dinner with David Jason and chewing Nicholas Lyndhurst's ear off...
Can you give us a flavour of the teenage Del Boy?
I wasn't trying to do a David Jason impression but there are very small traits of Del Boy that I tried to put in the part. The young Del is still a bit of a wheeler-dealer, even though he's still at school, but he hasn't yet turned into the Del Boy that we all know.
How did you feel when you heard you'd got the part?
After the last audition I was waiting to hear and I was travelling up to Edinburgh on the train. I was late for my train and didn't have time to pick up a paper so all I could do was sit on a train for hours wondering if they'd called my agent yet! Then I finally found out that evening and was really, really chuffed. I grew up with it, I love Only Fools And Horses.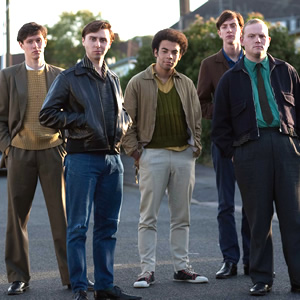 How did you go about preparing for the part?
I bought the complete box set of Only Fools And Horses to make sure I hadn't missed any episodes and I was watching a series-a-day at one point! It was really interesting because there were scenes and characters mentioned that didn't seem that important at the time but then they have a new significance once you know the story of Rock & Chips. But, in terms of research, if there was anything I wasn't sure about John Sullivan was always on set to help. He's got such a specific idea about what he wants and it's so detailed. He was just a huge help about what certain words meant and what the props were and the things he used to get up to when he was younger. He was probably the biggest help I could have had.
Did you feel any pressure following in David Jason's illustrious footsteps?
There was no pressure to imitate David Jason and I don't think anyone would have wanted that. It's just important to remember that this isn't an episode of Only Fools And Horses. That's already been done and so brilliantly that there wouldn't be any point in trying to do it again. This is completely different and I think as long as people realise this is something new and exciting then they'll get a lot out of it.
What was it like filming with Nick Lyndhurst?
Working with Nicholas Lyndhurst and Phil Daniels was really important to me as a young actor. I've mostly acted with people my own age and people in the same boat as me so to talk to these people that have been successful in the industry for so long, well, you've got just got to take that opportunity and chew their ears off! They never seemed that annoyed by me or anything and I'm sure they understood as they were in the same boat as me once.
What is it like being part of the Only Fools family?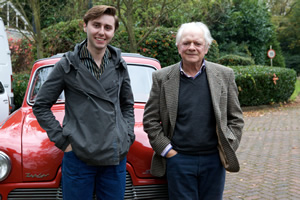 It's something that I'm immensely proud of. I'm really pleased and really proud and it was a dream come true and a great opportunity for me. The biggest challenge was just to remind myself that I'm not David Jason and that what I can do is completely different to what he did. But I just didn't want to let anyone down. Only Fools is just so important to me and to millions of people. I did take it very seriously and it would have been irresponsible and disrespectful to fans of the show if I hadn't. And I'm really pleased with the end result, it's just such a lovely story about a simpler time.
You got to meet David Jason on set, what was that like?
It was a really special moment and just so surreal. I was having lunch with David Jason, Nicholas Lyndhurst and John Sullivan and it was just a dream dinner! I just sat there and listened to everything they had to say. David Jason joked that he had a few notes for me, and that he was keeping an eye on me, but he never really did. I just never saw it coming - the character of Del Boy is like a working-class hero and so beautifully created by David Jason, it was a real pleasure to be able to spend time with him.