A quick chat with Rob Beckett...
Hi Rob. How has 2019 been for you so far?
It's been great. Better than 2015 but not as good as 1998.
You're presenting Rob Beckett's Savage Socials on E4. Tell us about that...
We find the 10 best clips from the last week of social media. All the funny and strange stuff you might have missed. We are trying to create the greatest WhatsApp chat group of all time.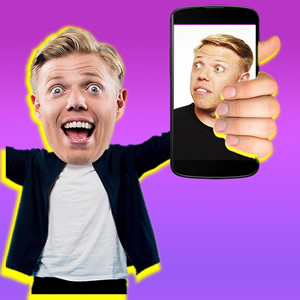 How much time do you spend on social media yourself in a week?
Not enough. Reading and socialising is overrated. Just bury your head in your phone and get lost in a YouTube black hole of unboxing panini football stickers.
Facebook, Twitter, Instagram... do you have a particular favourite?
Instagram is the best. Facebook is for mums, and Twitter is a sewer.
Who you do particularly like following on social media?
Anyone that has cancelled plans with me because they are 'unwell'. I love catching out the liars.
What's the funniest thing you've ever personally seen/read on social media?
Coleen Rooney's leaky basement.
What's next for you after the TV show?
I'm on tour with my new show Wallop all the way through to June 2020. Stand-up is the best job in the world, I love it.